Robert I. Field, Ph.D., J.D., M.P.H., Professor, School of Law & Drexel School of Public Health
We asked the Field Clinic advisory board for thoughts on the most important thing people should know about the impending end of open enrollment in the insurance exchanges on March 31.
Here is the observation of Elizabeth A. W. Williams Senior Vice President & Chief Communications Officer for Independence Blue Cross.
Many people in our region who've signed up for individual health coverage since the start of open enrollment on Oct. 1 got a surprise – coverage can be quite affordable. According to federal statistics, 85 % of people who signed up for health plans in states with federal exchanges – like Pennsylvania – received federal subsidies. These can dramatically lower the cost.
Robert I. Field, Ph.D., J.D., M.P.H., Professor, School of Law & Drexel School of Public Health
How can a corporation exercise religion?
Justice Sonia Sotomayor posed that question Tuesday, March 25th at the Supreme Court hearing on the Obamacare contraception mandate. (See my news report on the case in the Inquirer.) Two private for-profit companies, Conestoga Wood Products based in Lancaster County, PA and Hobby Lobby Stores based in Oklahoma City, OK, claim their corporate religious beliefs would be violated by complying with the rule. Justice Sotomayor wondered if they can actually have any.
Justice Elena Kagan asked how far corporations could go in the name of religion. Could they refuse to cover vaccines or blood transfusions for their employees?
Krystyna Dereszowska, A third-year law student concentrating in health at Drexel
With the enrollment deadline for Obamacare approaching, the Administration's focus has been on convincing the uninsured that they cannot afford to remain uncovered. But in states that have declined to expand Medicaid, many of these people will remain unable to afford insurance. And as serious as their plight may be, they are not the only casualties of the political battles. Hospitals stand to suffer major collateral damage, as well.
When they make financial projections, hospitals plan for the need to provide a certain amount of uncompensated care for patients who are unable to pay. Some of this cost is recovered from the federal government through Medicare. However, Obamacare reduced the amount available for these "disproportionate share hospitals" by billions of dollars on the assumption that the cuts would be offset by Medicaid expansion. The thinking was that since more of the uninsured will have coverage, less hospital care will go unpaid. Although Medicaid payment rates tend to be much lower than those of private insurance, hospitals would still stand to gain because the lower Medicaid rates would be offset by revenue from the large number of newly insured.
However, Medicaid expansion is optional for the states, and half them have refused to take part. Sadly, many of the holdout states are the ones that have the most to gain with populations that are among the country's poorest and least healthy. Some governors in these states have cited the cost of expansion as unsustainable, but with federal money covering 100% of the cost for the first three years, and never less than 90% after that, the decision seems to be more political than practical.
Krystyna Dereszowska, A third-year law student concentrating in health at Drexel
The Web is filled with valuable information for staying informed about health care and ahead of the all-too-prevalent myths, if you know where to find it. I am pleased to offer a regular round-ups of the most intriguing and informative blog posts and stories from around the Internet to help Field Clinic readers keep on top of a wide range of developments. Here are some recent posts I've found myself starring, subscribing to, and sharing:
1. The role of hashtags in healthcare: Forecasting The Flu, Tweet By Tweet (NPR, Weekend Edition)
NPR profiles how social media can help government agencies and health systems track and predict health care outbreaks.
Tine Hansen-Turton, Chief Strategy Officer of Public Health Management Corporation
Disruptive innovations have transformed health care in recent years and brought about the greatest transformation of the system in a generation. Education's turn could be next.
The most obvious change is the Affordable Care Act, which brings coverage to millions of previously uninsured Americans. However, other innovations that escape widespread notice are just as important. One is the rising status of nurse practitioners. These clinicians provide high-quality primary and preventive care in retail-based settings like convenient care clinics and community settings like nurse-managed health centers.
The spread of this new model of care was not without its challenges when it was first introduced in 1968. The realization of its promise took almost 40 years and required more than 300 state and national law changes. Challenging the status quo is never easy, but in this case it was worth the effort. Close to 200,000 nurse practitioners function today as mainstream primary care providers not just in retail and nurse-led clinics but in many other health care settings, as well.
Howard J. Peterson, MHA, Managing Partner of TRG Healthcare, a national healthcare consulting firm
President Obama in a speech to Congress in September 2009, stated that the central goal of the Accountable Care Act (aka Obamacare), is extending health care coverage to the "…more than 30 million American citizens who cannot get coverage." Yet here we are less than two weeks away from the end of open enrollment and the number of Americans who lack insurance is still 30 million. A 'back of the envelope' estimate helps make the point. Although the math cannot be precise, the underlying logic is difficult to refute.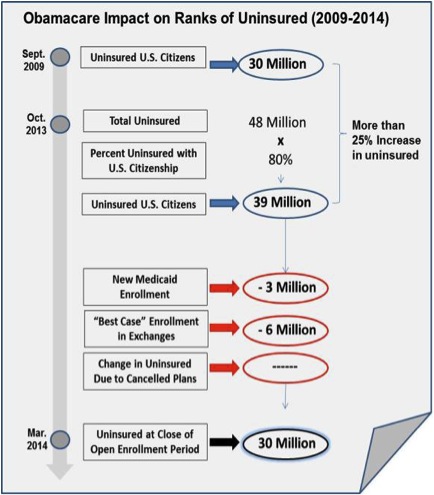 Modern Healthcare reported a total of 48 million uninsured at the beginning of the Obamacare roll-out in October 2013.
Relying on statistics from the Kaiser Family Foundation, it is reasonable to assume 80 percent of these 48 million are U.S. citizens, eligible for health care coverage under the Federal law. This indicates that the magnitude of the uninsured grew from 30 million U.S. citizens in 2009 to 39 million U.S. citizens in 2013 – a more than 25% increase in the time leading up to open enrollment.
Robert B. Doherty, Senior Vice President of Governmental Affairs & Public Policy American College of Physicians
With the first annual open enrollment period for the Affordable Care Act down to its final few weeks, you are going to hear a lot of spin about the numbers. The end of March will be the first real test of ACA enrollment, because as of April 1, most people will have had to enroll in a health plan that meets the law's requirements or pay a fine (equal to 1 percent of their taxable income, or $95, whichever is greater).
By the end of March, will the administration be able to say that it met its latest marketplace enrollment target of 6 million (which was lowered from its original 7 million)? As of February 25, the administration reported that 4 million had signed up.
How many who selected a plan will have paid their premium, and if they haven't, how many will end up being dropped from the enrollment totals? How many will receive tax credits to help them afford the marketplace plans? How many will choose a plan in each tier? Will there be enough younger and healthier people enrolled to offset the costs of covering older and sicker people? If that number falls short, will it lead to a "death cycle" in premiums because insurers will have to raise rates to everyone else?
Neil I. Goldfarb, President & CEO of the Greater Philadelphia Business Coalition on Health
A friend of mine whom I'll refer to as Jasper (not his real name) is a 40-something year old male who was diagnosed a few years ago with Parkinson's disease. Several months ago he gave me a call, knowing that I have a health benefits background. Jasper had learned from his physical therapist that he was approaching the limits his health plan placed on the annual number of physical therapy sessions. The physical therapist had told Jasper not to worry, when the limit was reached, the office would re-file his case under a new diagnosis, which would trigger a new benefit-eligible episode of care, allowing it to continue delivering service, billing for it, and getting reimbursed for it.
Jasper was relieved to know that clinical services that seemed to be helping him maintain his strength and physical activity would be continued, but he realized he would continue to be responsible for a 20% co-payment. "What do you think I should do," he asked, "should I continue with my therapy?"
"Well, let's start with the question of how willing you are to commit insurance fraud," I asked. I explained that "filing under a new diagnosis," when in fact it was just more service addressing the same old diagnosis, was fraudulent. Undoubtedly, being able to continue billing under a fee-for-service arrangement would benefit the provider, but I asked Jasper to think about whether the additional physical therapy visits would benefit him.