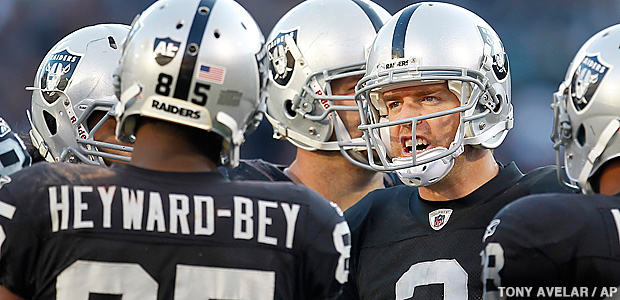 Carson Palmer, Darrius Heyward-Bey, and the Oakland Raiders take on Kansas City Chiefs in Week 8.
It's that time of the season. The time when players get a week off, and fantasy owners have to work overtime trying to find someone to fill in. The time when the waiver wire is busiest. When people looking to get a boost from the wire meet resistance from those just desperate to fill their lineup.
Not only is demand at an all-time high, but supply is at an all-time low thanks to injuries and those pesky byes.
With that in mind, here's a look at some player that can help you out this weekend. Remember, put in multiple claims, because odds are you won't get the guy you want. At least that's how it always works for me.
Carson Palmer (QB, OAK): One thing you will find out pretty quickly is that I am high on the Raiders this week - and it's not that hard to see why. They play the 1-5 Chiefs this weekend, a team that has given up an average of 30.5 points per game this season, including 30 or more points in four of their six games. With that being the case, I like Palmer this weekend. He hasn't been great this season, but he's been good enough. If you are looking for a spot start this week, Palmer is a good place to start.
Brandon Weeden (QB, CLE): After a terrible showing in Week 1, Weeden became an afterthought. In his last three games, however, the Browns rookie has averaged 262 yards and a pair of touchdowns per game. Better yet, he has only three interceptions in that span, a number he has been improving on all season. Coming off his best game of the season since Week 2 against the Bengals, Weeden has a favorable matchup against the Chargers, who have allowed 679 passing yards and seven touchdowns in their last two games. Sure, that was against Drew Brees and Peyton Manning, but the Chargers have allowed multiple passing touchdowns in each of their last four games. The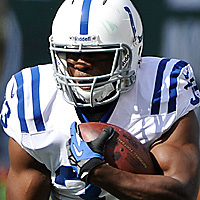 emergence of Josh Gordon gives Weeden a legitimate deep threat, allowing him to show off that big arm.
Vick Ballard (RB, IND): You can consider picking up the Colts running back much like having a one-night stand. That's because this is likely the last start for Ballard, as Donald Brown is close to returning from knee surgery. Reports are that Brown will sit out one more week, and that makes Ballard a perfect option Sunday. He has a favorable matchup against a Titans team that struggles mightily vs. the run. And after it's over, you can drop him without ever having to call him again.
Rashad Jennings (RB, JAC): Maurice Jones-Drew (sprained foot) is out indefinitely, so Jennings could be an option for more than one game. The Jaguars have one of the worst offenses in the league, but the fourth-year player out of Liberty College will get plenty of touches, especially if Blaine Gabbert can't go. He's a duel threat out of the backfield, considering he caught seven passes last week, but will need to improve on his abysmal average of 2.6 yards per carry. Still, he could definitely provide a spark this week.
---

---
Darrius Heyward-Bey (WR, OAK): Heyward-Bey is my second Raiders player on this list, but he won't be my last. He is only owned in 56% of ESPN.com leagues, and after a solid performance in Week 7, he is worthy of a spot start this weekend.
Randall Cobb (WR, GB): If you want a wide receiver and are interested in Cobb, go put a claim in now. I'll wait... Ok, now that you've taken care of that, let me explain why i suggested you move so quickly. In the last week, Cobb has gone from being owned in 42% of ESPN.com leagues to 70% of them. That's because he has totaled 15 receptions, 273 yards, and three touchdowns in his last three games. Cobb's value will take a hit when Greg Jennings and Jermichael Finley return, but for now, ride the hot hand.
Brandon Gibson (WR, STL): Since Danny Amendola went down in Week 5, Gibson has seen a lot of targets shift his way - 28 in two games to be exact. With a matchup against the Patriots, look for Gibson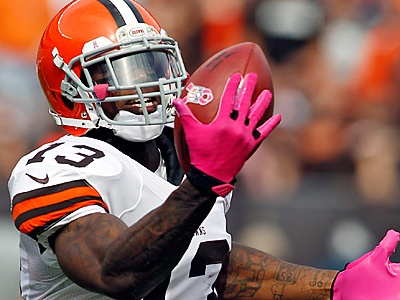 to get plenty of looks from Sam Bradford, especially if the Patriots offense is clicking and the Rams are forced to keep pace.
Josh Gordon (WR, CLE): He may not catch a lot of passes, but when he does, he makes sure they count. Gordon has four touchdowns in his last three games, but just seven total receptions. I already wrote about the potential for Weeden to have a big game this weekend, and Gordon is a key part of that.
Leonard Hankerson (WR, WAS): The second-year player out of Miami has been inconsistent all season, but with Fred Davis being placed on IR, Robert Griffin III will be forced to look for another option. After Davis left last week's game early, Hankerson had his second-highest scoring game of the season.
Raiders (D/ST, OAK): I told you there were more Raiders players. Eleven of them in fact. It has a lot less to do with my faith in Oakland's defense, and a lot more with my lack of faith in Brady Quinn. Sorry, Irish fans - and resident stat guru and Chiefs fan Bob Vetrone Jr.

---
Matt Mullin is the sports editor at philly.com. You can reach him by e-mail at mmullin@philly.com. Follow Matt on Twitter: @matt_mullin