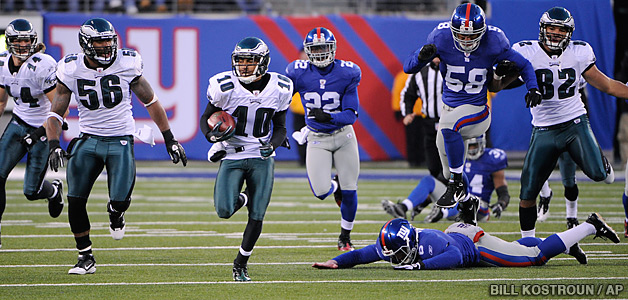 Will DeSean Jackson be returning punts this Sunday when the Eagles face the Lions at Lincoln Financial Field?
The season premiere of "The League" was on FX last night. If you play fantasy football and don't watch this show, I highly recommend checking it out this weekend.
It was an interesting episode to say the least, starting with cameos by Robert Griffin III, Trent Richardson, and Matt Kalil, among others. Then the guys headed to Dallas Cowboys training camp after a personal invite from Jerry Jones himself. Jason Witten, Felix Jones, and several other Cowboys are featured in a scene that ends with someone running naked across the practice field before getting asked to leave the premises.
But then, things got weird - as if they weren't already. The lone female player in the league, Jenny, was unable to go on the trip because she was nine months pregnant. Having her sexual advances being previously shot down by her husband Kevin, who made the trip to Dallas despite his wife's condition, Jenny decides to take matters into her own hands.