Sorry, guys. I've been busy this week and haven't been keeping up with my posts. Don't worry though, because now you'll get all the usual info in one gigantic post.
I'm not going to waste any time. Here are some FanDuel bargains and busts, which will be really helpful if you plan to beat me in this week's $150 Beat the Expert tournament:
BARGAINS
Cam Newton (QB - CAR), $8,000: Newton has a favorable matchup this week against the struggling Jaguars. Look for Newton to have a game more in line with Week 1 than Week 2. For the price, Newton could be worth a start.

Ryan Matthews (RB - SD), $7,700: With Mike Tolbert's status in question, look for Matthews to get the majority of carries, which should be the case even when Tolbert is healthy. Another plus for Matthews is his matchup against the Chiefs. Last week, Jahvid Best torched Kansas City for 2 touchdowns on 123 combined yards. Especially if the Chargers get out to a big lead, we could see a lot of Ryan Matthews on Sunday.
Ben Tate (RB - HOU), $6,400: With Arian Foster's status once again in doubt, look for Tate to carry the bulk of the load. For this price, Tate could be the best bargain out there.

Mike Williams (WR - SEA), $5,500: I haven't been high on Williams all year, but between the low price and his matchup against the Cardinals, I think he's a safe pick for your third wide receiver spot.

Mohamed Massaquoi (WR - CLE), $4,700: Speaking of low price tags and potentially high upside, Massaquoi could be a solid pick. The Dolphins pass defense is allowing 361.5 yards and 3 touchdowns per game. There's a chance that Colt McCoy could find Massaquoi for his first touchdown of the season, even the wideout isn't 100%.

BUSTS
Aaron Rodgers (QB - GB), $9,900: Aaron Rodgers is a great quarterback, arguably the best, as long as his opponent isn't the Chicago Bears. In his last five games against the Bears, including the postseason, Rodgers has thrown three touchdowns and four interceptions. Those are some telling numbers. I can't see Rodgers, the most expensive player, playing up to the hefty price tag put on him this week.

Arian Foster (RB - HOU), $9,600: He was a game-time decision last week, just as he is this week. That didn't work out too well for people who decided to play him last week. Look for Tate to get the most touches again this week, making Foster far from worth what it will cost to start him.

Steven Jackson (RB -STL), $7,400: Jackson MAY play this weekend. That's reason enough to shy away from him. Couple that with that fact that he play the Ravens, and it's a no-brainer.

Hakeem Nicks (WR - NYG), $8,600: He'll have to deal with Asante Samuel, Nnamdi Asomugha, and Dominique Rodgers-Cromartie. With a hurting receiving corps around him, the Eagles secondary will be able to focus on Nicks. Hard to pay top dollar for that matchup.

Reggie Wayne (WR - IND), $7,800: No Peyton Manning. Steelers defense. Either way, I'm not playing him.

So there's a look at some guys who could make, or break, your week. Now let's look at some players you may have on your bench and are considering promoting to the starting lineup in this week's edition of "Start/Sit."
Ryan Fitzpatrick (QB - BUF): Chad Henne had a big game against the Patriots in Week 1. Last week it was Philip Rivers. Fitzpatrick is somewhere in between the two of them, but the Harvard grad is still poised for a big week against division rival New England. I don't expect the Bills to beat the Pats, but that doesn't mean he can't have a big game. Ask Henne. VERDICT: START
Darren Sproles (RB - NO): Sproles was brought in to New Orleans to fill the void left by Reggie Bush. His main role is to be a third-down back, catch balls out of the backfield, and provide a threat from wherever he lines up. He is, as a matter of fact, a lot like Bush. That doesn't bode well for his Week 3 matchup against the Texans. In the first two games, Houston's defense has allowed a total of 4 receptions by running backs. After nine receptions against the Patriots in Week 1, Bush was held to just one last week against the Texans. As a player who's best assest is catching balls in the open field, look for Sproles to struggle against a suddenly dominant Houston defense. I didn't even mention the fact that the New Orleans backfield is nearly as crowded as their receiving corps. VERDICT: SIT
Jahvid Best (RB - DET): He's a duel threat, and has a receiving and rushing touchdown this season. With as hot as the Lions have been this season, best is becoming a must start. I played him a lot last season and began to become discouraged. Looks like I was just a year early. VERDICT: START

Austin Collie (WR - IND): Collie's fantasy stock was through the roof last season. This season, it can't get much lower. That just shows you how important Peyton Manning is to his receivers, and not the other way around. VERDICT: SIT

Jordy Nelson (WR - GB): Did you read my earlier entry on Aaron Rodgers' numbers against the Bears? There just won't be enough touchdowns to go around, I'm afraid. Normally, Nelson is a solid start. This week, I'm not so sure. VERDICT: SIT

Finally, let's take a look at some players that have the potential to be a "difference maker" on Sunday, meaning they could score enough points to secure you the win, making it impossible for your opponent to catch up. Last week, that guy was Vincent Jackson for me. In one of my leagues, I had him on my team and won. In the other league, I played against him and, you guessed it, lost.
Here are some players that could be that guy in Week 3:
Tom Brady (QB - NE) vs. Buffalo
Ray Rice (RB - BAL) vs. St. Louis
Larry Fitzgerald (WR - ARI) vs. Seattle
---
For those of you that missed out on last week's opportunity to beat the expert, there is another chance for you to play, and win cash, this weekend. Sign up for our $150 Weekend Beat-the-Expert, which follows the same format as last week's game. Don't worry though, if you beat me, you get your $5 back. Picks lock at 1 p.m. on Sunday.
Here's a look at my potential roster, but I may make some last minute changes. Can you beat me?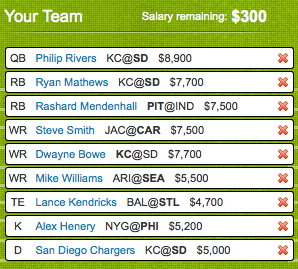 ---
Matt Mullin is a sports producer at philly.com. You can reach him by e-mail at mmullin@philly.com. Follow Matt on Twitter: @matt_mullin