Football may not be officially back, but it sure feels like it to me. I was hoping to wait until after the lockout ended and free agency was over to begin ranking players for the 2011 fantasy football season, but I couldn't help myself.
Quarterback looked like one of the most settled positions, so I decided to start there. Sure, there are a few guys that could move, but not too many in the top 20. And yes, this could change slightly depending on where some key free-agent receivers go. But I figure I can update this list if any crazy deals are made.
As it stands now, here is my take on the best fantasy quarterbacks heading into the 2011 season:
2011 TOP 20 FANTASY QUARTERBACKS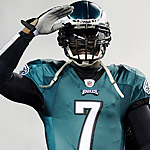 1. Michael Vick (PHI, BYE: 7)
No hometown bias here. Ok, maybe a little. But Michael Vick was by far the most electrifying player in the NFL last season. And when healthy, he was able to put up some of the biggest fantasy numbers of the season. With (almost) a full season under his belt as the Eagles' starter, look for Vick to find even better chemistry with DeSean Jackson, Jeremy Maclin and the rest of his weapons. Couple that with the additions of first-round pick Danny Watkins and veteran line coach Howard Mudd, and Vick could have the protection to really wreak havoc on defenses. As long as he stays healthy, there is no reason that the combination of the weapons around him and his own ability to create plays can't churn out some huge numbers. Besides, how many other quarterbacks are a threat to throw and run for multiple touchdowns in any given game? 2011 Stats (12 games): 3,018 passing yards, 21 TD, 6 INT; 676 rushing yards, 9 TD.

2. Aaron Rodgers (GB, 8)
Like Drew Brees before him, Aaron Rodgers is the sexy pick heading into 2011 thanks to his Super Bowl win the previous winter. But Rodgers is much more than hype. Despite missing Jermichael Finley for half the season, Rodgers was able to put up impressive numbers. Don't forget that Ryan Grant, their top running back, went down in a Week 1 win over the Eagles. While you may think his injury allowed for Rodgers to rack up more passing attempts, it also forced the Packers' offensive into a sometime predictable pass-first attack, allowing defenses to sit back in coverage. Either way, Rodgers racked up the numbers. And like Vick, it is his ability to run on the fly and pick up valuable rushing touchdowns that separates him from the next few quarterbacks on this list. 2010 Stats (15 games): 3,922 passing yards, 28 TD, 11 INT; 356 rushing yards, 4 TD.

3. Drew Brees (NO, 11)
He's Drew Brees. He had a down year last season, but he's still Drew Brees. He may be the worst nightmare to those who own his receivers, but his ability to spread the ball is exactly what's made him so successful. Because of the wide receiver depth of the Saints, Brees can keep defenses on their heels. The emergence of Jimmy Graham as a red zone threat could pave the way for Brees to rack up some short yardage touchdowns in spots where they would normally elect to rush. Don't get hung up on his 22 interceptions last year. Just chalk that up to a Super Bowl hangover... 2010 Stats (16 games): 4,620 passing yards, 33 TD, 22 INT.

4. Peyton Manning (IND, 11)
Peyton Manning had a career-high in attempts (679), completions (450) and yards (4,700) last season. However, he also threw the most interceptions in a season since he had 19 in 2002. After losing his favorite target, Dallas Clark, early, many thought that Manning would struggle. That wasn't the case. Manning proved that he was the player making everyone else look good, and it wasn't the other way around. The emergence of Jacob Tamme and Austin Collie as coveted fantasy players shocked many, but it shouldn't have. Manning is just that good. And don't forget about Reggie Wayne. 2010 Stats (16 games): 4,700 passing yards, 33 TD, 17 INT.

5. Tom Brady (NE, 7)
He's coming off an MVP season. He threw 36 touchdowns in 2010. Oh, and just FOUR interceptions in 492 pass attempts. Better yet, over the last 11 games of the season, Brady threw for over 2,500 yards, 26 touchdowns and ZERO interceptions. Perhaps the best thing that happened to Brady's fantasy value was the fact that Randy Moss left early last season. That gave everyone plenty of time to see that Moss needed Brady a whole lot more than Brady needed Moss. In fact, Brady is better without Moss. There's no reason to think that Brady won't have another great season - especially with the way he finished last year. 2010 Stats (16 games): 3,900 passing yards, 36 TD, 4 INT; 30 rushing yards, TD.
6. Tony Romo (DAL, 5) - Miles Austin is always a threat. Wade Phillips is gone. Jason Witten is a beast. Dez Bryant is entering his second year. Did I mention Wade Phillips is gone? Assuming Tony Romo is back to 100% and that he spent more time rehabbing and working out this offseason than vacationing with his new wife, Candice Crawford, you can expect him to put up solid numbers. 2010 Stats (6 games): 1,605 passing yards, 11 TD, 7 INT.
7. Ben Roethlisberger (PIT, 11) - The big question surrounding Ben Roethlisberger this offseason is whether or not he will have surgery on on his broken right foot. He played through it last season, and has said that the extra time off stemming from the lockout helped it heal, but he hasn't ruled out surgery. The emergence of Mike Wallace as a legitimate No. 1 receiver gives Roethlisberger a deep threat that can compliment his rocket arm. The presence of Wallace down the field could also open underneath routes and running lanes for Big Ben. 2010 Stats (12 games): 3,200 passing yards, 17 TD, 5 INT; 176 rushing yards, 2 TD.
8. Philip Rivers (SD, 6) - Looking just at the numbers, Philip Rivers should be ranked much higher. There is just something about Rivers and the Chargers offense that makes me uncomfortable giving him a higher ranking. But he is still worthy of being a top quarterback on your team. 2010 Stats (16 games): 4,700 passing yards, 30 TD, 13 INT.
9. Matt Ryan (ATL, 8) - He's got the weapons, and the arm, to be a top fantasy quarterback, but the Falcons have a tendency to find themselves in short yardage situations in the red zone. I can't tell you how many times last season Roddy White was a few yards from a touchdown and Michael Turner just punched it in for the score. Good for Turner, not for Ryan. 2010 Stats (16 games): 3,705 passing yards, 28 TD, 9 INT.
10. Sam Bradford (STL, 5) - He was the 2010 offensive rookie of the year and was a Week 17 win over Seattle from leading the Rams to an NFC West crown. With a full season under his belt, expect Bradford to get better on his deep passes and have better chemistry with his receivers. Bradford could be the sleeper pick of the draft. But he does play for the Rams, so he could be a bust if you put too much stock in him. 2010 Stats (16 games): 3,512 passing yards, 18 TD, 15 INT; 63 rushing yards, TD.
11. Eli Manning (NYG, 7) - He's got a stable of young talented receivers - Hakeem Nicks, Steve Smith, Mario Manningham. If he can get his interceptions down, he could make some noise this season. 2010 Stats (16 games): 4,002 passing yards, 31 TD, 25 INT.
12. Joe Flacco (BAL, 5) - The Ravens aren't know for their offense, but since drafting Joe Flacco out of Delaware in the first round of the 2008 draft, they have been a different team. Anquan Boldin, Derrick Mason and Todd Heap offer an array of targets. If that crew of veterans can stay healthy, and Ray Rice can keep the defense in check, Flacco could put up some big numbers. 2010 Stats (16 games): 3,622 passing yards, 25 TD, 10 INT; 84 rushing yards, TD.
13. Josh Freeman (TB, 8) - The Bucs were one of the surprises of the NFL last season. Along with coach Raheem Morris, Josh Freeman was one of the biggest reasons for that. I'm not convinced that Freeman is going to evolve into a top-tier QB, but he is definitely worth a look. 2010 Stats (16 games): 3,451 passing yards, 25 TD, 6 INT; 364 rushing yards.
14. Matt Schaub (HOU, 11) - He has Andre Johnson on his team. That has to count for something, right? 2010 Stats (16 games): 4,370 passing yards, 24 TD, 12 INT.
15. Matthew Stafford (DET, 7) - Shoulder injuries limited Stafford to only 96 attempts in 3 games, but when he did play, he was good. Really good. Like Schaub, Stafford has a stud receiver in Calvin Johnson. If he can stay healthy, he can't put up some serious numbers. 2010 Stats (3 games): 535 passing yards, 6 TD, INT; 11 rushing yards, TD.
16. Jay Cutler (CHI, 8) - I've never been high on Cutler, and after the way he quit on his team in the divisional round of the playoffs last year against the Packers didn't help. He can put up some solid numbers, but playing in the Chicago weather with a crop of mediocre receivers will force him to do a lot of that on his own. Personally, I'd pass on Cutler. 2010 Stats (15 games): 3,274 passing yards, 23 TD, 11 INT; 232 rushing yards, TD.
17. Kevin Kolb (??, ?) - Depending on where Kevin Kolb ends up will tell us a lot about his value as a fantasy quarterback this season. If he goes to Arizona, the combination of Larry Fitzgerald and a weak NFC West could help Kolb thrive. He would almost definitely move up a few spots on this list. If he ends up staying in Philadelphia, then he would fall completely off this list. Only time will tell. 2010 Stats (8 games): 1,197 passing yards, 7 TD, 7 INT.
18. Tim Tebow (DEN, 6) - Tim Tebow is an interesting case. While he won't likely post big passing numbers, he will likely rack up some rushing touchdowns. He had one in each of his 3 starts last season, including a 40-yarder against the Raiders. If you're playing in a league where rushing touchdowns count for more than passing touchdowns, Tebow could be a very valuable back-up quarterback. 2010 Stats (9 games - 3 starts): 654 passing yards, 5 TD, 3 INT; 227 rushing yards, 6 TD.
19. Jason Campbell (OAK, 8) - He went from the Redskins to the Raiders. As usual, Campbell is nothing more than a back-up. Plus, with the vicious rushing combination of Darren McFadden and Michael Bush (1812 rushing yards and 15 TD in 2010) they will likely be a run first offense. 2010 Stats (13 games): 2,387 passing yards, 13 TD, 8 INT; 222 rushing yards, TD.
20. Mark Sanchez (NYJ, 8) - Mark Sanchez and the Jets are a defensive team that grinds out wins. I'm not knocking Sanchez here, but with the possibility that Santonio Holmes and Braylon Edwards could both be playing for different teams next season, I just don't see him putting up the kinds of numbers that would make him a top value. 2010 Stats (16 games): 3,291 passing yards, 17 TD, 13 INT; 105 rushing yards, 3 TD.
Next week I'll be back with some more football rankings...
---
Matt Mullin is a sports producer at philly.com. You can reach him by e-mail at mmullin@philly.com. Follow Matt on Twitter: @matt_mullin