Happy Opening Day!
While today marks the start of the 2011 season, tomorrow will mark a very historic occasion. FanDuel will be hosting the world's largest single-day fantasy competition EVER.
To join costs a mere $10, but the prize pool totals $25,000, with a first place prize of $5,000 and payoffs up to 150th place.
You start 35,000 fictional dollars to build your roster. You will fill out a 9-man roster (one player for each position) with that money and try to out-score your opponents. More information on scoring is available on their site, but here is a brief rundown of how it will work:
Hitters: 1B=1pt, 2B=2pts, 3B=3pts, HR=4pts, RBI=1pt, R=1pt, BB=1pt, SB=2pts, Out (calculated as at bats - hits)=-.25pt
Pitchers: W=7pts, ER=-1pt, SO=1pt, IP=1pt (Fractional scoring per out)
I've already picked my team, but can't tell you everyone I picked. That's because FanDuel has added an extra incentive. Anyone who registers their account through Philly.Fanduel.com will be eligible for our Beat the Expert prize.
That means anyone who registers through the link above and beats my score ('PhillySports') will receive their $10 entry fee back, on top of any other prizes won. Just MAKE SURE that you register through THIS LINK to be eligible to beat the expert.
I think that is an acceptable reason for me to hide my picks from you.
Don't despair. I am going to give you some pointers on how to pick your roster as well as some players that could make a big difference in tomorrow's big game.
Here are my 5 commandments of drafting a FanDuel team:
1. Pick a pitcher who will win - There is no doubt that strikeouts and minimal earned runs will help, but there is a reason that pitchers are priced so much higher than position players. For a win, a pitcher will bring home an additional 7 points. That is a shockingly high number when you take into consideration that Josh Hamilton only averaged 3.8 points per game last season and Carl Crawford and Troy Tulowitzki only averaged 3.6. Those 7 points are huge in this format, and a winning pitcher will put you well on your path to winning your matchup.
PLAY: David Price (TB) vs. Orioles - Price is 4-0 vs. Baltimore in four starts in the last two seasons. He has a 2.00 ERA and 24 strikeouts in 27 innings.

2. Take ballpark factors into consideration - All parks are not created equal. Derek Carty wrote a great two-part piece for FanDuel Insider on this exact topic. He can explain the numbers a lot better than I can, and for the sake of not stealing from him, I suggest you read his story. Basically, the factors affect both hitters and pitchers, and they need to be considered before drafting your team.
PLAY: Troy Tulowitzki (COL) vs. Diamondbacks - Tulo is just 3/12 off Kennedy, but he has a double and a home run. With all the aces pitching, this may be one of the better matchups of the day.
3. Avoid hype - A lot can be written, said, tweeted, etc. about who will have a breakout season. When drafting for FanDuel, don't forget that these are what-have-you-done-for-me-lately leagues. The potential of a player is of no value to you until it is realized. You need guys that are hot, and that are on top of their game.
DON'T PLAY: Danny Valencia (MIN) vs. Blue Jays - Valencia had a good rookie season last year with the Twins and followed that up with a strong spring training, earning him the starting job at third base. However, his power numbers against righties were not nearly as high as against lefties. Even though Toronto will start lefty Ricky Romero, Valencia is 0/3 vs. him.

4. Ride the hot streak - This is hard to do at the beginning of the season because spring training numbers can be so deceiving. Don't overlook the importance of a player who has been in the zone, however. Seeing pitches is 90% of the battle when it comes to hitting, and when a player is seeing pitches, it usually results in big numbers. Conversely, there are certain players that will beg you to pick them, telling you that this is the day they break their slump. "They're due," you think. So you play him, then cry all night after an 0-4 with 5 left in scoring position. Buyer beware, slumps won't be broken because you want them to be. Just be patient, and wait until the hitter is ready, then once you are sure the slump is gone, you can give him a look.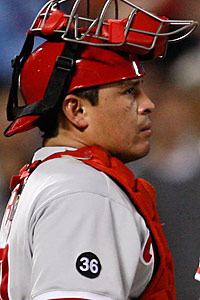 DON'T PLAY: J.P. Arencibia (TOR) vs. Twins - Arencibia struggled down the stretch in spring training, finishing on an 0/12 slump with four strikeouts. Give Arencibia some time, and he will no doubt be able to help you down the line.

5. Consistency is a virtue - Another thing that can not be overvalued is consistency. Don't forget that not every player is going to have a big game on the day you play him. If he is, then maybe you should be writing this instead of me. Sometimes, when you need to save money so you can splurge on an expensive pitcher, the best bet is to look for someone who is consistent. Even if that is 1/3 with an RBI, it will allow you to go out and get a pitcher who can notch you those 7 points for a win.
PLAY: Carlos Ruiz (PHI) vs. Astros - The fact that he hits in the bottom half of the lineup shouldn't scare you away from Carlos Ruiz. He hit .302 last season with a .400 OBP. That's great production from the bottom of the order, and expect more of it this season.
I hope these tips help, and don't forget that you must sign up through this link to be eligible to for the Beat the Expert bonus.
---
Matt Mullin is a sports producer at philly.com. You can e-mail him at m.mullin@philly.com and follow him on Twitter @matt_mullin.