On Thursday I gave you some bargains and busts this weekend, mainly geared towards FanDuel leagues.
Yesterday, I had some advice on who to start and who to sit.
However, the one thing that can guarantee you a win is having a "difference maker" on your roster. By that, I mean a guy who will have a huge game, making it nearly impossible for your opponent to over come. Last year, we saw those kind of performances from Arian Foster, Mike Vick, and Darren McFadden, among others.
Here is a look at some players who have that potential in Week 1:
Darren McFadden (RB - OAK): McFadden's ability to be a difference maker was never more evident in 2010 than when the young running back out of Arkansas played the Broncos at Mile High. He racked up three rushing touchdowns to go with his 165 yards. He also had 31 receiving yards and a touchdown. And that was only one game. When he played the Broncos the second time around, he added another 119 yards on the ground and 39 in the air, but was unable to find the endzone. That's a total of four touchdowns and 354 yards in two games. That's how you get onto my list of difference makers.
Philip Rivers (QB - SD): Last season, Rivers had 18 of his 30 touchdowns at home. He also thew at 70% completion percentage and posted a 110.5 quarterback rating at Qualcomm Stadium. Whenever two teams from opposing conferences square off, I tend to give the advantage to the offense, especially when a guy like Rivers is running it. The Vikings defense doesn't impress me. Look for Rivers to have a big game Sunday.
DeSean Jackson (WR -PHI): Finding a receiver to be a difference maker is hard, but DeSean Jackson posses all the qualities to be just that. Couple that with the fact that he has a contract to play for, and Jackson could be in store for a big game. Don't forget about the extra value he adds as a punt returner.
Finally, here is a look at my roster for tomorrow's $200 Beat the Expert game on FanDuel:
NOTE: I had my team picked, then looked at my difference makers, and added Rivers and McFadden.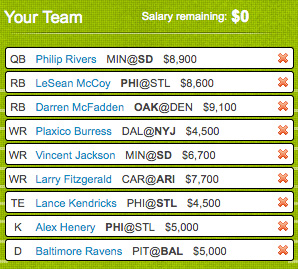 ---
Matt Mullin is a sports producer at philly.com. You can reach him by e-mail at mmullin@philly.com. Follow Matt on Twitter: @matt_mullin