Tonight marks the return of real NFL football, as well as fantasy football.
Although there is only one game being played tonight, there are a ton of impact fantasy players involved. As I wrote about a week or so ago, the Saints and Packers were the two teams with the most players selected in both of my leagues.
That being said, it seems appropriate that this game would kick off fantasy football as well.
For those of you that have already signed up for, or would like to sign up for, FanDuel's free $300 Beat-the-Expert game, make sure to get your picks in before kickoff tonight.
The rules are simple: Select a team of nine players (QB, 2 RB, 3 WR, TE, K, D), where each player is worth a predetermined amount of money. But make sure to keep your roster under the $60,000 salary cap. Once your picks are submitted, you will play against me and everyone else who signed up. The top 20 finishers will win cash. An additional $5 will be awarded to everyone who finishes above me.
For example, if I finish in 50th place, everyone who finished 49th and higher will receive $5, and those who placed in the top 20 will receive that $5 on top of whatever other money they won.
It's free. It's easy. And I'll even show you my roster before the game. Have a look: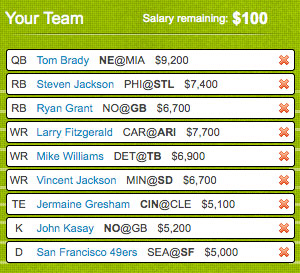 Here's a look at some bargains and busts this weekend on FanDuel:
BARGAINS
Kevin Kolb (QB - ARI), $7,500: He has been completely flying under the radar, but with the weapons he has in Arizona, coupled with the fact that they are facing the Panthers, look for Kolb to be a viable option at QB, which give you the option to spend big money on other skill positions.
Vincent Jackson (WR - SD), $6,700: This is a straight up steal. I played him. You should play him. Everyone should play him. He has one of the best quarterbacks in the league throwing to him, and there is no question he has the ability to put up big fantasy numbers. Remember his three touchdown game last season? Granted, it was at the point in the season where no fantasy owner would risk playing him, but the potential is there nonetheless.
Joseph Addai (RB - IND), $6,100: Moderately priced. Not the best running back in the world, but you have to think the Colts are going to run the ball more than usual with Peyton Manning out and Kerry Collins slated to start.
BUSTS
Arian Foster (RB - HOU), $9,700: The top fantasy scorer from a year ago is already a bust? Considering Foster is nursing a sore hamstring, which will already limit his carries (if he plays at all), it is hard to justify spending this much money on a player with a question mark next to his name.
Drew Brees (QB - NO), $8,900: Brees is as talented as they come, but don't sleep on the Packers defense. Lost in their Super Bowl win last season, in which most of the focus surrounded the emergence of Aaron Rodgers, is the fact that their defense was one of the most dominant in the NFL. In front of their home crowd, look for the Packers defense to give Brees fits.
Reggie Wayne (WR - IND), $7,600: What the Manning injury does for Addai, look for it to do the opposite to Wayne. It is hard to justify spending this kind of money on a guy who has Kerry Collins throwing to him. No offense, Kerry.
I'll be back tomorrow with more on another FanDuel game, plus more on this weekend's games and the first installment of Fantasy Football Diary.
---
Matt Mullin is a sports producer at philly.com. You can reach him by e-mail at mmullin@philly.com. Follow Matt on Twitter: @matt_mullin