Our friends over at Crashburn Alley put together a great chart showing Raul Ibanez's OPS month-by-month for the last two season. For a guy who has been as inconsistent has Ibanez, the numbers are shockingly consistent.
Take a look: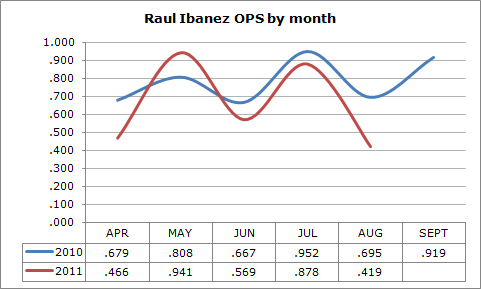 A lot of you may be looking for a player to help you make that run at the title in yourr fantasy league. Using this graph as a guide, it looks like Ibanez could be the guy to do that (He is only owned in 40% of Yahoo! leagues).
The only problem I see with that: John Mayberry Jr.
He's been hot. All he does is get extra-base hits. Charlie Manuel seems to really like him. Ibanez could see his starts against lefties begin to disappear if Mayberry continues to rake.
However, when he does get it, he could make the most of it.
---
Matt Mullin is a sports producer at philly.com. You can reach him by e-mail at mmullin@philly.com. Follow Matt on Twitter: @matt_mullin