Over the weekend, I was waiting in line at CVS and saw some fantasy football magazines on the rack. I picked one up and flipped through a few pages. I even considered buying one just to see how the information compared to what you could get online. Then I looked at the price.
$7.99?!
There's no way I was going to pay that. But I thought to myself, "Hey, I'm giving this information away for free! That's not fair."
I quickly realized, however, that my analysis is probably worth exactly what you are currently paying for it.
With that said, I now present the first of my pre-draft rankings. I figured that since I wrote last week about the importance of drafting a good quarterback, I would start there.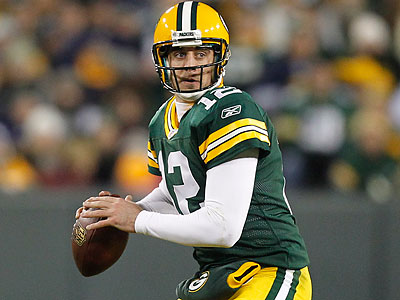 1. AARON RODGERS (GB, Bye Week: 10) - Rodgers led the league is fantasy scoring in 2011, and there is no reason to think he can't do the same in 2012. Greg Jennings and Jordy Nelson, who combined for 24 of Rodgers' 45 touchdowns last season, are both back. I don't think I'm going out on a limb with this pick. In fact, I'm basically falling in line with every other person who has published fantasy rankings this summer. If you want a safe pick, they don't get much safer than the Discount Double Check.
The only real knock on Rodgers is his lack of passing attempts (502 last season). By my count, there were 15 quarterbacks with more attempts than Rodgers last season. However, there were only nine with more completions and just one (Drew Brees) with more touchdowns. If Rodgers struggles with his completion percentage this season (which I don't see happening) or TD/INT ratio (it was ridiculous last season), some other quarterbacks could catch up to him. Like I said, though, he should still be the first quarterback taken. 2011 Stats: 343/502, 4643 passing yards, 45 TD, 6 INT; 385 points
2. TOM BRADY (NE, 9) - First, Rob Gronkowski, Wes Welker, and Aaron Hernandez are all back. Mix in Josh McDaniels at coordinator and Brandon Lloyd on the outside, and Brady has all the targets a quarterback could want.
He has arguably the best receiving tight end in the game in Gronkowski and another top tight end in Hernandez - both can go over the middle with authority and have the ability to turn upfield. There's speed in the slot with Welker, who has been one of the most productive wideouts when healthy. And now, you can add a legitimate deep threat in Lloyd - 16 of his 31 career receiving touchdowns have been 20 yards or longer.
In addition, Lloyd led all receivers in fantasy points while with the Broncos in 2010 - coincidentally, that was also with McDaniels as his OC - but took a step back in 2011 when he went to St. Louis. It's scary to think that he could be Brady's third or fourth option, and while that may hurt Lloyd's value, it most certainly means good things for Brady. 2011 Stats: 401/611, 5235 passing yards, 39 TD, 12 INT; 352 points
3. MATTHEW STAFFORD (DET, 5) - It isn't difficult to imagine a time in the near future when Stafford is the top scoring quarterback. After all, he does have the most dominant receiver in the league, Calvin Johnson. Stafford has been in the league for three years now, but 2011 was his first full season after suffering a knee injury that limited him to 10 games in 2009 and a shoulder injury that kept him out of all but three games in 2010.
Last season, Stafford was second in the league to Brees in both attempts and completions. He racked up 41 touchdowns on 5,038 passing yards, both good for third in the league, while throwing just 16 interceptions. Those numbers are all extremely impressive for a guy in his first full season as a starting quarterback. The only problem with such gaudy numbers is that it is much easier to regress than it is to show marked improvement.
In addition to Johnson, who alone is enough to get Stafford 20 touchdowns in a season, the Lions have a solid tight end in Brandon Pettigrew (not to mention Tony Scheffler), and a promising rookie in Ryan Broyles. After suffering a season-ending knee injury last fall at Oklahoma, there are a lot of question marks surrounding Broyles. However, he finished his collegiate career as the all-time NCAA reception leader (349) despite only appearing in nine games last season. If he is back at full strength, Stafford now has another legitimate touchdown threat to line up across from Megatron.
Speaking of health concerns, that seems to be one of the major issues with Stafford, who has had no shortage of them in his career (both NCAA and NFL). I can't make rankings based on the fact that someone might get hurt (Michael Vick would never crack the top 20). And after such a stellar season, I have to give him the benefit of the doubt. 2011 Stats: 421/663, 5038 passing yards, 41 TD, 16 INT; 333 points
4. DREW BREES (NO, 6) - I know what you're thinking. How dare you put Stafford ahead of Brees! But hear me out first.
The Saints have three legitimate running backs in Pierre Thomas, Darren Sproles, and Mark Ingram. It's clear that they are a pass first team, but when you get in the red zone, especially inside the 10, it is all about scoring, and with that trio out of the backfield, they could get the job done on the ground on first or second down without Brees ever having to drop back. That alone won't make a significant impact on his numbers, but there are other factors playing against Brees.
The Saints have been in turmoil all offseason since news broke in the late winter that they had a bounty program to reward players for injuring members of the other team. Personally, I always thought that was part of the game, but I don't have the time or space to get into that right now. Obviously Brees wasn't directly involved in the bounty program, but the punishment handed down Roger Goodell and the NFL will certainly have an impact on him, specifically with the suspension of head coach Sean Payton. Oh, by the way, Payton was also the play-caller for the Saints offense.
It's tough to say how big of an impact that will have on the quarterback's production, but it certainly won't help. It also won't help that the Saints lost one of their best offensive linemen, guard Carl Nicks, to free agency in the offseason. However, Brees has all of his top targets back from last season - Jimmy Graham, Marques Colston, Lance More, Devery Henderson, Sproles, Thomas - with the exception of Robert Meachem. Therefore, I don't see a huge dropoff for Brees in 2012, but it is something worth considering. 2011 Stats: 468/657, 5476 passing yards, 46 TD, 14 INT; 380 points

5. CAM NEWTON (CAR, 6) - Newton was the breakout fantasy star of the 2011 season at the quarterback position, but it was his rushing numbers that made him most valuable. He threw for just 21 touchdowns while compiling 17 interceptions, giving him a dismal .81 interceptions for every touchdown. If you include his 14 rushing touchdowns, however, that number drops to a very respectable .49 interceptions per touchdown scored.
He still has Steve Smith at wideout, who had his best season since 2008 last year. Perhaps Newton Benjamin-Buttoned the 12-year vet, who turned 33 during the offseason, but his age is certainly a concern. Brandon LaFell could make more of an impact this season, his third in the league. And Greg Olson, who had 45 receptions and five touchdowns in his first season in Carolina, is back in the fold.
The main reason I see Newton taking a step backwards this season, however, is the addition of running back Mike Tolbert. Of Newton's 14 rushing touchdowns, nine of them were of six yards or less - and seven were from just a yard or two out. Tolbert is a beast on short yardage plays. Of his 19 rushing touchdowns in the last two seasons, only one of them was from outside the 10 yard line, and 13 of them have been from three yards or less. I think it is safe to assume that Tolbert was brought in to take over for Newton on those short-yardage plays as a way to keep the young franchise quarterback healthy. Newton's rushing numbers could take a hit this season, and if that is the case, his passing numbers alone won't make him worth a first-round selection. 2011 Stats: 310/517, 4051 passing yards, 21 TD, 17 INT; 706 rushing yards, 14 TD; 352 points
6. MICHAEL VICK (PHI, 7) - Ah, another hybrid quarterback. Unlike Newton, Vick has more weapons than he knows what to do with. The main question is his health. If he can stay healthy all year, he has the potential to put up numbers like he did in 2010, when he was one of the most productive fantasy players in the league. With a happy DeSean Jackson and a healthy Jeremy Maclin, Vick should improve on a sub-par 2011 season. Also helping Vick's case is the fact that pass-happy Andy Reid and Marty Mornhinweg will be calling the plays again.
Unlike Stafford, Vick has nowhere to go but up. He rushed for just one touchdown all of last season, and threw for just 18 - while throwing 14 interceptions. I expect to see a bounce-back season from the Eagles quarterback. 2011 Stats: 253/423, 3303 passing yards, 18 TD, 14 INT; 589 rushing yards, 1 TD; 222 points

7. ELI MANNING (NYG, 11) - Manning had quite the 2011 campaign. He finished sixth among quarterbacks in scoring, throwing for just under 5,000 yards and 29 touchdowns. Most importantly, he picked up his second Super Bowl ring. The emergence of Victor Cruz certainly helped Manning's numbers, as he beat out Hakeem Nicks in nearly every offensive category. If Cruz can continue to play at this level, there is no reason why Manning can't continue to put up solid numbers.
The main reason Manning is a smart pick is his consistency. He has played all 16 games in each of the last seven seasons, while throwing for at least 20 touchdowns in each. In addition, Manning has completed more than 60% of his passes in each of the last four seasons and thrown for over 4,000 yards in each of the last three.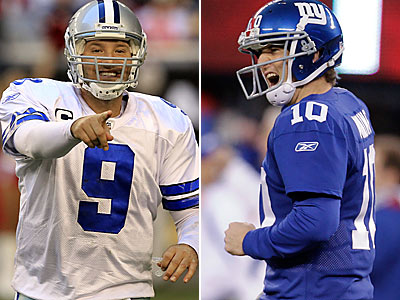 He may not be the sexiest pick, but if you are looking for consistency, this is your guy. Not to mention that he had a career year in 2011. 2011 Stats: 359/589, 4933 passing yards, 29 TD, 16 INT; 273 points
8. TONY ROMO (DAL, 5) - Romo was good in 2011. Really good. He finished the season with a 102.5 passer rating, completing 66.3% of his passes while throwing for over 4,184 yards and 31 touchdowns. The loss of Laurent Robinson will hurt, considering he caught 11 touchdowns in 14 games last season, but Romo should be just fine with Dez Bryant, Miles Austin, and Jasson Witten.
The best part is, the fantasy season ends before the real playoffs start, so you don't have to worry him collapsing under the pressure and hurting your team. That's assuming he can stay healthy, which has been a problem for him over the years - his Week 16 injury last season cost me the Philly.com fantasy championship. 2011 Stats: 346/522, 4184 passing yards, 31 TD, 10 INT; 265 points
9. MATT SCHAUB (HOU, 8) - I have Schaub ranked higher than most other lists I have read. To me, he has one of the league's best receivers in Andre Johnson, and that has to count for something. Couple that with the fact that he played in only nine games last season, but threw 15 touchdowns and only six interceptions and I get the feeling he could have a great year in 2012. If you spread his numbers out over 16 games, he would have thrown for 4,407 yards, 27 touchdowns, and 11 interceptions. Not too shabby.
Sure, their improved defense has caused them to run the ball with Arian Foster and Ben Tate more, but Schaub will still post big numbers throwing to Johnson and tight end Owen Daniels, as well as Foster out of the backfield. 2011 Stats: 178/292, 2479 passing yards, 15 TD, 6 INT; 151 points
10. MATT RYAN (ATL, 7) - Ryan has one of the best receiving corps in the league with Roddy White, Julio Jones, Harry Douglas, and Tony Gonzalez. He put up career highs in yards and touchdowns last season, and has all of his weapons back for this year. I'm looking for more of the same in 2012. The emergence of Jones, now in his second season - and the first without a lockout shortened offseason - will go a long way to help Ryan. 2011 Stats: 347/566, 4177 passing yards, 29 TD, 12 INT; 260 points
11. BEN ROETHLISBERGER (PIT, 4) - Big Ben took a slight step back last season, but the Steelers are still a passing team for the most part. He threw for over 4,000 yards last season, but also had a career high in passing attempts and his worst TD/INT ratio since 2008. Mike Wallace, the Steelers' best receiver is currently in the midst of a hold-out, but he should be back by the time the season starts. Hopefully his absence won't have too big of an impact on the offense. I expect Roethlisberger to put up solid numbers this year. Solid, but nothing incredible. 2011 Stats: 324/513, 4077 passing yards, 21 TD, 14 INT; 206 points
12 . PHILIP RIVERS (SD, 7) - The loss of Vincent Jackson will really hurt Rivers. But by now, Rivers and the Chargers have likely moved passed that. They brought in Meachem, who won't be able to fully replace Jackson's production, but he will certainly help. Right now, their biggest concern could be the loss of another Vincent, Vincent Brown, who broke his ankle Saturday during a preseason game against the Cowboys. Reports are that Brown could be back for the second half of the season, which isn't ideal for fantasy owners. Antonio Gates seems healthy, so there is always that, but I don't see Rivers having anything more than an average season, at least compared to what we are used to seeing out of him. 2011 Stats: 366/582, 4624 passing yards, 27 TD, 20 INT; 246 points
13. PEYTON MANNING (DEN, 7) - Talk about a risk/reward pick. If his neck is really better, Manning could put up top-five numbers, but there are a lot of unknowns, especially surrounding a neck injury that required him to miss all of the 2011 season. If you pick him, it would definitely be worth taking another quarterback before too long, just in case Manning suffers a setback. 2011 Stats: N/A

14. JAY CUTLER (CHI, 6) - With the addition of Brandon Marshall, look for Cutler to put up solid numbers this season. Marshall caught 13 touchdowns and 206 passes for 2,590 yards in his final two season playing with Cutler on the Broncos. Cutler also has one of the best pass-catching running backs in the league in Matt Forte. 2011 Stats: 182/314, 2319 passing yards, 13 TD, 7 INT; 130 points
15. ALEX SMITH (SF, 9) - Smith has new targets in Randy Moss and Mario Manningham - which should help his production - to go along with Vernon Davis and Michael Crabtree. Look for a solid season out of Smith, who proved to the world in 2011 that he has what it takes to be a winning quarterback in the NFL. Sure, their defense was incredible, but Smith's offense did their part as well. 2011 Stats: 274/446, 3150 passing yards, 17 TD, 5 INT; 201 points
16. ANDY DALTON (CIN, 8) - I have high expectations for Dalton's top target, A.J. Green. I also like Jermaine Greshem, and think Dalton will improve in his second season as the Bengals quarterback. 2011 Stats: 300/516, 3398 passing yards, 20 TD, 13 INT; 195 points
17. CARSON PALMER (OAK, 5) - Palmer is my sleeper pick at quarterback this season. I like his two young receivers, Darrius Heyward-Bey and Denarius Moore, and with a full offseason under his belt, as opposed to joining the team midway through the season, Palmer will put up solid numbers in Oakland. 2011 Stats: 199/328, 2753 passing yards, 13 TD, 16 INT; 129 points
18. ROBERT GRIFFIN III (WAS, 10) - Of the two big rookie quarterbacks, Griffin and Andrew Luck, the nod goes to Griffin, at least in the short term. He's in a better position to put up numbers out of the gate, and between his passing accuracy and running ability, he could be the Cam Newton of 2012. 2011 Stats: N/A

19. SAM BRADFORD (STL, 9) - I liked Bradford a lot heading into last season, but was disappointed with the results. I don't see the team improving much this offseason, and I think the same can be said about Bradford. 2011 Stats: 191/357, 2164 passing yards, 6 TD, 6 INT; 84 points
20. JOSH FREEMAN (TB, 5) - The addition of Vicent Jackson, to go along with Mike Williams on the outside, should help Freeman, but I still see him as a mediocre quarterback in a mediocre offense. He has a lot to prove before he can climb any higher on this list, and to start the season, I don't see him as much more than a backup option in terms of fantasy. 2011 Stats: 346/551, 3592 passing yards, 16 TD 22 INT; 238 rushing yards, 4 TD; 190 points
That's it for my rankings. Here's a quick look at how they compare to the top 20 from ESPN and Yahoo:
| | | | |
| --- | --- | --- | --- |
| Rank | Fantasy Island | ESPN.com | Yahoo! |
| 1 | Aaron Rodgers (GB, 10) | Aaron Rodgers (GB, 10) | Aaron Rodgers (GB, 10) |
| 2 | Tom Brady (NE, 9) | Tom Brady (NE, 9) | Drew Brees (NO, 6) |
| 3 | Matthew Stafford (DET, 5) | Drew Brees (NO, 6) | Tom Brady (NE, 9) |
| 4 | Drew Brees (NO, 6) | Matthew Stafford (DET, 5) | Cam Newton (CAR, 6) |
| 5 | Cam Newton (CAR, 6) | Cam Newton (CAR, 6) | Matthew Stafford (DET, 5) |
| 6 | Michael Vick (PHI, 7) | Eli Manning (NYG, 11) | Michael Vick (PHI, 7) |
| 7 | Eli Manning (NYG, 11) | Michael Vick (PHI, 7) | Eli Manning (NYG, 11) |
| 8 | Tony Romo (DAL, 5) | Tony Romo (DAL, 5) | Tony Romo (DAL, 5) |
| 9 | Matt Schaub (HOU, 8) | Peyton Manning (DEN, 7) | Philip Rivers (SD, 7) |
| 10 | Matt Ryan (ATL, 7) | Philip Rivers (SD, 7) | Peyton Manning (DEN, 7) |
| 11 | Ben Roethlisberger (PIT, 4) | Matt Ryan (ATL, 7) | Jay Cutler (CHI, 6) |
| 12 | Philip Rivers (SD, 7) | Ben Roethlisberger (PIT, 4) | Robert Griffin III (WAS, 10) |
| 13 | Peyton Manning (DEN, 7) | Matt Schaub (HOU, 8) | Ben Roethlisberger (PIT, 4) |
| 14 | Jay Cutler (CHI, 6) | Jay Cutler (CHI, 6) | Matt Ryan (ATL, 7) |
| 15 | Alex Smith (SF, 9) | Robert Griffin III (WAS, 10) | Matt Schaub (HOU, 8) |
| 16 | Andy Dalton (CIN, 8) | Josh Freeman (TB, 5) | Carson Palmer (OAK, 5) |
| 17 | Carson Palmer (OAK, 5) | Alex Smith (SF, 9) | Josh Freeman (TB, 5) |
| 18 | Robert Griffin III (WAS, 10) | Andy Dalton (CIN, 8) | Andy Dalton (CIN, 8) |
| 19 | Sam Bradford (STL, 9) | Joe Flacco (BAL, 8) | Joe Flacco (BAL, 8) |
| 20 | Josh Freeman (TB, 5) | Carson Palmer (OAK, 5) | Andrew Luck (IND, 4) |
I'll be posting more rankings soon, so make sure to check back.
---
Matt Mullin is a sports producer at philly.com. You can reach him by e-mail at mmullin@philly.com. Follow Matt on Twitter: @matt_mullin