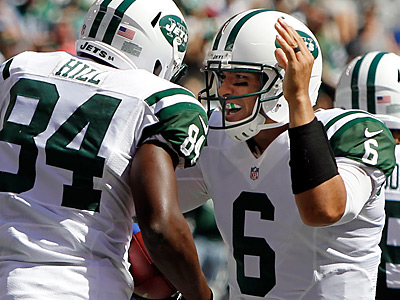 It was only one game, so there is no reason to overreact if your first round pick - Matthew Stafford in my case - didn't meet your expectations. Most of you will be fine. There is always a lot to take in after Week 1, but the hard part is deciphering what is fact and what is fiction.
-- I enjoyed this piece by Doug Orth of Fantasy Football Today, in which he takes a look at some players who seemingly over-performed in Week 1 (like Mark Sanchez) and tries to determine if it was the beginning of a trend, or just a mirage. There is just as much danger in dropping a player after one week as there is to adding one, especially when your addition peaked in the opener and the guy you dropped gets better each week.
-- Speaking of overreacting, the guys at NFL.com took a look at some owners who are suffering from buyer's remorse after a rough Week 1. As I said, it's too early to jump to any conclusions, but that didn't stop every Fred Jackson from taking to social media to let their anger be known.
-- I've received a lot of questions this week on a pair of running backs that both showed promise in Week 1. Christopher Harris of ESPN.com doesn't seem to have a problem deciding between the two. He praises Tampa Bay's Doug Martin, but doesn't feel the same about Washington's Alfred Morris, pointing out that of his 28 carries against the Saints, 22 went for 3 or fewer yards.
-- One of my favorite weekly reads, Matthew Berry's "Love/Hate" column, lists Morris (as well as Martin) as a running back he loves this week, but he isn't so high on DeSean Jackson, who is listed as questionable after suffering a hamstring injury earlier in the week and faces a difficult matchup against the Ravens.
-- Speaking of Jackson, Adrian Mojica of NFL.com is also down on the Eagles' wideout this week, as well as quarterback Michael Vick. He points out the fact that "the Baltimore Ravens' defense has not allowed more than one pass reception for a touchdown in 19 games." That's not a good sign...
-- Brad Evans of Yahoo! Sports' Roto Arcade lists some over/unders for Week 2. Among them is Vick's combined turnovers and sacks against the Ravens. They have it set at 4.5. I'll take the over, and the Roto Arcade guys generally agree.
-- Scott Pianowski of Yahoo! Sports examines what the absence of Darrelle Revis means for Mike Wallace, Antonio Brown, and Ben Roethlisberger.
-- Eric Mack of SI.com takes a look at all the Week 2 matchups and which players you should start and which ones you should sit for each team.
-- Ed Barkowitz of the Daily News focuses on Kevin Ogletree in his weekly fantasy column.
-- Finally, here are links to my injury report for week 2, which focuses on wide receivers, and my Week 2 waiver watch.
Download our 2012 Pro Football App!
It's awesome, and it's free this season. I had it last year, and it was more than worth the $2.99 that I paid. You get all the latest news, photos, videos, plus a live game center that features an in-game box score and our live chat all on one screen.
We are also running a contest that you can enter once you download the app. The winner gets a mini-helmet signed by Jeremy Maclin. That's pretty cool. Did I mention that it was free?
All the links you need to download it on your Apple or Android device can be found right here.
---
Matt Mullin is a sports producer at philly.com. You can reach him by e-mail at mmullin@philly.com. Follow Matt on Twitter: @matt_mullin