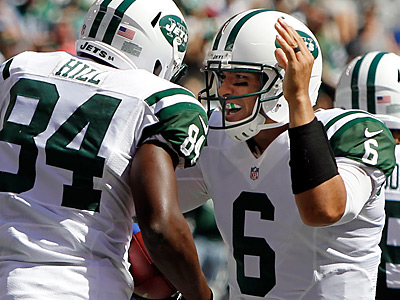 It was only one game, so there is no reason to overreact if your first round pick - Matthew Stafford in my case - didn't meet your expectations. Most of you will be fine. There is always a lot to take in after Week 1, but the hard part is deciphering what is fact and what is fiction.
-- I enjoyed this piece by Doug Orth of Fantasy Football Today, in which he takes a look at some players who seemingly over-performed in Week 1 (like Mark Sanchez) and tries to determine if it was the beginning of a trend, or just a mirage. There is just as much danger in dropping a player after one week as there is to adding one, especially when your addition peaked in the opener and the guy you dropped gets better each week.
-- Speaking of overreacting, the guys at NFL.com took a look at some owners who are suffering from buyer's remorse after a rough Week 1. As I said, it's too early to jump to any conclusions, but that didn't stop every Fred Jackson from taking to social media to let their anger be known.
-- I've received a lot of questions this week on a pair of running backs that both showed promise in Week 1. Christopher Harris of ESPN.com doesn't seem to have a problem deciding between the two. He praises Tampa Bay's Doug Martin, but doesn't feel the same about Washington's Alfred Morris, pointing out that of his 28 carries against the Saints, 22 went for 3 or fewer yards.