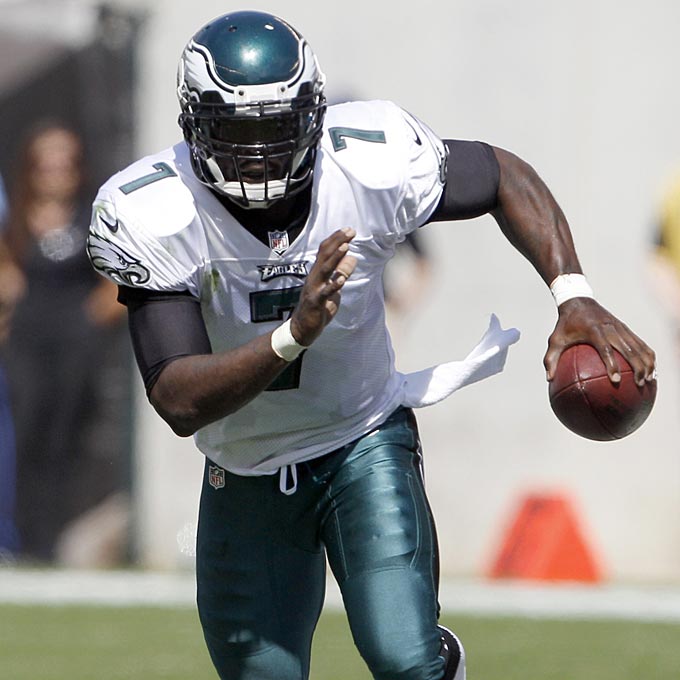 There has been a lot of talk in Philadelphia this week - and every other week for that matter - about what style of play makes Michael Vick most successful. Is it the drop-back, pocket-passing game that helped make him the runner-up for MVP in 2010 or the run-and-gun style he used in Atlanta as "The Michael Vick Experience?"
When it comes to fantasy football, the same question applies. And as the cries from the fanbase for Nick Foles to start grow louder, so do the cries from his fantasy owners, who certainly haven't gotten the value they expected out of the Eagles quarterback this season. In my opinion, it is getting near the time where moving Vick to your bench isn't out of the question. However, Christopher Harris of ESPN.com disagrees.
Harris breaks down Vick's rushing and passing points individually, and found that Vick posts nearly four rushing points per game (including deductions for fumbles and negative yards that usually take place on passing plays). These points are points that you don't get from a Tom Brady or Matthew Stafford. Because of this, Harris writes, "Vick is actually safer in a bad start than your typical pocket passer."
Vick takes the No. 5 spot in Harris' rankings this week, and goes as far as to say that Vick will remain in his "top 10 for as long as he's upright."
With the added points Vick gets by rushing the football, it seems that fantasy owners will be happy to see a little more of "The Michael Vick Experience."
---

---
Here's a look at what some other writers are saying heading into this week:
-- In this week's Love/Hate column, Matthew Berry continues his love affair with Robert Griffin III. Can you blame him? RGIII had tremendous expectations placed on him heading into this season, and has somehow surpassed them all. Stuff like that doesn't happen often, and Griffin has shown no signs of slowing up...
-- Tristan Cockroft of ESPN.com takes an interesting look at how to rank players: consistency. While having a guy like Jamaal Charles post a big game can help you win one week, the flip side of the coin can be devastating. Avoiding those players who are inconsistent will make you fa lot more likely to win week after week. RGIII and Doug Martin take the top two spots in his rankings (which go back to the start of the 2010 season), but since both are rookies and have only played in three games, I looked right past them. Who did I find? LeSean McCoy and Ray Rice tied, with Arian Foster lurking right behind.
-- A breakout week for Randy Moss? That's what Adrian Mojica of NFL.com thinks now that Darelle Revis is out for the season.
-- Andy Behrens of Yahoo! Sports' Roto Arcade takes a look at the trade value of RGIII. This is a must-read if you own the Redskins quarterback. You may be surprised at how much you can get in return.
-- Matt "Money" Smith of NFL .com wants you to sell high on Cam Newton. And buy low on Andy Dalton.
-- And don't forget to check out Ed Barkowitz in SportsWeek. This week he takes a look at why you should pick up Ramses Barden of the Giants. Wait, the guy from "No Country for Old Men?"
---
Matt Mullin is a sports producer at philly.com. You can reach him by e-mail at mmullin@philly.com. Follow Matt on Twitter: @matt_mullin