Archive: July, 2011
Matt Mullin, Sports Editor
Football may not be officially back, but it sure feels like it to me. I was hoping to wait until after the lockout ended and free agency was over to begin ranking players for the 2011 fantasy football season, but I couldn't help myself.
Quarterback looked like one of the most settled positions, so I decided to start there. Sure, there are a few guys that could move, but not too many in the top 20. And yes, this could change slightly depending on where some key free-agent receivers go. But I figure I can update this list if any crazy deals are made.
As it stands now, here is my take on the best fantasy quarterbacks heading into the 2011 season:
2011 TOP 20 FANTASY QUARTERBACKS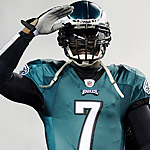 1. Michael Vick (PHI, BYE: 7)
No hometown bias here. Ok, maybe a little. But Michael Vick was by far the most electrifying player in the NFL last season. And when healthy, he was able to put up some of the biggest fantasy numbers of the season. With (almost) a full season under his belt as the Eagles' starter, look for Vick to find even better chemistry with DeSean Jackson, Jeremy Maclin and the rest of his weapons. Couple that with the additions of first-round pick Danny Watkins and veteran line coach Howard Mudd, and Vick could have the protection to really wreak havoc on defenses. As long as he stays healthy, there is no reason that the combination of the weapons around him and his own ability to create plays can't churn out some huge numbers. Besides, how many other quarterbacks are a threat to throw and run for multiple touchdowns in any given game? 2011 Stats (12 games): 3,018 passing yards, 21 TD, 6 INT; 676 rushing yards, 9 TD.
Matt Mullin, Sports Editor
Since this is a fantasy sports blog, and Derek Jeter is probably the biggest baseball news during a very slow week, I figured now would be a good time to break down all things Jeter.
1. THE 3,000th HIT
Jeter, for the first time in as long as I can remember, is getting some serious negative press. The weird thing about it is that it's on the heels of his popularity sky rocketing in the games leading up to him notching No. 3,000. I think pretty much everybody knows the story of his epic home run to level up into DJ3K status, and the debacle that followed.
Jeter is yet to compensate the fan who caught his homer last weekend, but the Yankees have generously given him four seats that even Don Draper couldn't sell and a couple pieces of merchandise. Not a bad deal - for the Yankees, that is.
Better yet, the (un)lucky fan will wind up owing the IRS thousands because of the luxury box seats he was given by the Yankees.
I've heard the ball could have gone for anywhere from $250,000 to $500,000 and up. Either way, Jeter has to compensate 23-year-old Christian Lopez.
Matt Mullin, Sports Editor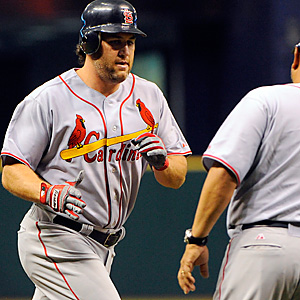 Recently, the 2011 MLB season reached its midway point. While they don't hand out any official awards at halftime, I figured it was an appropriate time to give some players their due.
In order to make it as fair as possible, I made the cut-off July 1. That way, only stats accumulated on June 30th or earlier were taken into consideration. Awards given are: Most Valuable Fantasy Player, Fantasy Cy Young, Rookie of the Fantasy Year, and Fantasy Sleeper of the Year (batter and pitcher). Some players were nominated for more than one award, but no player was allowed to win more than one. Here is a look at some award winners after the first three months of the season.
MOST VALUABLE FANTASY PLAYER
This was one of the closest races, and really came down to Jose Bautista vs. Matt Kemp. While Bautista's numbers are spectacular, Kemp's rare ability to hit for average and power coupled with his speed and prowess on the basepath makes him arguably the most dangerous players in the league.
Curtis Granderson and Adrian Gonzalez are both having monster seasons as well. Granderson had the edge in runs and Gonzalez has the the edge in hits, batting average, and RBI, but much like Bautista, they lacked the all-around dominance of Kemp.