Archive: April, 2011
Matt Mullin, Sports Editor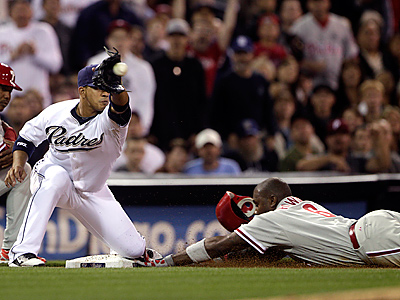 By sweeping the Padres over the weekend, the Phillies extended their season-best win streak to five games. More intriguing than the wins themselves is the way in which the Phillies have been winning. In those five games (one against the Brewers and four against the Padres) the Phillies totaled just 16 runs. And their fantasy owners felt the burn.
One of the hardest things about being a fantasy owner and a fan is the bittersweet feeling you get when your team loses at the hand of one of your fantasy players. Conversely, there is the feeling when your "real" team wins, but your fantasy players struggle, like the Phillies did this past weekend.
While wins are great, they belong to the team, and have no bearing on your fantasy results (unless of course you're talking pitchers - We'll get to them later). Extra-base hits, RBI, and especially home runs, will help you win your fantasy matchup.
In 46 innings, the Phillies totaled 35 hits, but just 12 went for extra bases.
Ryan Howard, who had been one of the Phillies' hottest hitters, accounted for six of those hits, three of them for extra bases, while striking out eight times. I'm no math major, but that's not good production. But hey, a win is a win is a win.
On the Bright Side
Matt Mullin, Sports Editor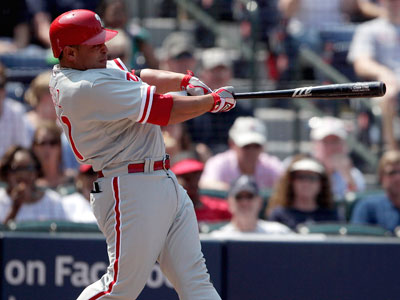 The Phillies are getting set for a three-game series against the Milwaukee Brewers, a team many think can contend for the NL Pennant, and perhaps the World Series.
On Tuesday night, the Phillies will face Randy Wolf, who donned red and white pinstripes from 1999-2006. While a few members of the team weren't around when the Wolf Pack roamed the outfield stands, Carlos Ruiz was, if only for a brief moment.
Ruiz, who is off to a great start for the Phillies, didn't spend much time playing with Wolf. His first year with the Phillies, 2006, was also Wolf's last. In fact, he only caught Wolf twice during the 2006 season.
Looking at his career numbers against Wolf (5/8, 3 2B, HR, 3 BB), you would think Ruiz picked something up during their time together in Philadelphia. Whether that is the case or not, now might be the time to pick up the Phillies' catcher, who is hitting .308 in his career off current Brewers pitchers. Fantasy owners seem to be picking up on this trend as well, since his ownership is up 30% in the last week. If he is still available in your league, you better go get him.
Here is a look at the rest of the Phillies' roster vs. the Brewers starters they will face this week:
Shaun Marcum
Randy Wolf
Chris Narveson
Shane Victorino

0/6

Matt Mullin, Sports Editor

Matchups are everything in fantasy baseball, especially in FanDuel single-day competitions.

This weekend, there are a lot of intriguing matchups, and I'm here to lend you a hand in finding out what those are.

With the amount of FanDuel tournaments going on, I figured there is a lot of money at stake, and why not try to help you pocket some of it.

First, FanDeul is hosting a free tournament tonight just for philly.fanduel.com users. Make sure to sign up before the picks lock at 7 p.m.

For those of you who like to live on the edge, FanDuel will be offering a $5,000 MLB MVP tournament today, which costs $100 to join, but is limited to just 56 competitors, making your chances of winning much higher.

And if you aren't able to afford that, there is the $1,000 MLB Hit & Run that costs just $10 join.

Matt Mullin, Sports Editor

By the time you are reading this, today's FanDuel $1,000 MLB Single is probably already filled up. Don't worry, though. I come bearing good news. FanDeul is hosting a free tournament tomorrow just for philly.fanduel.com users. Make sure to sign up before the picks lock tomorrow at 7 p.m.

Also, for those of you who like to live on the edge, FanDuel will be offering a $5,000 MLB MVP tournament tomorrow, which costs $100 to join, but is limited to just 56 competitors, making your chances of winning much higher.

And if you aren't able to afford that, there is the $1,000 MLB Hit & Run that costs just $10 join.

Finally, there is Saturday's $4,000 MLB Grand Slam, which costs $10 to join and has a top prize of $800 with the top 39 spots winning cash.

With all that action this weekend, I figured it wouldn't hurt to give you a look at some guys who are on hot streaks, and whether or not those streaks will last the weekend.

Tomorrow, I'll be back with some matchups that could prove helpful this weekend.

Matt Mullin, Sports Editor

Welcome to philly.com's new fantasy sports blog. I will begin posting all my fantasy news, notes and analysis right here. Some of my colleagues will also contribute guest posts.

I will also post links, minutiae and other various fun things, as well as keeping you up to date on the latest and greatest FanDuel offerings.

The first thing I wanted to tell you about is tomorrow's FanDuel $1,000 MLB Single. Hurry and sign up now because it is restricted to 222 participants and the spots are filling up quickly.

The top 18 finishers win prizes, but if you're already a philly.fanduel.com user or sign up via the above link, and you place in the money, FanDuel will double your winnings.

Make sure you sign up through those links for the "Double Your Money" bonus. If you win double, you will receive the bonus money within 24 hours.

---

Matt Mullin, Sports Editor

The first week of the season is always interesting. So many people jump to conclusion about whether their star player is going to have a down year, rushing to pick up a hot undrafted free agent.

Not so fast. Plenty of players get off to slow starts, but that's no reason to abandon ship.

While a slow start can be discouraging, completely changing your fantasy philosophy is not the best route to take. There is always the need to fill spots on your roster, and the waiver wire never looks as tempting as it does in the first week of the season.

Here is a look at some players who've had surprisingly hot starts, and whether or not you should ride out the hot streak, or drop them before they hurt your team in the long run:

Starlin Castro (CHC - SS) - Castro is young, very young. And to be starting out a season so hot could be viewed as a message being sent to the rest of the NL Central. While Castro's power numbers aren't going to be superb, he is surprisingly strong, and could become a real threat at the plate. He hits for contact, and his speed will help him leg out some infield singles. He should also be good for 40 steals, if he can continue to get on base. STATUS: BUY




Matt Mullin, Sports Editor

HOWARD'S MONSTER OPENING WEEKEND

Ryan Howard, who has been among the league's most productive first basemen since his MVP season in 2006, had quite the weekend. Without Jayson Werth and Chase Utley in the lineup many were concerned that he would struggle to drive in and score runs.

Not so fast. In his first three games (13 at-bats) of the season, Howard had seven hits, including a double and a home run, 6 RBI, and 3 runs.

If Howard can stay hot, he could regain his spot as the top fantasy first baseman not named Albert Pujols. Howard was ranked 8th this year, largely because of his diminished power numbers last season and the aforementioned absence of Werth and Utley.

Considering Howard usually doesn't heat up until the weather does, this is a good sign for fantasy owners.

INJURIES

Matt Mullin, Sports Editor

First, I would like to thank everyone who competed in yesterday's FanDuel Grand Slam Event. It was a huge success and also helped heal my ego that had been damaged by a horrendous fantasy hoops season.

I finished in 540th out of the 2,455 people whop entered. While that might not be great, like 'thruthewickets', who finished in both first and second and took home a total of $7,500, it was more than enough to beat most of the people who registered through philly.fanduel.com and qualified for the Beat the Expert bonus.

For those of you who finished ahead of me, congratulations. You should receive you $10 bonus in the next 24-48 hours.

For those of you who didn't, don't despair. There will be plenty of time this season for you to beat me. I'll keep you all posted on when the next contest will be. In the mean time, you can get some practice in by playing head-to-head.

Here is a look at my roster and the winning roster: