Archive: October, 2012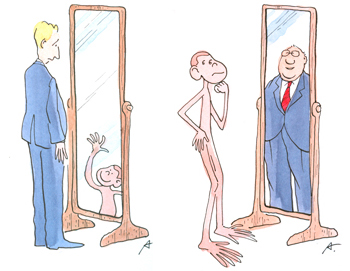 This is the final installment of planet-of-the-apes and in fact my final story as a staff writer for the Philadelphia Inquirer. Higgs and I have already folded up our tents and started setting up for our next gig – at WHYY's website NewsWorks, where we will be joined by former collaborator Tony Auth.
We're calling our next column/blog Lightning Rod, charged issues in science.
Thanks to all those who contributed ideas and discussion points to Planet-of-the-Apes. It wouldn't have been so much fun without you. I hope you will follow us to Lightning Rod. We're planning to start before the end of the month. The show will go on!
Higgs here, with an announcement about another interesting event that I can't attend, but you should. Tuesday (10/16), at the Academy of Natural Sciences, author David Quammen, will talk about his new book Spillover: Animal Infections and the Next Human Pandemic. My human and I have been reading it together and highly recommend this book. The subject matter is important, and the writing is suspenseful and gripping. This is science writing at its best.
The first chapter details the horrors of the mysterious "Hendra" virus – a disease that appears to have jumped from bats to horses to humans in Australia.
Here's what the Academy has to say:
Higgs here. I will be taking over POTA until October 26. Apparently after the 26th I will be felid non grata at philly.com. : (
But in this brief time that remains let's have some fun. This post is about Penn Museum archaeologist Patrick McGovern, who has discovered that people drank wine before 5000 B.C. Here's the first sentence from a story my co-blogger wrote about him in 1996:
Before man invented the wheel or wrote the first word, he made wine.
This is my penultimate column for the Philadelphia Inquirer. It will run in print on Monday. The final one runs the following Monday:
A century ago, Americans so vehemently hated the wolves of their Western states that they attacked them with germ warfare.
Veterinarians deliberately infected coyotes with a disease called mange, hoping it would spread to the wolves, which it did, causing many of them to lose so much fur that they froze to death in the harsh winters.