Archive: August, 2012
This preview story ran in Sunday's Philadelphia Inquirer. I wish I had been able to see Jacqueline Barton's talk on DNA wires but I had other obligations. I'm excited about some of the Monday sessions:
What can chemistry do to help doctors detect cancer? To exonerate the wrongly convicted? And clarify the causes of climate change?

These are some of the issues that will be addressed this week as 14,000 scientists descend on the Convention Center for a meeting of the American Chemical Society. Though the theme is "Materials for Medicine and Health," more than 8,000 planned sessions will range into nutrition, brain science, biodegradable plastics, solar cells, and forensics.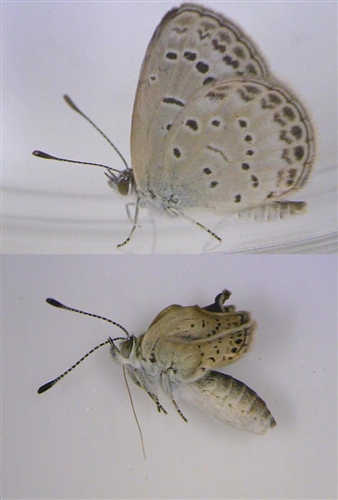 A group of scientists say they've connected last year's Fukushima accident to an increase in visible mutations affecting butterflies. Some of those mutations resulted in dented eyes and stunted wings. Here's an account from the Associated Press.

Scientists have also detected small amounts of radiation from the accident in people who were near the site. How this will affect their health remains unknown. I wrote a number of stories about the accident soon after it happened in March of 2011, and learned that we have limited data on the long-term risks of radiation:
"Where the experts do not agree is on how much cancer risk people are likely to face in nearby parts of Japan. Those exposures are significantly above the natural background but below levels where science has clear-cut data on cancer risk.
Some experts state emphatically that radiation is dangerous even in small amounts. Others say that at very low doses it is harmless or even beneficial.
More relevant to Americans is the profusion of CT scans, which can deliver many times the radiation dose of conventional X-rays. Several scientists have recently begun raising alarms that excess use of scans could be causing thousands of additional cancer cases each year, though that, too, is controversial.
As of late this week, scientists had measured elevated levels of radioactive iodine and cesium in air, and, more recently, radioactive iodine in tap water as far away as Tokyo, 150 miles away. They have also detected radioactive fallout on local spinach, cabbage, broccoli, and other vegetables."
This is a brief I just wrote for Friday's Inquirer. The news was just announced today:

The National Science Foundation announced Thursday that it is awarding the Franklin Institute more than $5 million to educate Philadelphians and other urbanites about climate change. Franklin Institute will be sharing the money with partners in New York, Pittsburgh and Washington DC.
"I have been leading the fight in Congress to make science and research funds available to institutions in Philadelphia and nationwide," said Congressman Fattah, the leading democratic appropriator for science and the NSF. "Education and research provide the key to American innovation and to securing our future as world leaders. That includes leadership to combat human-created climate change while we still have time to act."
As a free-ranging kind of primate, I've always had mixed feelings about zoos. They can raise awareness about endangered species, deforestation and other problems, but many of those caged animals may not be enjoying ideal physical and mental health. Are zoo apes happy and secure or confined, bored and stressed out?

So it was good news that Philadelphia is leading the country in giving zoo animals the chance to roam with an extraordinarily innovative system of overhead trails opening today. My colleague at the Inquirer Sandy Bauers covered this for today's front page.
http://www.philly.com/philly/health/20120816_Philadelphia_Zoo_will_inaugurate_series_of_trails_for_animals.html
"On Thursday, the zoo will unveil a network of trails that will allow many animals, from small lemurs and monkeys to large apes, bears, and cats, to make choices and explore new realms, traveling more freely than once thought possible in captivity.
No other zoo has attempted a similar project of this magnitude, officials say. They feel certain that this will make the animals more physically fit, mentally stimulated, and even happier. And scientific research may even provide proof."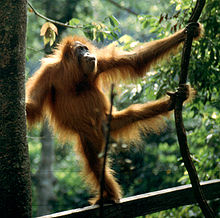 As human populations have ballooned into the billions, our ape relatives have declined to precipitously small numbers. Tonight, conservation biologist Ian Singleton will be at the Philadelphia Zoo to talk about the critically endangered Sumatran orangutans and the Sumatran Orangutan Conservation Program.

The talk starts at 6 pm and the zoo promises light refreshments.
The biggest threat to these intelligent creatures is deforestation – people are cutting down the forests they depend on to grow palms for palm oil. You may not think you're a big palm oil consumer but the stuff is in soaps, shampoos, and cosmetics as well as many crackers, chips, ice creams and other fattening excuses for foods. Palm oil is not always listed in the ingredients, Singleton said. Legally, food companies can use the less specific term, "vegetable oil."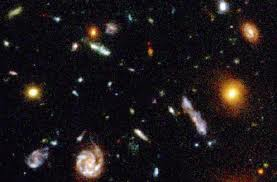 Here's my column for this week. It will also appear in Monday's health and science section of the Philadelphia Inquirer.
After a triumphant landing, the Curiosity rover is ready to search Mars for signs of past life or suitability for life. Several readers have raised concerns that NASA scientists might fail to recognize life if it isn't based on carbon or is otherwise radically different from our kind of life.
It's true that biologists don't have a single agreed-upon definition of life, and often end up with a laundry list of characteristics instead.

That's been a concern for NASA, and so in the 1990s, the space agency convened a panel to try to define life, said Steve Benner, a biologist from the Foundation for Applied Molecular Evolution(Ffame). The panel put evolution front and center: Life, the panel decided, is self-sustaining chemical system capable of Darwinian evolution. Benner said Carl Sagan had some pull on the panel. "This definition is very Saganesque."
Physicist Robert Park raised the unnerving possibility in this interesting Slate piece contrasting robotic and manned space exploration.

"If we sent astronauts to Mars, they would travel for nine months and then have to sit on their hands for another 18 months, awaiting the next conjunction with Earth permitting departure. It's not a pretty picture; countless millions of Earth organisms would hitch a ride to Mars in every human gut and multiply in their excrement while there. We would find life on Mars, but it would look familiar. Mars should be quarantined."
Read the rest here.

Meanwhile, our robotic astronaut Curiosity is beaming back stark and spectacular panoramas from its landing site in Gale Crater. Here's what NASA has to say about the one above:
F.F. I thought I'd let Higgs the cat deal with some recent claims from climate change deniers and cold fusion believers. Here's a comment from a recent column comparing and contrasting climate denail with creationism.
Comment: 1,000 published articles and studies in reputable scientific journals that refute "Man-Made" global warming:
http://www.populartechnology.net/2009/10/peer-reviewed-papers-supporting.html
Higgs: What, just 1000? You people are way behind the cold fusion people. Just take a look at this email message that recently landed in our inbox: