Archive: December, 2011
Higgs did well as a guest blogger. He's also an early adopter, having had his own google+ account for months now. If you google Higgs Flam you'll find he's navigating gracefully through the world of social networking. Deep down, however, he's quite shy and would be pleased to have more people join his circles.
Several readers corrected me on the headline I gave his post, informing me that Higgs is not yellow. The correct term for his coloration is apparently orange, or ginger. To me his fur looks yellow in indirect or artificial light and orange when low-angled sunshine streams in the windows. Ginger sounds too feminine for a male cat.
But that's just his haircolor. As you can see, his true color is pink. He got this radical punk hairstyle courtesy of the University of Pennsylvania School of Veterinary Medicine, where he underwent some allergy tests last March. Is there a name for this style? If they shaved the other side it would almost be a Mohawk. I was horrified when I first saw him in this state, but he wears it well. It's fashionably asymmetrical. If he ever got to back outside, every cat in Philadelphia would want to look like this.
The National Center for Science Education(NCSE) has just reported on two new bills introduced by the New Hampshire legislature that would restrict teaching of evolution in public schools. One would require evolution be taught as "a theory" along with "the theorists' political and ideological viewpoints and their position on the concept of atheism."
The other, according to NSCE would, "[r]equire science teachers to instruct pupils that proper scientific inquire [sic] results from not committing to any one theory or hypothesis, no matter how firmly it appears to be established, and that scientific and technological innovations based on new evidence can challenge accepted scientific theories or modes."
Hearings are scheduled for February.
NCSE's write-up cites the Concord Monitor, where one of the bills' authors, Republican Jerry Bergevin was quoted, "I want the full portrait of evolution and the people who came up with the ideas to be presented. It's a worldview and it's godless." He reportedly blamed the acceptance of evolution for the atrocities of Nazi Germany and the 1999 Columbine shooting.
For more on the alleged Nazi connection to Evolution, see this column.
I came across this piece in Slate, reprinted from New Scientist, which I found interesting because it's about rules science journalists should follow, and the piece itself breaks a rule I've always considered important, which is to be specific whenever possible.
The rules outlined by the Slate/New Scientist piece are no-brainers for those of us at the Inquirer – especially for my colleagues who specialize in medical reporting. The impression the Slate story leaves, by implying these rules aren't already widely followed, is that it's just the Wild West at newspapers and we freely distort and hype news to get more play, with little or no intention of explaining complicated things or digging up the truth:
A checklist would look something like the following. Every story on new research should include the sample size and highlight where it may be too small to draw general conclusions. Any increase in risk should be reported in absolute terms as well as percentages: For example, a "50 percent increase" in risk or a "doubling" of risk could merely mean an increase from 1 in 1,000 to 1.5 or 2 in 1,000. A story about medical research should provide a realistic time frame for the work's translation into a treatment or cure. It should emphasize what stage findings are at: If it is a small study in mice, it is just the beginning; if it's a huge clinical trial involving thousands of people, it is more significant. Stories about shocking findings should include the wider context: The first study to find something unusual is inevitably very preliminary; the 50th study to show the same thing may be justifiably alarming. Articles should mention where the story has come from: a conference lecture, an interview with a scientist, or a study in a peer-reviewed journal, for example.
Another concern is the sometimes misguided application of "balance" in science reporting. An obsession with including both sides of a story has often obscured the fact that the weight of scientific evidence lies firmly on one side—witness some coverage of climate change and GM crops.
I agree that these are good rules, but to learn anything from this piece, I need to know who is failing to follow them. Not following such basic good practice is a failure of journalistic integrity. If you're going to accuse newspaper science reporters of lacking integrity, you need good examples. Instead there's a blanket condemnation of the coverage of two stories that date back to the 20th century – the start of the vaccine/autism scare and a silly story about cultists and cloning.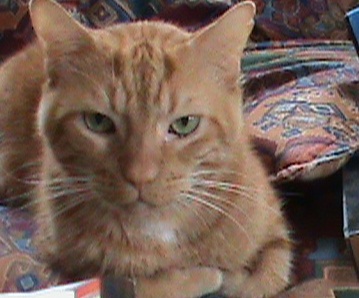 I occasionally post feedback to my column, partly to stimulate discussion but also to shed light on America's peculiar resistance to evolution. The issues expressed by these readers sometimes suggest science illiteracy, but it's not so much a lack of the right facts and figures as a misunderstanding of the nature of the scientific method.
Normally when I post feedback I offer some counterpoint from a scientist. But it's the holiday season, and most scientists are on vacation, so I thought I'd make a special exception this week and let Higgs the cat take a stab at this job. Let's see how he does.
And here's one I'll transcribe from my voice mail on Dec. 26:
Q. Good evening this is ####. (leaves his number) You don't have to call me, really I don't want you to call me. Being an atheist you are wasting your time with the articles you are reading. You think we came from an animal? You have to study about our brains and how complicated we are and if you think we came from an animal you'd better go back to school or see a psychiatrist because you are a sick person . Happy New Year.
A. Happy New Year backatcha! Humans are so amusing when they talk about animals as a grouping in which they are not included. To which kingdom do you humans aspire to belong? Plants? Fungi? I employ several humans as servants to bring me my meals and clean my toilet and I can tell you they are animals with a capital A. It is much easier to understand why some cats object to evolutionary theory. We obviously exist on a higher plane. Nevertheless we have come to accept our humble evolutionary roots and family ties with lesser beings. Thank you for letting me express my opinion – Higgs.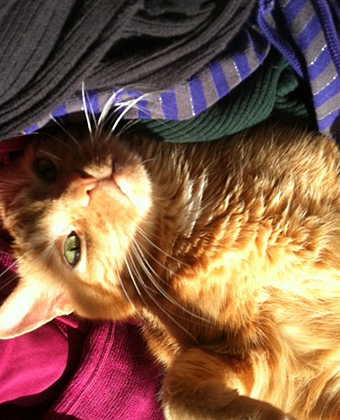 A group of UFOlogists are meeting this Saturday in the Philadelphia area, and I'd like to call their attention to this photo. Could that face belong to a creature of this world? I found out about the meeting from a press announcement, which boasts we in PA are second only to California in sightings:
"Do you know that Pennsylvania has the highest number of sightings reported, next to California? (Mutual UFO Network report in September, 2011)"
Second place isn't bad but we might move into first if we could figure out what they're after in California. Is it the sushi? The wine? Are Californians more fun to abduct? Here's more:
Three experts confirm the argument that "We Are Not Alone" Saturday, December 31, noon-5pm at Tredyffrin Public Library, 582 Upper Gulph Road, Radnor, PA 19087. Admission is $20 at the door. No reservations are needed.
Author Peter Robbins ("Left at East Gate" on an incident at Rendelsham Air Force Base in the UK) recounts his 1978 experience at the UN hearings on establishing a department for unidentified flying objects.
Author Richard M. Dolan ("A.D. After Disclosure-The People's Guide to Life After Contact," predicts world changes in religion, economics, technology, law, education, media, and culture once the secrecy veil is lifted by the US government. Dolan is spearheading a petition http://www.afterdisclosure.com/ requiring full disclosure of US military and government reports on UFO sightings, crashes, and skirmishes.
Karyn Dolan presents "UFO & Paranormal Research," describing the differences and similarities between the two fields. She is host of the Internet radio program, "Through the Keyhole" on the Paranormal Radio Network.
Lee Spiegel of the Huff Post (online) writes,
Lately I've collected a file of stories and press releases claiming that some new biological finding vindicates French natural philosopher Jean Lamarck. The guy sure could use it. It's good to be famous, but Lamarck is remembered mostly as a court jester of evolution. When I hear the name Lamarck, I think of giraffes, since these are often used as an example of so-called Lamarckian evolution. In Lamarck's evolution, the story goes, giraffes acquired long necks over the generations by reaching for high leaves, thus stretching their necks and passing the stretched neck on to the next generation.
The scientific advances that are claimed to vindicate him are examples where some acquired traits can be inherited, not through DNA changes but through other mechanisms, such as alterations in the molecules that are attached to DNA. But these advances don't vindicate Lamarck because he wasn't the one to come up with the idea that acquired traits can be inherited. Inheritance of acquired traits has stuck to his name like a barnacle, but his error was not to invent this idea but to fail to see past it.
I learned this from further reading into Loren Eiseley's Darwin's Century. Pop history gives us an erroneous view of Lamarck, who was born in 1744. Lamarck's innovation was to see thought the entrenched concept that species of living things were immutable. Breeds and varieties could emerge, but a cat was always a cat and a dog a dog and it had been so since the beginning of time.
Lamarck's suggestion that evolution could transform one species into another was revolutionary and blasphemous. And he was proven right. Interestingly, the same idea was put forward by Erasmus Darwin, who was grandfather to Charles and a contemporary of Lamarck. But in Eiseley's opinion, the earlier Darwin doesn't have his name associated with a version of evolution because Lamarck was a more systematic thinker.
Both Lamarck and Erasmus Darwin wrote of a kind of directed evolution, in which new organs and other biological innovations came from "physiological need". If your species needs longer necks or bigger brains, or fins or eyes, evolution will grant them.
The interrelated topics of animal research and animal rights bring out powerful emotions in many people. There's no scientific consensus converging on an answer. What bothers me is that I'm not sure humanlike intelligence and self-awareness should be the only thing considered when deciding whether an animal should be subject to research that causes it harm.
My own cat Higgs may not be particularly intelligent, despite having his own Google + account and twitter handle Darwins_Hellcat. In his real life he's sweet, shy and so easily terrified that he hides in the closet when anyone sneezes. The thought of him caged in a lab or used in a biomedical experiment is horrifying.
I have the same revulsion to dogs being used in invasive experiments. I confided this to a biologist who responded to the column and here's what he wrote back:
"Cats and dogs are so attuned to humans that it strikes me as unconscionable to betray that trust in any way. Maybe that kind of work has to be done (though I'm not sure that's true), but I couldn't do it."
Other readers said I "hit a nerve" by writing about people who wanted to curtail chimpanzee research that might improve human health:
Chimps are about 96 percent genetically identical to humans, and like us they are self-aware enough to recognize themselves in a mirror.
But physically, we show some remarkable differences. They don't get the same kind of heart disease humans get. They develop some of the brain abnormalities associated with Alzheimer's disease, but not others. And despite being more sexually promiscuous than humans, they don't get the same sexually transmitted diseases.
They heal better than we do and don't get sleep apnea, hemorrhoids, varicose veins, or acne. They aren't vulnerable to cancers of the breast, lung, stomach, pancreas, colon, ovaries, or prostate.
(Merry Christmas. Yes, I'm blogging, because it's traditional for me to return to California this time of year, and my circadian rhythm makes me want to get up at 5 am. What better thing to do with these lonely, dark, out-of-sync hours than read and write?)
The popularity of creationism in the United States has been treated as a failure of education, loss of science literacy, or reluctance of religion to adapt to the modern worldview. I saw it that way too, until I started reading Loren Eiseley's Darwin's Century. Now I see this the country's divisions as much more interesting, and more deeply rooted, and more connected with political views about the way human beings should organize our society.
I've read a number of books about evolution, but nothing has compared to this used, yellowed paperback. There's no review of high school biology to slog through – instead there are revelations on every page, starting with the first.
The first chapters preface Darwin's Century with the previous ones, the 1500s, 1600s and 1700s, during which revolutions in human thought gave rise to the questions Darwin answered. Those revolutions we owe to the explorers who dared sail off with just the stars to guide them, and theologians who dared rethink man's relationship to nature.
"It has been remarked by historians that the discovery of the world by the great voyagers, and particularly their passage across the western seas, had made a tremendous impact upon the thought of Europe in the sixteenth and seventeenth centuries….as an indirect consequence of this adventure the theory of evolution, vast in its implications as a new continent, was really, in essence, glimpsed through the fog and sea wreck penetrated by the master mariners."
One attribute of science that makes it powerful is the ability to correct its own course. That's crucial because individual scientists can be delusional, crazy, or even outright dishonest. A perfect illustration of scientific course-correction has been playing itself out over the last several years. Yesterday, it hit a milestone when a study that brought hope to victims of chronic fatigue syndrome was officially retracted by the journal Science.
When it was first published in 2009, the study raised hopes because it connected a virus, called XMRV, to chronic fatigue. Sufferers thought that once the cause was nailed down, treatments would follow. It came out in Science, which is a high-prestige journal, so the world took notice.
Soon, people with chronic fatigue began taking antiviral drugs, according to this fascinating story in the Chicago Tribune. It was just one study and even if the virus had been associated with the disease, that wouldn't necessarily mean it was the cause. But there's always someone ready to capitalize on the desperation of others.
As is standard practice in science, other researchers tried to replicate the finding. They couldn't, and it started to look like the virus was a contaminant, and had nothing to do with the disease at all. But was it a mistake or true misconduct? Science blogger Abbie Smith wrote a post exposing what looks like the latter, detailing how a graph in the original paper is not what it was claimed to be. This is very serious and should have prompted an investigation. There's a big difference between being wrong in science and being dishonest, and it's important for the ultimate truth of this matter to come to light.
More great investigative stories appeared in the Chicago Tribune, documenting the way the scientific community came to doubt the findings and eventually weeded out this piece of rotten science. A Tribune blog post accused other news outlets of hyping the original announcement. I searched through our archives and found no such hype in the Inquirer, as I expected since our medical writers are savvy about science.