I noticed in watching the documentary "A Flock of Dodos" for a second time last week that many of the intelligent design supporters were telling untruths and passing off the blame. When filmmaker Randy Olson suggests to one confident IDer that there are, in fact, some transitional fossils she replies with something like, "not according to the information I received." Another is flummoxed that inaccurate embryology from the 1800s isn't used in most modern biology textbooks. That's what he was told.
It's as if these lies get laundered the more they're repeated, so those who parrot them can dodge responsibility.
Here are some other interesting bits of "science" you probably won't learn about in school. A reader sent this as part of a longer email last week:
So what's the harm in learning or reading about testable results revealing radioactive decay is not constant, but has accelerated over time (bad for an old earth); or finding 80 million year old rotting dinosaurs with DNA:, observing mature stars farther out in the universe (bad for big bang), birds always being birds in geologic 'times', etc….
All these efforts to exclude scientific discussions in classrooms from people of another persuasion (who are not teaching their faith) are another form of discrimination. It is in the same tired exclusionary canard in the vein such as woman can't learn or teach math, or men can't walk or chew gum at the same time, or white man can't jump (ok, maybe this one is true).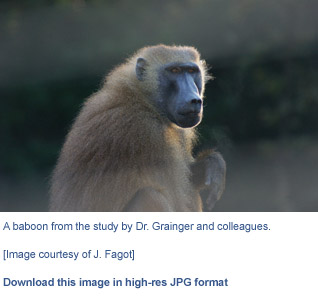 This column also appeared in Monday's Philadelphia Inquirer.
Charles Darwin would surely have been mesmerized by a paper released last week showing that baboons can recognize written words and distinguish them from gibberish. This was more than a feat of memorization, since the baboons were able to do this with 75 percent accuracy even if they'd never seen the words or nonwords before.
In a paper describing their findings, the scientists say perhaps the baboons are able to do some sort of unconscious statistical calculation involving the combinations of letters most likely to form words. "We tend to think that the ability to distinguish what's a real word is fundamentally human," said Duke University neurobiologist Michael Platt, who wrote a commentary accompanying the paper in the journal Science.
Before Darwin went public with his theory of natural selection, he wrote notes and letters pondering the implications of his idea for the minds of humans and other animals. Darwin was particularly interested in philosophical questions about the relative roles of instinct, culture, and reason in shaping our behavior.
"He who understands baboon would do more toward metaphysics than Locke," he wrote in 1838. The quote inspired the title of the 2007 book Baboon Metaphysics by Penn professors Dorothy Cheney and Robert Seyfarth.
A couple of weeks ago I thought I would see if I could get Santorum on the record clarifying his views about the teaching of evolution. I sent a request through his website. There was an electronic form there that reporters could fill out to request an interview.
He wrote me back the next day, but he seemed to have forgotten the interview. He said wanted money. He's written every day for the past several weeks. It hasn't stopped.
Faye
I am thinking about the future and am very excited about the possibilities for what we can continue to accomplish together in the fight to defeat Barack Obama and restore our conservative principles to government.
Each day on the campaign trail, I saw the way our campaign gave people a voice in the fight to reverse the destructive course we are on -- thanks to Barack Obama's failed leadership.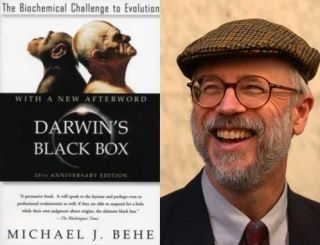 I learned something new about intelligent design on Thursday night after listening to one of the movement's most visible proponents. Biochemistry professor Michael Behe was the star witness for the anti-evolution school board in the 2005 Dover trial. He's written several influential books on the idea that life was at least partly cobbled together by a non-human intelligent designer.
The event was held at Villanova University. It started with a screening of the intelligent design documentary, "A Flock of Dodos" and finished with a panel discussion.
Not surprisingly, the audience directed most of the questions toward Behe. Some wanted to know how he and his cohorts could possibly test the principles of ID. Others tried to pin him down on the details of this so-called theory. He wiggled and slipped around the questions, none of the answers quite satisfying. After some 25 minutes of interchange, the audience was still struggling to get a grasp on the man and his strange view of science.
One of the most interesting questions came from the filmmaker, Randy Olson. He wanted to know how Behe could justify what seemed clearly to be a "god-of-the-gaps" position, in which a supernatural designer makes for an easy answer to hard scientific questions.
Behe's answer here was interesting. He said ID is more like archeology or forensics, in which scientists find positive evidence for human influence in artifacts or scenes.
FF: This evening(thursday) I'll be participating in a panel discussion at Villanova University. The topic is Randy Olson's film "A Flock of Dodos", which explores the roots of the intelligent design movement.
Higgs and I watched it together the other night and both gave it high marks for journalistic integrity. But Higgs had one quibble with the film. He felt it perpetuated a prejudice against dodo birds.
Higgs: I enjoyed the film "A Flock of Dodos" very much. The filmmaker did an excellent job of taking ID proponents to task for repeating false information. But I didn't think the film did enough to dispel one of the most common misconceptions about evolution. Many people wrongly assume that animals go extinct because they are incapable of evolving, or they're primitive, obsolete or stupid. This is not the case at all: Most of the organisms thriving on the planet don't even have brains.
Dodos have become synonymous with these unfortunate stereotypes. But the truth is they didn't die out because they were dumb or incapable of adaptation. They were, like many wild animals, not compatible with humans and domestic animals.
Dodo birds lived on an island in the Indian Ocean where they had no predators and therefore didn't need to fly. They did fine until humans moved into their territory. Nobody knows exactly what happened, but some humans reported that the dodos were not to their culinary liking. I suspect cats would not feel the same way. From their pictures they look plump and delicious.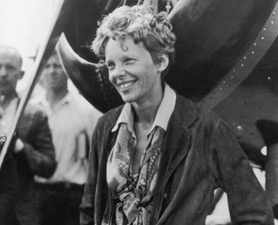 The prevailing theory on Amelia Earhart's 1937 disappearance holds that she plunged into the vastness of the Pacific. There's a lot of ocean and not much land in the region where she made her last radio transmission.
A couple of weeks ago we ran a very short AP story about a piece of evidence that's surfaced backing a less popular hypothesis - that the famous aviator landed on an uninhabited Pacific island and spent her final days as a castaway.
I had written about the Earhart disappearance a few years ago and so I started making calls. It turns out intelligence experts from the State Department acknowledge that an old photograph just may show a piece of the plane that Amelia Earhart was flying when she disappeared attempting to circle the globe.
The most interesting part of the reporting, for me, was an interview with a forensic researcher who'd first noticed something unusual this old photograph. The result was this story, which appeared on today's front page. Here's a little clip from the interview with the forensic expert:
Jeff Glickman has a background in computer science and was running his own forensics company called Photek, based in Woodinville, Wash., when he saw something about the investigation on television and volunteered to help. Gillespie was planning a new expedition for 2010 and Glickman wanted to look over all the old photos for any clues.
Before it gets too late, I'd like to share a couple more interesting responses I got to last week's column. A few readers were shocked that anyone as overtly religious as Peter Dodson could function as a real scientist.
"I am always astounded when I read about scientists who are also religious. There is such a huge disconnect between the basic precepts of these two disciplines that I can't imagine a person embracing both. True scientists do not, I repeat, do NOT, exercise blind faith in their scientific beliefs. A scientific fact or law or value must be achieved by the scientific method, a mandatory series of steps. ….(a long description of the scientific method follows)
If the results are confirmed by several other workers, then the idea is accepted as a scientific fact or rule. Belief in a scientific fact, then, comes about as a result of a series of important steps designed to confirm or deny that belief.
The relevant question is not whether God exists, but whether religious scientists exist. Religious scientists are relatively rare, but there's documented evidence they do exist and some of them have made significant contributions to their fields.
The fact that religious scientists exist doesn't mean that there's any scientific evidence for religious ideas nor does it mean that science and religion are necessarily compatible.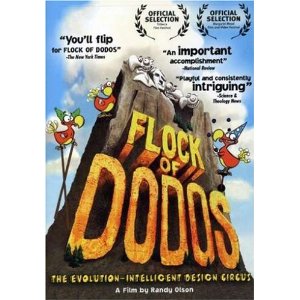 This column also appeared on the cover of the Health and Science section of today's Philadelphia Inquirer:
Could intelligent design finally be dead? The term is conspicuously absent from the latest antievolution education bill, which passed the Tennessee legislature in March and awaits action by the governor.
The bill's language reveals a new tactic on the part of creationists. They seem to have retired intelligent design and replaced it with a concept as sneaky as stealth aircraft.
"These bills sound very innocent," said Eugenie Scott, executive director of the National Center for Science Education. That's intentional, she said. The legislation has been crafted to be legally bulletproof.
The Tennessee bill hijacks language from scientists and skeptics: Teachers are allowed to promote "critical thinking" in areas where there's "debate and disputation." That's not unreasonable on the surface, since there are plenty of areas of dispute — the value of certain cancer screenings, the safest way to store nuclear waste, or what benefit feathers would have bestowed on dinosaurs.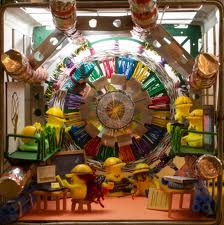 I've been busy this weekend and just barely skimmed this missive from the ID think tank known as the Discovery Institute. Apparently they don't like Penn paleontologist Peter Dodson or Philadelphia's Institute for Religion and Science. That the folks at DI don't like me goes without saying. They take me to task for saying the Pope is okay with evolution, more or less.
"Now Ms. Flam is back with an admiring profile of University of Pennsylvania paleontologist Peter Dodson and his Institute for Religion and Science, or IRS. Nothing wholesome has those initials. We would have called it the Institute for Science and Religion instead.
Professor Dodson takes a couple of shots at intelligent design. Reports Ms. Flam, "On intelligent design theory, he says that an honest appraisal of nature shows both elegance and awkward contrivance." That's a shot? Setting biology to one side, elegance and contrivance are hallmarks of design by human beings. Where's the contradiction in finding the same in natural designs?
Meanwhile, It turns out that Dodson is a Catholic which prompts an observation from Flam comparing him to Pope Benedict who "himself has stated that he accepts Darwinian evolution as the explanation for the physical bodies of plants, animals and humans." When it comes to evolution, the current Pope and his predecessor must be the most often distorted and misrepresented figures in recent history. Let's help out Ms. Flam, as we've patiently done in the past.
Benedict has never affirmed "Darwinian evolution" anywhere. In fact, he has explicitly repudiated it. He has made affirmative statements about "evolution," which he always defines teleologically (and so, for the unsophisticated, perhaps confusingly).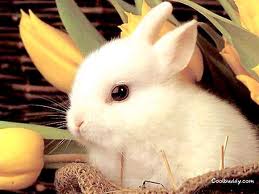 I raked in a great haul of reader feedback from last Monday's Inquirer column profiling a religious scientist. This one was a little baffling:
"By the way, you are too smart and attractive to stoop to this "what kind of designer would put the sewer pipe through the playground." Being old and demented I can think of serveral retorts that my Southern upbringing prevents me from mentioning."
Um, thanks, I guess, but what does a person's personal appearance have to do with the appropriateness of this reference? It wasn't my line. I'd heard it several times before, the first time from the smart and attractive developmental biologist Scott Gilbert of Swarthmore.
Another reader filled me in on its origin. It's part of an old joke: