Tech and Gaming
Eric Smith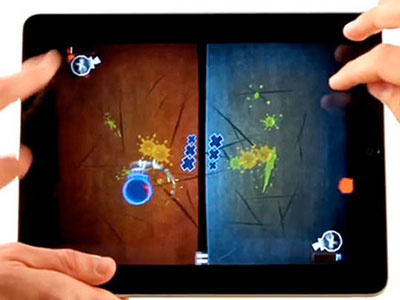 Every gamer has, at one point in their romantic life, heard "don't worry sweetheart, I like watching you play." And consequently, every gamer has been lied to. It's not fun. Whether you're the one asking questions or the one explaining, there's a one-sidedness that occurs in gaming that is far from entertaining.
So, as Valentine's Day approaches, I've whipped up a list of fun multiplayer iOS games for you and your beloved to play together.
I'm not talking turn-based board games (though EA's mobile versions of Scrabble, Monopoly, Risk, Battleship, and Life are absolutely fantastic) or any of the many With Friends titles (Words, Scramble, etc) that you can play online. I'm talking same device, head to head, one on one.
So now, let the battle begin.

Whether you're lying in bed or killing time on the SEPTA, the iPad version of Fruit Ninja (in HD!) is the ultimate competitive game for gaming couples either snuggling up on a chilly evening or squished together on the Regional Rail.
Yes, the premise is ridiculous. Numerous fruits fly through the air as you swipe at them, violently slicing across a hardwood background. There's no story, no deep character development. Just bright colorful graphics and shockingly addicting game play. And then there is the multiplayer.
The head to head multiplayer in Fruit Ninja HD splits the iPad screen down the middle, giving each player their own dojo. You'll both try to slice more fruit than the other, whilst attempting to sabotage each other with bombs. It gets intense; make sure your relationship is strong enough to handle it.
Note: You can also get this on the iPhone ($0.99), which supports Game Center multiplayer, and Fruit Ninja: Puss In Boots ($0.99), a tie in to the Dreamworks film that is a lot of fun and has Global Leaderboards.


Mirror's Edge, the celebrated EA title that we all want a sequel for, has a surprisingly great iOS adaptation that leaves behind the first person parkour in favor of a 2D side scrolling action game. And while the first person game is short, the multiplayer is a blast.
Like Fruit Ninja, you'll get a split screen on which you can race head-to-head in two different multiplayer modes. One challenges you to race each other, while the other pits you against each other to hunt down hidden packages.
The graphics are stunning, the gameplay is simple, and the racing gets intense. Definitely a fun title to play with your significant other… just don't admit you have a slight crush on Faith. Rawr.
Note: Yes, $9.99 is ridiculous, but don't get turned off by the price. EA loves putting their iOS games on sale. Chances are around the holidays, you'll be able to nab this game for $1.99. Snag it when it goes on sale.


I remember playing the original Worms on an ancient 486 PC in my parents' basement. My friends and I were obsessed with these sorts of competitive artillery games, pouring hours into games like Scorched Earth and laughing all the while.
Worms made the genre even more fun with quirky animations and outrageous weapons, like the Holy Hand Grenade from Monty Python and the Holy Grail.
The idea behind Worms is simple. You have a team of several heavily armed worms, each of which can fire an array of wild weaponry. You'll take turns moving them around and strategically positioning them while firing madly at each other. The team that loses all their worms, loses the battle.
So go ahead. Name your worms after your mutual friends and battle it out. Your standard game will probably take 20 minutes or so, and you'll likely spend all those minutes laughing and yelling at each other.
Note: Concerned that you're missing the highly cerebral storyline if you don't play the first one? Worried that you'll have lots of questions? Relax. These are worms shooting at each other with bazookas, not Magnolia.
Eric Smith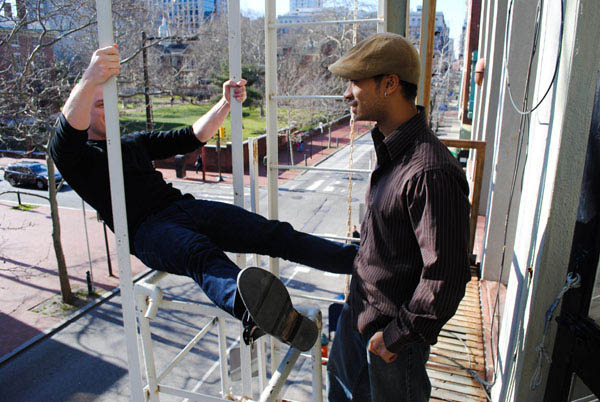 It's First Friday. The Old City art galleries are bustling with a fine mix of genuine art lovers and college kids feigning interest, the latter of which are just eager to grab some free cheese and wine. Both groups are swarming into the small boutiques and studios that line 2nd St, each a tiny refuge from the chilly Philly Autumn air. As I stroll down 2nd, making my way towards Chestnut, I spot a small line forming outside of one of my favorite First Friday venues… the office of Drink Philly.
Tucked away above Paradigm and nestled on the second floor, Drink Philly's annual First Friday gallery and party never fails to disappoint. On this particular day, there is a whole roast pig being carved up in their kitchen as glasses of wine and half-pint cups of microbrew beer make their way around the room. Beautiful people talk and laugh, eat, and ogle the local art on the walls. The smell of roast pig wafts through the air, and I sigh, turning away to visit the office that shares the second floor with them.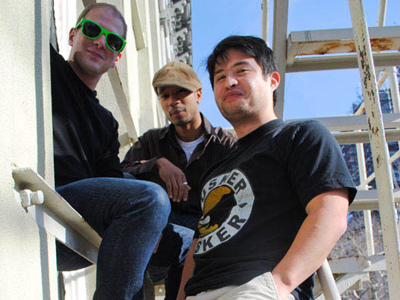 Jonathan Takiff
Netflix stock is up today, on news that America's favorite source for video rentals has reversed course on an unpopular marketing move announced less than a month ago. But the headlines notwithstanding, Netflix hasn't really "killed" its "plan to split off DVD rentals." Just the way you order them.
CEO Reed Hasting announced via a blog that Netflix won't be spinning off its DVD-by-mail rental operation into a new company called Qwikster, with its own website and ordering procedure.
That means the same Netflix website and sign-in procedure used to order instantly streaming movies on your computer will still be the place to also visit for mail order movie rentals. This is a good thing, as Netflix' library of hard disc movies is still way deeper (and more current) than the instant streaming options. So users of both services will find what they want/need without having to look here AND there.
Jonathan Takiff
Turning up the heat in the tablet war, Apple has unleashed a special treat for iPad buyers. Meanwhile, Amazon's hot new multimedia Kindle is started to feel some critical fire.
Mom, What's a Beatle?: Ostensibly timed to celebrate the recent first anniversary of The Beatles music catalogue's worldwide digital excusivity on the iTunes Store, Apple is now giving away a pretty spiffy eBook version of the Beatles animated film "Yellow Submarine" to owners of iPads, iPhones and iPods who tap in to www.iTunes.com/iBookstore.
A cute way to introduce new generations to the Fab Four (and maybe sell some Beatles music), the book version of "Yellow Submarine" offers a narrated (or read it yourself) version of YS with all the cute, cartoony heroes and villains of Pepperland and a few interactive "touch here" options (mostly brief, tap-to-play clips from the movie.) The text and imagery is optimized for display on the 9.7 inch iPad. Most viewers will thus find it too small to appreciate on the smaller screened Apple devices. A motivator to upgrade?
Jonathan Takiff
Log onto the Amazon.com website today and you'll find the announcement of a new perk - the Kindle Owners' Lending Library.
Kindle eReader users now have the option to tap a button to borrow for free one of "thousands" (5,000 to start) of contemporary books (not public domain titles.) The bunch includes "over 100 current and former New York Times Bestsellers" - from "Water for Elephants," "Moneyball: The Art of Winning an Unfair Game" and "Fast Food Nation" to the Pulitzer Prize-winning "Guns, Germs and Steel" and motivational titles like "The 7 Habits of Highly Effective People,"
There are restrictions, though, to this giveaway.
Jonathan Takiff
Is it mere coincidence that Microsoft's Xbox 360 division, Nintendo and Logitech/Google all launched major product updates this week?
This conspiracy theorist thinks "not."
With gift buyers on the prowl, gizmo makers are doing their best to draw attention to their particular goodies and underline that the items are "future proof." (Well, at least, for a while).
Jonathan Takiff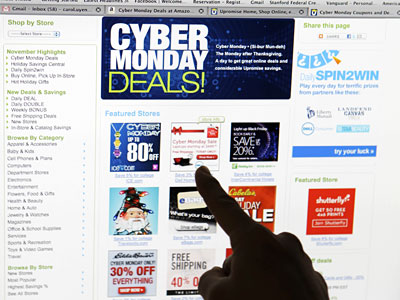 Online merchants hope you'll be in the buying mood on this, the most glorious of Cyber Mondays. Here are some of the best techy deals we've found.
Employee Pricing: You hear about that in the automotive business, usually at the end of a model year. But Panasonic.com is offering current merch - everything from electric razors to home theater systems - at company store prices through 11:59 p.m. tonight. Site visitors first have to sign in, a minor aggravation, to get privvy to most of the deals.
In the camera world, the Lumix FP7 16.1 Megapixel digital camera is slashed by half to $99.99, while the Lumix GF3C compact system camera (one of those small wonders with swappable lenses) is an even $500 with two Leica lenses included in the bundle - a super wide angle 14 mm plus a 14-42 mm zoom.
Jonathan Takiff
Even merchants far removed from the world of gadgets are using high tech toys to lure in shoppers to their Black Friday festivities.
Take, please, Old Navy. The clothing chain is holding a "Big 3D Giveway" on Thursday - offering "the chance to win eye popping 3D prizes" like a 3D HDTV and Blu-ray player or 3D gaming system (that would have to be a Nintendo 3DS or Sony PlayStation 3.)
Then on Thankgiving night, first in line Old Navy shoppers will be given a wristband exchangable for a Kodak bundle of goodies - including a Kodak EasyShare Sport waterproof camera (a personal fave) and a $10 off coupon for a Kodak 3D printer - with a qualifying purchase of $40 or more in merchandise. But plan on skipping dessert, bargain hunters. Some Old Navy stores will be opening for Black Friday as early as 10 p.m. Thursday night.