Archive: September, 2012
Ellen Dunkel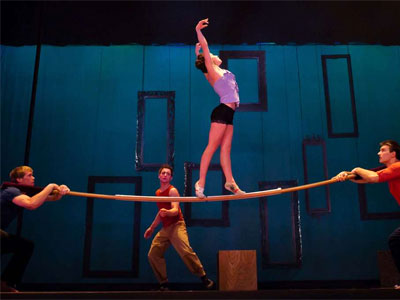 The names of the company and the show tell you nothing, but 7 Fingers' Sequence 8 is fantastic, one of the most memorable Live Arts/Fringe performances I've seen over the years.
The show, which had its U.S. premiere Tuesday night at the Merriam Theater, seamlessly blends circus arts with modern dance and hip-hop in a family-friendly array of acrobatic feats reminiscent of Olympic gymnastics. All eight performers are clowns at times, but no one is creepy or annoying.
Set to music ranging from Tosca to the Squirrel Nut Zippers, Sequence 8 includes group dance sections with a heavy dose of aerial acrobatics; a Russian bar routine that's a cross between trampoline and balance beam; and performers who defy gravity juggling cigar boxes, on a trapeze, or by dashing up a Chinese pole.
Merilyn Jackson
A huge, hexagonal, cagelike structure that reached to the ceiling commanded the space inside Pier 9 on Friday night for the premiere of The Gate Reopened by choreographer Brian Sanders' company, Junk. Surrounding it was a packed audience.
As Sanders' eight muscular performers — six men and two women — emerged, fleetly circling the Gate's base to the wild cheers of the crowd, I couldn't help but see them as gladiators. Instead of fighting each other, they fought height and gravity, calculating risk as they swung on bungees or launched themselves like simians against the chain-link fencing, which they gripped only by their fingertips and the J-hooks on their boots.
Merilyn Jackson
Nudity or near-nudity has been featured in almost every Live Arts/Fringe event I've attended — and I'm only halfway through the festival. Since I haven't heard anyone yell "Let's get naked!" I've kept my clothes on so far. I can't say the same for the performers in Jumatatu Poe's Private Places — members of Poe's company, idiosynCrazy — which opened Saturday at the Live Arts studio.

In the lobby we checked our bags, then were divided into four alphabetized groups and herded in as meekly as airline passengers. Some were seated in aisles and some around the periphery of the black-and-white space.

Imagine your flight attendant breaking into J-Sette, a mix of southern black marching band moves stylized by gay men — often in competitions — or into mad cackling abruptly terminated when another dancer bops them on the head. Their silvery gray and black strappings by Katie Coble come off in pieces by evening's end, leaving scanty purple and chartreuse underwear that eventually is shed for the final 15 minutes of the 75-minute show.
Jim Rutter
By Jim Rutter
FOR THE INQUIRER
Wendy Rosenfield
Adam Rapp's The Edge of Our Bodies, Theatre Exile's Philly Fringe entry, digs deep into the genesis of a certain type of girl, boarding-schooled in New England, conversant in Plath, Wharton and Donna Tartt, whose disdain for the adults in her life is matched only by their disregard of her. In this almost-monologue (there's a brief, uncredited appearance by Bill Rahill as a maintenance man), 16-year-old Bernadette alternately reads aloud from her journal and splices in scenes from a school production of Jean Genet's The Maids — in which she, naturally, plays the meek Claire.
And like Claire, Bernadette channels her powerlessness into a nascent sadism that exists only in her own head and on the page. Pregnant, seeking comfort from her older boyfriend, she leaves campus and hops a train from Connecticut to Brooklyn and back. The men she encounters have "simian tufts of hair" creeping from their shirts, and faces "like lunchmeat" or "wet Kleenex."
Nicole Erb, under Matt Pfeiffer's direction, channels all the contradictory emotions of a troubled teenage girl, isolated by privilege, yearning for love, empathy-impaired, objectified and objectifying. In plaid kilt and crested blazer, she appears sprung from a Vampire Weekend song: thick chestnut ponytail with sun-kissed highlights, field-hockey calves, pert nose. But Erb fuels Bernadette's venom with as much sadness as self-assurance; her mocking portrayal of a middle-aged admirer's Springsteen serenade brims with so much pathos it reveals as much about her as about him.
Ellen Dunkel
For 10 weeks, more than 150 non-dancers trained like professional dancers, and this afternoon Le Grand Continental had its Philadelphia premiere at the foot of the Art Museum steps.
It was fantastic, a festive opening ceremony of sorts. The dancers wore their own clothes - everything from workout wear to sequins. Two women wore tutus with their sneakers. And why not? It might be their only chance to dance in a choreographed performance in front of an audience.
Le Grand Continental was also performed in New York this summer, and performers from that show took a bus to Philly to support their kin. (It goes next to Portand, Ore.)
Jim Rutter
Who cares about actors Jeff Coon and Ben Dibble? Unless you regularly attend theater in Philadelphia, you probably don't, and you probably still won't after seeing this fun, frivolous Philly Fringe time-waster.
However, for an industry insider, the first 20 minutes will sing like pure comedy gold. Every overlooked actor and director in town alleges the parochial, borderline incestuous nature of the local biz; props go to this show's creators (Mike Doherty, Greg Nix, and Alex Bechtel) for calling out the region's larger theatre companies for repeatedly hiring Coon and Dibble for (too) many of the area's lead musical roles. Doherty and Nix, two younger performers passed over for these parts, decide to off their competition.
But the plot's strong start quickly devolves into a series of loosely connected skits, including a pantomimed training montage — funny in a South Park movie, a time-filler in this already stretched 75-minute show. Doherty's manic comic intensity elevates each scene, but for a new musical (CDs on sale!), the sum total of two full songs completely wastes Bechtel's massive musical talent.
Merilyn Jackson
Just before sunset you arrive at the American Philosophical Society gallery tucked behind Independence Hall. You enter the gallery, view the exhibit, "Tempus Fugit: Time Flies" -- a beautiful study of the kinds of time we perceive: geological time, eternal, atomic. It makes you think about it, slows you down from your busy day. You are told to pick up a rock and a flower. It feels a little funereal, but you do and cross the street to the garden where you place the rock on other rocks and press the flower in a book. You sit on the grass or a chair and realize there are two lovely dancers beginning to move among the rocks placed like a river's edges. They film each other falling, running, moving lightly. The music is soothing, sounds like it's live but coming from another part of the garden. A bell tolls the hour. It's over. But you don't want to leave.
-- Merilyn Jackson
For details, go to www.livearts-fringe.org.