Archive: February, 2012
By Howard Shapiro
INQUIRER STAFF WRITER
Night after night, Agatha Christie's murder mystery The Mousetrap repeats itself in England — after almost 25,000 performances, the world's longest-running play. But Wednesday night, the Walnut Street Theatre's current production of the play had a new surprise ending when Dan Hodge, one of its actors, proposed to his unsuspecting girlfriend at the curtain call.
"It is February 29th, leap year — in fact, leap day. And I'm going to take a leap," Hodge told the audience and a startled Krista Apple, after she was called to the stage from the audience of about 1,100 people. On his knees, Hodge then said: "Leap year comes around every four years. But a girl like you is once in a lifetime."
Molly Eichel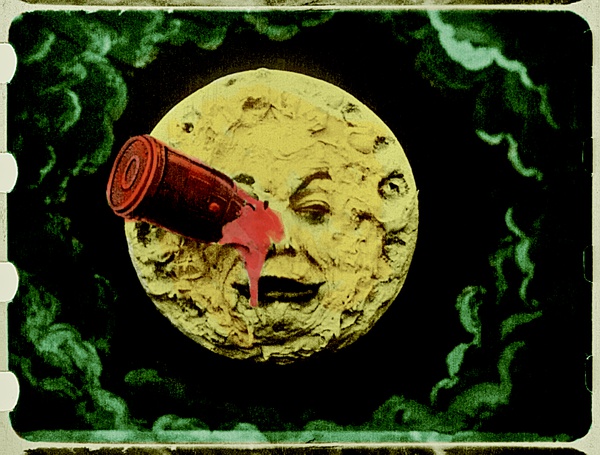 "The Artist" may have taken Oscar gold, but we preferred the other critically-lauded homage to early cinema: Martin Scorsese's "Hugo," which comes out on DVD and Blu-Ray today.
Georges Melies' sci-fi film "Le Dans la Lune"/"The Voyage to the Moon" is at the heart of "Hugo." Despite being released a century ago, it's still quite amazing to watch.
Molly Eichel
Eric Hissom as Cyrano de Bergerac at the Folger Theatre in D.C. Hissom will revive the part at the Arden in March (Photo by Carol Pratt)
Philly guys Aaron Posner, Michael Hollinger and Thom Weaver were nominated for Helen Hayes Awards - the Washington, D.C. equivalent of the Barrymores - for their work on "Cyrano." Posner and Hollinger are up for the Charles MacArthur Award for Outstanding New Play or Musical, Posner is up for Outstanding Director and Weaver is up for Outstanding Lighting Design.
Merilyn Jackson
By Merilyn Jackson
FOR THE INQUIRER
The philosopher Ludwig Wittgenstein said, "Philosophy ought really to be written only as a form of poetry." I am never happier than when I can read choreography as poetry, as I — and, I think, the audience — did over the weekend with choreographer John Jasperse's Fort Blossom Revisited 2000/2012.
This fuller version of the original 2000 work premiered Friday at the Hepburn Teaching Theater, Bryn Mawr College's black-box theater. The college was the leading funder of the reconstructed and expanded 60-minute work.
Nancy G. Heller
By Nancy G. Heller
For The Inquirer
This was not just another Asian-fusion dance concert. In recent years there's been a vogue for combining Indian classical dance with western techniques -- Bharatanatyam and ballet, Kuchipudi and modern dance, Kathak and tap — with varying degrees of success. In her one-woman show, Friday and Saturday at the Painted Bride, Sheetal Gandhi used Indian heel-stamps and turns, alongside western-style isolations and floorwork, to create an eloquent, inventive, virtuosic dance-theater piece that kept the opening-night audience transfixed.
Gandhi has an unbelievably varied resume. She has toured with Cirque du Soleil, performed with the National Dance Ensemble of Ghana, and acted on Broadway; she's a percussionist with a university degree in psychology and dance. She also wrote, directed, and choreographed Bahu-Beti-Biwi (Daughter-in-Law, Daughter, Wife), which she has presented at venues from Israel to Hawaii.
Wendy Rosenfield
By Wendy Rosenfield
FOR THE INQUIRER
Of Mice and Men is so well-known and universally taught in American middle and high schools, you'd think a staged production, such as People's Light and Theatre Company's, must go out of its way to distinguish itself. But despite plenty of obvious contemporary parallels, director David Bradley keeps John Steinbeck's 1937 classic, well, classic, and stripped to its bare essence.
Everyone remembers George and Lennie — that mismatched pair of bindlestiffs looking for farm work, hoping to save up some scratch and "live off the fatta the lan' " — but this production takes its time in highlighting the story's peripheral characters, the men and sole woman on this farm who pass for a community.
Jim Rutter
By Jim Rutter
FOR THE INQUIRER
Opera depicts tragedy. American musicals, for the most part, show sappy, silly stories of young lovers stumbling through courtship.
Composer Jeffrey Lunden's and writer Arthur Perlman's musical adaptation of Arthur Kopit's play Wings
— now in a heartbreaking production at the Media Theatre — takes a different tack by starting with the tragic to recount a remarkable story of resilience and recovery.
Jim Rutter
By Jim Rutter
FOR THE INQUIRER
Despite science fiction's immense popularity in books and film, it has never enjoyed similar esteem on stage. Instead, playwrights since Jules Verne's era have embraced psychological realism as the means to examine life.
Little, I'm sure, felt more real for Kurt Vonnegut than watching a division of Panzer tanks cut his fellow soldiers to ribbons. And he, like many post-war writers, dealt with the horrors of World War II by closing his eyes and clutching the steady hand of fatalism.