Jim Rutter
By Jim Rutter
FOR THE INQUIRER
Memories of trauma tormented Tennessee Williams most of his adult life. His father bullied him, his lover died young from cancer, his family had his sister, Rose, lobotomized. In his later years, Williams (1911-1983) coped with a deluge of alcohol, amphetamines and barbiturates. He choked on a bottle cap and died alone in a New York hotel room.
Anyone could learn the above from Williams' Wikipedia page; a new creative work that attempts to dramatize his final moments must transcend available information. The solid production at South Camden Theatre Company can't save the world premiere of Joseph M. Paprzycki's Tennessee's Final Curtain from failing in this crucial respect.
Ellen Dunkel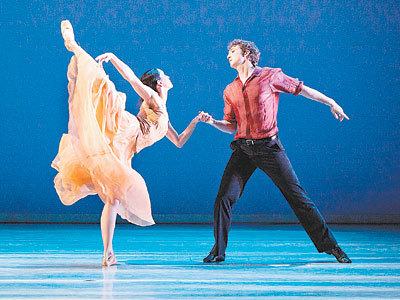 Pennsylvania Ballet principal dancer Riolama Lorenzo's final performance before retiring is Sunday, but it was already a lovefest Thursday night, when the company opened its Pushing Boundaries series at the Merriam Theater.
The theater was buzzing with talk of Lorenzo, both before the show and during the two intermissions. And she didn't disappoint, dancing two Matthew Neenan ballets, 11:11, set to six songs by Rufus Wainwright, and in a gorgeous, mature pas de deux with Zachary Hench in Keep.
Created in 2009, Keep is a beautiful ballet, featuring a suite of, mostly, duets about relationships, set to string quartets by Borodin and Rimsky-Korsakov. But it also could be interpreted as Lorenzo's bittersweet bourrée into the next phase of her life, as fresh-faced dancers in pink eagerly fill the gap. Lorenzo, in a yellow gown, stands in the shadows during a long section, then kneels to lean over a fallen colleague and, with bits of chiffon floating around her, melts into her partner in pirouettes and dramatic ports de bras.
Nancy G. Heller
By Nancy G. Heller
FOR THE INQUIRER
It's 60 minutes of sheer delight — jam-packed with slapstick humor, astonishing acrobatic feats, witty visual effects, romance, heartbreak, and music ranging from jazz to Tuvan throat singing. Oyster, inspired by a book of poems by filmmaker Tim Burton, is a signature work of Israel's award-winning Inbal Pinto & Avshalom Pollak Dance Company. The troupe's three-day run at the Annenberg Center, which began Thursday, marks the end of its latest U.S. tour.
While each of the vignettes that make up Oyster evokes its own mood, the overall sense of eeriness and androgyny — and especially the dancers' stark white makeup, fright wigs, and outrageous costumes — are certainly Burtonesque. (Think: Johnny Depp in Edward Scissorhands, Michael Keaton in Beetlejuice, Helena Bonham Carter in practically anything.) But Oyster also owes a lot to the circus, Federico Fellini, and the cracked sensibility of Edward Gorey.

There's no linear, identifiable "plot" here, but there are distinctive recurring characters, notably a woman in a bright orange wig, dark tutu, pointe shoes, and a black turtleneck that obscures the lower half of her face. We don't know who she is or why she has a tiny step stool attached to her rear end. But, because of the performers' skill and the endless inventiveness of co-artistic directors Pinto, a dancer, and Pollak, a classically trained actor, who create the choreography and design soundscapes, sets, and costumes for all their works, we do wonder about this. We also care about Oyster's other creatures as they crawl, stagger, shimmy, scuttle, strut, and fly about the stage.
Ellen Dunkel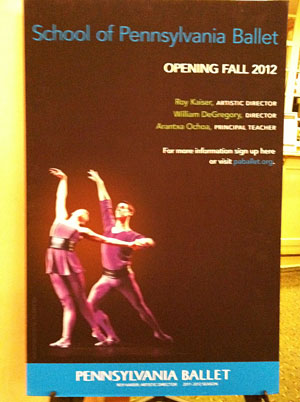 After 22 years of being the rare American ballet company without a school, Pennsyvlania Ballet is reopening the School of Pennsylvania Ballet "sometime in the fall," says company artistic director Roy Kaiser. It depends on when the new headquarters and studios at 321 N. Broad St. are ready for occupancy.
"For the professional division, it will be all by audition," Kaiser says. "We'll have open classes for little toddlers, and adult classes. Plans are being made, we're getting everything arranged to pull the trigger."
Those plans got a kickstart Thursday night at the Merriam Theater, where Pennsylvania Ballet opened its Pushing Boundaries series. There was a sign-up sheet in the lobby for potential students seeking information and a poster announcing former principal dancer William DeGregory as director of the school and current principal dancer Arantxa Ochoa as the principal teacher.
Stephan Salisbury
By Stephan Salisbury
INQUIRER STAFF WRITER
Dance USA/Philadelphia, an advocacy and service organization, has received a three-year, $950,000 grant from the William Penn Foundation, the philanthropy announced Thursday. In addition, William Penn said it awarded $200,000 to Dance USA grant to help fund its 2013 annual conference, which will bring over 600 dancers and dance professionals to Philadelphia in the summer.

All told, William Penn announced 37 grants totaling about $16 million. Funding was dispensed in several broad areas, including arts and culture, children, youth and families, and environment and communities. Grants were also announced for capital and regranting programs.
In addition to the two Dance USA-related grants, 12 other arts and culture groups, many of them performing-arts organizations, will receive funds.
Wendy Rosenfield
By Wendy Rosenfield
FOR THE INQUIRER
It might be a tough sell, getting audiences out to Souderton's Montgomery Theater to see Becky Shaw. After all, Gina Gionfriddo's acerbic, witty Pulitzer-nominated drama collected four Barrymore Awards for the Wilma Theater in 2010, and that production — with its bigger house, budget, and largely imported cast — seems as if it ought to be the definitive one for our region.
But it's not. The Wilma's production was excellent; this one is excellent also, but for completely different reasons. First, a play about the nuances in relationships between men and women works best in an intimate setting, and where the Wilma indulged in design gymnastics (its turntable featured several rooms divided by a peek-a-boo hallway), Montgomery presents complex characters first, leaving its simple design in the background.
Wendy Rosenfield
By Wendy Rosenfield
FOR THE INQUIRER
I'm not sure Rain, the touring Beatles revue that has also made its home on Broadway since 2010, meets the standard for theater. A knockoff of a knockoff (all four cast members are Beatlemania vets), it's more like watching a Fab Four drag show, or a really expensive cover band. It's a decent cover band, mind you, without lip-syncing, but the only narrative is signaled by the band's musical development, tracked chronologically, and its members' hair growth.
But it's not like the boys need a jukeboxed story to hold their catalog together. Their own long and winding road, its twists deeply ingrained in the hearts of baby boomers everywhere, requires only a costume change from matching Edwardian suits to those candy-colored Sgt. Pepper jackets to evoke the era's tastes, times, and turmoil, both internecine and international.
Jim Rutter
By Jim Rutter
FOR THE INQUIRER
Architects and writers both begin with a blank page and an idea. Jon Marans' theatrically ambitious but overwrought A Raw Space, now receiving a stilted world premiere at Bristol Riverside Theatre, started with a solid if unoriginal concept: a woman spurring men to jealous competition for her affection and approval.
While the title refers to one of Richard Meier's "raw space" Manhattan high-rises, this plot drives many of Shakespeare's plays. Marans acknowledges his debt by alluding to Macbeth on multiple occasions and quoting Henry IV at length.