Molly Eichel
Actress Kim Delaney finally opened up to Entertainment Weekly about her appearance at September's ceremony for the Liberty Medal, an annual award given out by the Constitution Center.
The "NYPD Blue"/"Army Wives" actress and Philly native was asked to speak about former Secretary of Defense Robert Gates, but during her speech, as the Inquirer's Tom Infield reported in a tweet, "seemed high or ill, or something. She stumbled in speaking. Had to be led to seat."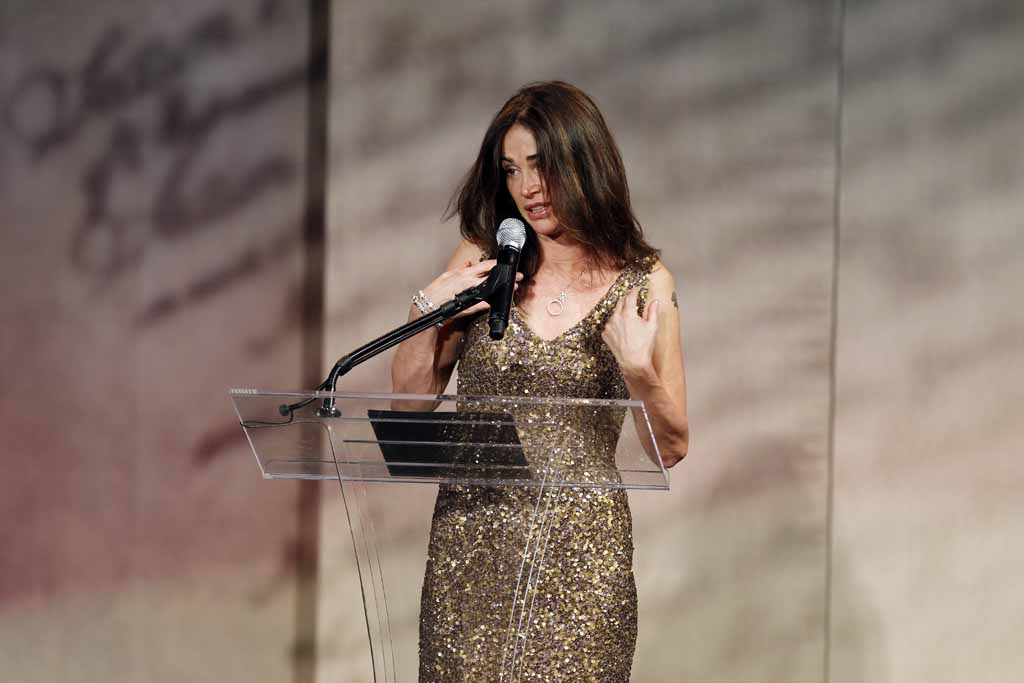 Ellen Dunkel
By Ellen Dunkel
FOR THE INQUIRER
Art and religion are frequent companions, and Pennsylvania Ballet's Messiah, which opened Thursday night at the Academy of Music, is, not surprisingly, steeped in Christianity.
During this Lenten season, many audience members may appreciate a balletic look at Jesus' life, death and impact. But while Handel's Messiah is magnificent no matter what one's leanings, the 21/4-hour-long ballet (including an intermission and a significant pause), set to the complete Handel oratorio, may seem a bit of a haul for others.
Wendy Rosenfield
By Wendy Rosenfield
FOR THE INQUIRER
Despite its backdrop of paved-over western mythology, Sam Shepard's Fool for Love is a rather intimate play for Iron Age Theatre. Though no strangers to Shepard's work -- they've produced The Tooth of Crime, Curse of the Starving Class, and Simpatico -- they're far more likely to take on work about labor issues, racism, or colonialism, and sometimes all at once.
But this, a bitterly comic drama that takes place in a motel room, with a fire-breathing love affair as its engine, is awfully close up for a company that favors the wide angle. With Shepard, the devil's in the details. It's Eddie, lassoing a metal chair and yanking it back with a smirk of juvenile satisfaction, or May, allowing her weary body to yield in Eddie's arms for just one brief, indulgent second before delivering a knee to his tarnished family jewels.
Wendy Rosenfield
By Wendy Rosenfield
FOR THE INQUIRER
Quintessence Theatre Group's mission is to tangle with the classics, and this time, they tackle Jean Anouilh's wartime adaptation of Sophocles' Antigone. A response to Nazi occupation of France, the tragedy, as reimagined for a 20th-century audience, trades the wrath of the gods for existential dilemma, allowing man and woman to blunder about on their own, making terrible decisions for terrible reasons.
Antigone, you may recall, is the daughter of Oedipus and daughter/granddaughter of Jocasta, both dead. Antigone's uncle Creon claimed Thebes' throne in their wake, and her brothers, Eteocles and Polynices, killed each other on the battlefield. It's a bad scene, and doesn't get any better when Creon declares Polynices a traitor, refuses him a proper burial, and discovers Antigone burying him anyway. Anouilh's Creon is a bureaucrat, Antigone an impulsive kid with big ideas, and both confuse pride with sacrifice.
Merilyn Jackson
By Merilyn Jackson
FOR THE INQUIRER
Have you ever found yourself suddenly surrounded by dance, and in the least expected place? Maybe you couldn't quite grasp what was going on at first, but then you noticed people standing around or sitting on the grass, watching. If you've lived in Philadelphia for awhile and walked in Bartram Gardens, Fairmount Park, or Old City, or visited Swarthmore College's campus, or toured Eastern State Penitentiary, chances are you've been surprised at least once by dance.
Jim Rutter
By Jim Rutter
FOR THE INQUIRER
Imagine that José Garces and Stephen Starr joined forces. Now imagine that instead of building a new facility lined with exotic decor and a model-pretty staff, these celebrity chefs used the partnership to develop their own culinary aesthetic, and put the pursuit of cuisine ahead of a restaurant's sustainability.
A merger of similar stature and quality took place in the Philadelphia dance community recently, when dancer-choreographer Kate Watson-Wallace and choreographer-poet-impresario Jaamil Kosoko rechristened anonymous bodies, Watson-Wallace's company, as a joint collaborative for the pair's work.
Wendy Rosenfield
]By Wendy Rosenfield
FOR THE INQUIRER
This isn't easy to write, but it must be written: Philadelphia's comedy sweethearts, Jennifer Childs and Tony Braithwaite, with their newest cabaret for 1812 Productions, Let's Pretend We're Famous, may have jumped the shark once and for all.
If you have a firsthand recollection of that last reference, you'll get every other reference in the show, and will still wonder if Childs or Braithwaite has turned on a television in the last 30 years.
Molly Eichel
Jenny Graham
Congratulations to Bill Cain, the first winner of the Philadelphia Theatre Company's Terrence McNally New Play Award. In its inaugural year, the award kicks off the play-reading festival PTC@Play and comes with a $10,000 prize and a year of support from PTC, including readings.
Cain (pictured above), who is also a Jesuit priest, won for his play "Unvarnished," about Philadelphia painter Thomas Eakins ("The Gross Clinic"). This is not the first time Cain has worked with PTC. Last year, he developed his "How to Write a New Book for the Bible" at PTC@Play.