Wendy Rosenfield
By Wendy Rosenfield
FOR THE INQUIRER
Michael Ogborn's new musical Tulipomania, commissioned by the Arden Theatre, has been through six years of development, several scripts, plus the addition and eventual subtraction of playwright Michael Hollinger (Opus, Ghost-Writer). Its story, pegged to the 17th-century Dutch tulip craze, remains a topical match for any number of parallels: subprime mortgage crisis, real estate bubble, Facebook IPO.
Wendy Rosenfield
By Wendy Rosenfield
FOR THE INQUIRER
Merilyn Jackson
By Merilyn Jackson FOR THE INQUIRER You could sum up the work of the genius stagecrafter and choreographer Moses Pendleton by saying he exceeds the influence of such peers as Alwin Nikolais, Elizabeth Streb, Mummenschanz, and Pilobolus, the now-41-year-old company he cofounded, then left in 1983 to form MOMIX. His inventiveness and artistry far surpass the popular Cirque du Soleil. A Dance Celebration favorite, MOMIX opened at the Annenberg Center on Thursday night to a nearly full house with its show "reMIX." Instead of one of his evening-length works, Pendleton offered an exotic caravan of pieces — some new, some familiar — that drew oohs, aahs, and scatterings of applause throughout. I'd love to be able to see into Pendleton's dreams just one night, but dreams alone don't make theater like this. It needs imagination, an understanding of the laws of physics — inertia, centrifugal force, gravity, weight, velocity — and the grit to work out the precision timing that keeps his dancers safe, all of which someone like Streb employs with ease. But like Nikolais, Pendleton brings beauty, mystery, emotion, and uproarious fun to the table, too. In his and Karl Baumann's piece TableTalk, Steven Marshall, a phenomenal gymnastic dancer who performed in many of the works, splays his arms out and, with head below the rim of the table, draws us in with a powerful rippling of his shoulder muscles. He proceeds through every possible permutation of stance until finally he twirls the table on his back and carries it off. In Tuu, with Rebecca Rasmussen, he holds and lifts her, with every press of the feet, lean of the body, fall, timed to perfection. In Dream Catcher with Cara Seymour, he commands a giant elliptically designed gyroscope, which the two pivot and swing around on in dangerous-looking variations. Two dances by the company's women endeared with sensuality and wit: In Marigolds, Phoebe Katzin's fabulous orange frills enfolded the women and allowed them to shimmy the dresses down their bodies till they were rumba-like sheaths. Baths of Caracalla, by the same five women, now in white by Katzin, harked all the way back to Loie Fuller, with the women rippling their white skirts like bath towels, flags, or clouds. Sputnik and Pole Dance were magnificent spectacles, using poles for balancing, vaulting, and flying, that Philadelphia choreographer Brian Sanders had a hand in contriving. By the concert's end the ethereal, Asian-inspired ambient sound and lounge music grew tedious — my only complaint — so it was a great relief in the last piece, If You Need Some Body, to hear Bach, which I normally hate for dance. It made a perfect foil for the ebullient silliness of the company of 10 partnered by floppy dummies that ended up flying joyfully from dancer to dancer. Additional performances 2 and 8 p.m. Saturday, 2 p.m. Sunday at the Annenberg Center, 3680 Walnut St. www.pennpresents.org.
Howard Shapiro
By Howard Shapiro
INQUIRER STAFF WRITER
The Theatre Alliance of Greater Philadelphia -- an umbrella organization that has served the region's stages through a period of record growth -- is dissolving.
Ellen Dunkel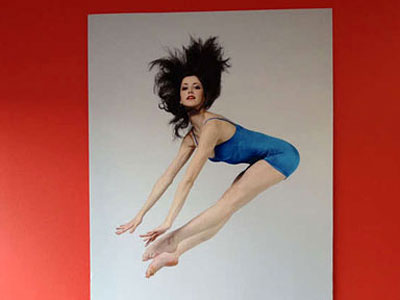 I looked both ways three or four times Tuesday afternoon before I crossed Broad Street at Ellsworth, en route to the Rock School for Dance Education.
That's the corner where, on March 18, Polina Kadiyska, 22, was fatally struck in an early morning hit-and-run as she left a Chinese restaurant. Kadiyska, from Bulgaria, was a student at the Rock School, on the brink of a ballet career.
My visit was to see the young dancers - Kadiyska's peers - in a practice performance. Some were preparing for the finals of Youth America Grand Prix, a prestigious competition. A large group danced the mambo scene from "West Side Story," which they'll be performing with the Curtis Symphony Orchestra in May at the Mann.
Dan Deluca
Fela! is in town for just three more days, with the Broadway musical starring either the equally good Sahr Ngaujah or Adesola Osakalumi making an exuberant noise at the Academy of Music for one show on Friday night and two each on Saturday and Sunday.
My feature story about the production that run in last Sunday's Inquirer Arts & Entertainment section is here. An 11 minute version of "Gentleman," which gets across the Fela jazz-funk-trance vibe quite nicely is below, as is "I.T.T.," the Nigerian Afrobeat creator's attack on multi-national colonialism.
At the Thursday night appearance I attended with Osakalumi in the lead role, the pointed political viewpoint of the iconic personality whose adopted middle name "Anikulapo," means "I have death in my pocket, and I can give it to you at any time," came across loud and clear, with the help of Brooklyn Afrobeat specialists Antibalas, who are the house band.
Molly Eichel
Bruce Springsteen gave the keynote address at Austin's South by Southwest festival, in which we talks about his career and the history of pop music. It's one of the more endearing things we've ever seen. Bruce starts at about 5:00 in, and he uses some colorful language so be forewarned.
Give it up for him the Boss below:
Molly Eichel
Actress Kim Delaney finally opened up to Entertainment Weekly about her appearance at September's ceremony for the Liberty Medal, an annual award given out by the Constitution Center.
The "NYPD Blue"/"Army Wives" actress and Philly native was asked to speak about former Secretary of Defense Robert Gates, but during her speech, as the Inquirer's Tom Infield reported in a tweet, "seemed high or ill, or something. She stumbled in speaking. Had to be led to seat."