Molly Eichel
The Philly DoGooder Awards, held tonight at the University of the Arts to fete the best in non-profit video storytelling, announced that they would be doling out awards to Philly.com's own Leah Kauffman for Innovation in Storytelling and City Representative Desiree Peterkin-Bell for Innovation in Urban Mechanics. But the third award, for Innovation in Community Building, went unannounced.
Drumroll, please...
The award goes to HughE Dillon, the proprietor of PhillyChitChat.com and society photographer for Philly.com and the Philly Post, was handed the award by Mayor Michael Nutter, who said that Dillon created a new platform for sharing stories behind the community, through the lens of his camera and the words on his blog.
Wendy Rosenfield
By Wendy Rosenfield

FOR THE INQUIRER

When last we saw Phileas Fogg traveling Around the World in 80 Days, he landed in Delaware Theatre Company's big, spare, delightfully imaginative, Barrymore Award-winning mainstage show. Now, a few seasons later, he's back visiting the Walnut Street Theatre's tiny Studio 3 in an equally delightful, up-close version of that same Mark Brown adaptation of Jules Verne's 1873 novel.
David Patrick Stearns
By David Patrick Stearns
INQUIRER MUSIC CRITIC
Like a grand diva who can't get enough farewell tours, Les Misérables — the stage musical version — is again on a tour stop in Philadelphia against many odds. This time it arrives amid formidable competition from the current film version that faithfully follows the musical about oppressed masses and idealistic up-risings in post-revolutionary France. By now, the touring stage shows have a fraction of the scenery seen in the Broadway original. The film is lavishly produced with major stars and has a smaller admission fee.
Stage adaptations of It's a Wonderful Life have been proliferating, and though no one version dominates, Joe Landry's at Bucks County Playhouse in New Hope feels more viable than many: It rightly emerges as a fanfare for the common man, even if it's lighter than lightweight.
Subtitled A Live Radio Play, the Landry script doesn't try to stage the original small-town setting. It's set at a 1940s radio studio, where the story is being acted out for microphones, the six-member cast playing a variety of roles that, through the considerable power of suggestion, make the stage feel far more populated than it is. In 1940s radio style, the actors give highly inflected line readings, supported by a sound effects.
Anyone who feels shortchanged won't for long. The elements that made radio drama work in the 1940s have retained their power. Soon, you no longer feel the characters are outside you. They're all but in your head, having a subtle dialogue with your own holiday history.
Merilyn Jackson
By Merilyn Jackson
FOR THE INQUIRER
Ellen Dunkel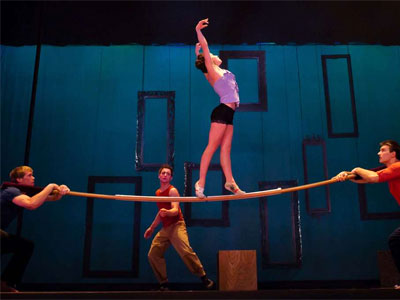 The names of the company and the show tell you nothing, but 7 Fingers' Sequence 8 is fantastic, one of the most memorable Live Arts/Fringe performances I've seen over the years.
The show, which had its U.S. premiere Tuesday night at the Merriam Theater, seamlessly blends circus arts with modern dance and hip-hop in a family-friendly array of acrobatic feats reminiscent of Olympic gymnastics. All eight performers are clowns at times, but no one is creepy or annoying.
Set to music ranging from Tosca to the Squirrel Nut Zippers, Sequence 8 includes group dance sections with a heavy dose of aerial acrobatics; a Russian bar routine that's a cross between trampoline and balance beam; and performers who defy gravity juggling cigar boxes, on a trapeze, or by dashing up a Chinese pole.
Merilyn Jackson
A huge, hexagonal, cagelike structure that reached to the ceiling commanded the space inside Pier 9 on Friday night for the premiere of The Gate Reopened by choreographer Brian Sanders' company, Junk. Surrounding it was a packed audience.
As Sanders' eight muscular performers — six men and two women — emerged, fleetly circling the Gate's base to the wild cheers of the crowd, I couldn't help but see them as gladiators. Instead of fighting each other, they fought height and gravity, calculating risk as they swung on bungees or launched themselves like simians against the chain-link fencing, which they gripped only by their fingertips and the J-hooks on their boots.
Merilyn Jackson
Nudity or near-nudity has been featured in almost every Live Arts/Fringe event I've attended — and I'm only halfway through the festival. Since I haven't heard anyone yell "Let's get naked!" I've kept my clothes on so far. I can't say the same for the performers in Jumatatu Poe's Private Places — members of Poe's company, idiosynCrazy — which opened Saturday at the Live Arts studio.

In the lobby we checked our bags, then were divided into four alphabetized groups and herded in as meekly as airline passengers. Some were seated in aisles and some around the periphery of the black-and-white space.

Imagine your flight attendant breaking into J-Sette, a mix of southern black marching band moves stylized by gay men — often in competitions — or into mad cackling abruptly terminated when another dancer bops them on the head. Their silvery gray and black strappings by Katie Coble come off in pieces by evening's end, leaving scanty purple and chartreuse underwear that eventually is shed for the final 15 minutes of the 75-minute show.