Merilyn Jackson
By Merilyn Jackson
FOR THE INQUIRER
Have you ever found yourself suddenly surrounded by dance, and in the least expected place? Maybe you couldn't quite grasp what was going on at first, but then you noticed people standing around or sitting on the grass, watching. If you've lived in Philadelphia for awhile and walked in Bartram Gardens, Fairmount Park, or Old City, or visited Swarthmore College's campus, or toured Eastern State Penitentiary, chances are you've been surprised at least once by dance.
Jim Rutter
By Jim Rutter
FOR THE INQUIRER
Imagine that José Garces and Stephen Starr joined forces. Now imagine that instead of building a new facility lined with exotic decor and a model-pretty staff, these celebrity chefs used the partnership to develop their own culinary aesthetic, and put the pursuit of cuisine ahead of a restaurant's sustainability.
A merger of similar stature and quality took place in the Philadelphia dance community recently, when dancer-choreographer Kate Watson-Wallace and choreographer-poet-impresario Jaamil Kosoko rechristened anonymous bodies, Watson-Wallace's company, as a joint collaborative for the pair's work.
Wendy Rosenfield
]By Wendy Rosenfield
FOR THE INQUIRER
This isn't easy to write, but it must be written: Philadelphia's comedy sweethearts, Jennifer Childs and Tony Braithwaite, with their newest cabaret for 1812 Productions, Let's Pretend We're Famous, may have jumped the shark once and for all.
If you have a firsthand recollection of that last reference, you'll get every other reference in the show, and will still wonder if Childs or Braithwaite has turned on a television in the last 30 years.
Molly Eichel
Jenny Graham
Congratulations to Bill Cain, the first winner of the Philadelphia Theatre Company's Terrence McNally New Play Award. In its inaugural year, the award kicks off the play-reading festival PTC@Play and comes with a $10,000 prize and a year of support from PTC, including readings.
Cain (pictured above), who is also a Jesuit priest, won for his play "Unvarnished," about Philadelphia painter Thomas Eakins ("The Gross Clinic"). This is not the first time Cain has worked with PTC. Last year, he developed his "How to Write a New Book for the Bible" at PTC@Play.
howard shapiro
By Howard Shapiro
INQUIRER STAFF WRITER
Night after night, Agatha Christie's murder mystery The Mousetrap repeats itself in England — after almost 25,000 performances, the world's longest-running play. But Wednesday night, the Walnut Street Theatre's current production of the play had a new surprise ending when Dan Hodge, one of its actors, proposed to his unsuspecting girlfriend at the curtain call.
"It is February 29th, leap year — in fact, leap day. And I'm going to take a leap," Hodge told the audience and a startled Krista Apple, after she was called to the stage from the audience of about 1,100 people. On his knees, Hodge then said: "Leap year comes around every four years. But a girl like you is once in a lifetime."
Molly Eichel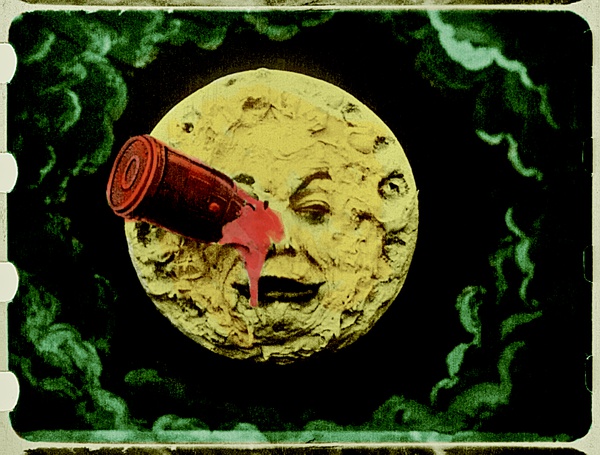 "The Artist" may have taken Oscar gold, but we preferred the other critically-lauded homage to early cinema: Martin Scorsese's "Hugo," which comes out on DVD and Blu-Ray today.
Georges Melies' sci-fi film "Le Dans la Lune"/"The Voyage to the Moon" is at the heart of "Hugo." Despite being released a century ago, it's still quite amazing to watch.
Molly Eichel
Eric Hissom as Cyrano de Bergerac at the Folger Theatre in D.C. Hissom will revive the part at the Arden in March (Photo by Carol Pratt)
Philly guys Aaron Posner, Michael Hollinger and Thom Weaver were nominated for Helen Hayes Awards - the Washington, D.C. equivalent of the Barrymores - for their work on "Cyrano." Posner and Hollinger are up for the Charles MacArthur Award for Outstanding New Play or Musical, Posner is up for Outstanding Director and Weaver is up for Outstanding Lighting Design.
Merilyn Jackson
By Merilyn Jackson
FOR THE INQUIRER
The philosopher Ludwig Wittgenstein said, "Philosophy ought really to be written only as a form of poetry." I am never happier than when I can read choreography as poetry, as I — and, I think, the audience — did over the weekend with choreographer John Jasperse's Fort Blossom Revisited 2000/2012.
This fuller version of the original 2000 work premiered Friday at the Hepburn Teaching Theater, Bryn Mawr College's black-box theater. The college was the leading funder of the reconstructed and expanded 60-minute work.