Ellen Dunkel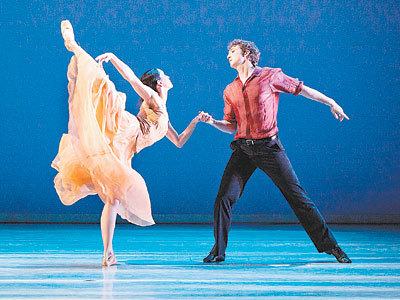 Pennsylvania Ballet principal dancer Riolama Lorenzo's final performance before retiring is Sunday, but it was already a lovefest Thursday night, when the company opened its Pushing Boundaries series at the Merriam Theater.
Nancy G. Heller
By Nancy G. Heller
FOR THE INQUIRER
It's 60 minutes of sheer delight — jam-packed with slapstick humor, astonishing acrobatic feats, witty visual effects, romance, heartbreak, and music ranging from jazz to Tuvan throat singing. Oyster, inspired by a book of poems by filmmaker Tim Burton, is a signature work of Israel's award-winning Inbal Pinto & Avshalom Pollak Dance Company. The troupe's three-day run at the Annenberg Center, which began Thursday, marks the end of its latest U.S. tour.
While each of the vignettes that make up Oyster evokes its own mood, the overall sense of eeriness and androgyny — and especially the dancers' stark white makeup, fright wigs, and outrageous costumes — are certainly Burtonesque. (Think: Johnny Depp in Edward Scissorhands, Michael Keaton in Beetlejuice, Helena Bonham Carter in practically anything.) But Oyster also owes a lot to the circus, Federico Fellini, and the cracked sensibility of Edward Gorey.

There's no linear, identifiable "plot" here, but there are distinctive recurring characters, notably a woman in a bright orange wig, dark tutu, pointe shoes, and a black turtleneck that obscures the lower half of her face. We don't know who she is or why she has a tiny step stool attached to her rear end. But, because of the performers' skill and the endless inventiveness of co-artistic directors Pinto, a dancer, and Pollak, a classically trained actor, who create the choreography and design soundscapes, sets, and costumes for all their works, we do wonder about this. We also care about Oyster's other creatures as they crawl, stagger, shimmy, scuttle, strut, and fly about the stage.
Ellen Dunkel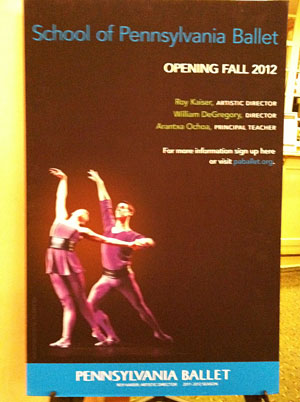 After 22 years of being the rare American ballet company without a school, Pennsyvlania Ballet is reopening the School of Pennsylvania Ballet "sometime in the fall," says company artistic director Roy Kaiser. It depends on when the new headquarters and studios at 321 N. Broad St. are ready for occupancy.
Stephan Salisbury
By Stephan Salisbury
INQUIRER STAFF WRITER
Dance USA/Philadelphia, an advocacy and service organization, has received a three-year, $950,000 grant from the William Penn Foundation, the philanthropy announced Thursday. In addition, William Penn said it awarded $200,000 to Dance USA grant to help fund its 2013 annual conference, which will bring over 600 dancers and dance professionals to Philadelphia in the summer.

All told, William Penn announced 37 grants totaling about $16 million. Funding was dispensed in several broad areas, including arts and culture, children, youth and families, and environment and communities. Grants were also announced for capital and regranting programs.
In addition to the two Dance USA-related grants, 12 other arts and culture groups, many of them performing-arts organizations, will receive funds.
Wendy Rosenfield
By Wendy Rosenfield
FOR THE INQUIRER
It might be a tough sell, getting audiences out to Souderton's Montgomery Theater to see Becky Shaw. After all, Gina Gionfriddo's acerbic, witty Pulitzer-nominated drama collected four Barrymore Awards for the Wilma Theater in 2010, and that production — with its bigger house, budget, and largely imported cast — seems as if it ought to be the definitive one for our region.
But it's not. The Wilma's production was excellent; this one is excellent also, but for completely different reasons. First, a play about the nuances in relationships between men and women works best in an intimate setting, and where the Wilma indulged in design gymnastics (its turntable featured several rooms divided by a peek-a-boo hallway), Montgomery presents complex characters first, leaving its simple design in the background.
Wendy Rosenfield
By Wendy Rosenfield
FOR THE INQUIRER
I'm not sure Rain, the touring Beatles revue that has also made its home on Broadway since 2010, meets the standard for theater. A knockoff of a knockoff (all four cast members are Beatlemania vets), it's more like watching a Fab Four drag show, or a really expensive cover band. It's a decent cover band, mind you, without lip-syncing, but the only narrative is signaled by the band's musical development, tracked chronologically, and its members' hair growth.
But it's not like the boys need a jukeboxed story to hold their catalog together. Their own long and winding road, its twists deeply ingrained in the hearts of baby boomers everywhere, requires only a costume change from matching Edwardian suits to those candy-colored Sgt. Pepper jackets to evoke the era's tastes, times, and turmoil, both internecine and international.
Jim Rutter
By Jim Rutter
FOR THE INQUIRER
Architects and writers both begin with a blank page and an idea. Jon Marans' theatrically ambitious but overwrought A Raw Space, now receiving a stilted world premiere at Bristol Riverside Theatre, started with a solid if unoriginal concept: a woman spurring men to jealous competition for her affection and approval.
While the title refers to one of Richard Meier's "raw space" Manhattan high-rises, this plot drives many of Shakespeare's plays. Marans acknowledges his debt by alluding to Macbeth on multiple occasions and quoting Henry IV at length.
Howard shapiro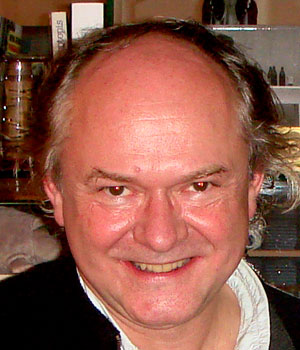 By Howard Shapiro
INQUIRER STAFF WRITER
Jiri Zizka defected from Czechoslovakia, joined a small Philadelphia theater company, and, with his then-wife Blanka Zizka, transformed it into the Wilma Theater — one of the city's largest stage companies. On Tuesday, Mr. Zizka, 58, died of liver complications at his Philadelphia home.
The first news of his death appeared in a banner with his picture across the Wilma's website late Wednesday, offering only his years of birth and death. That was all that remained on the site Thursday as his former wife, the Wilma's artistic director, began to make plans that will eventually include a memorial service in Philadelphia, a theater spokesman said.
Jiri Zizka had not been active at the Wilma since 2010, when he said he was moving into a consulting relationship to pursue other artistic endeavors. During his tenure — the Zizkas became co-artistic directors three decades ago — he directed more than 70 productions and was a visible force in the emergence of Philadelphia as a theater town.
Wendy Rosenfield
By Wendy Rosenfield
FOR THE INQUIRER
Let's make one thing clear: The Scottsboro Boys is not a minstrel show. It's a musical, yes, the last by John Kander and the late Fred Ebb (book by David Thompson). It revives the characters and conventions of minstrelsy — there's even a tap dance — and it's plenty entertaining. But the difference is, this tale about a very real miscarriage of justice uses every element of the minstrel form, including that gruesome tap dance, performed before an electric chair, to highlight the viciousness and humiliations of racism.

Philadelphia Theatre Company, producing the show's first post-Broadway incarnation, brings with it six members of the original cast, Susan Stroman's arresting original direction and choreography (re-created by Jeff Whiting), Beowulf Borritt's minimalist set (three wooden frames and a tangle of metal chairs), and Toni-Leslie James' rough-hewn costumes. It also features some homegrown talent — including Eric Ebbenga, who provides sharp musical direction, and several Philly-based actors, including Forrest McClendon, a standout among standouts, returning to his Tony-nominated role as Mr. Tambo. This is handy, because I fully expect the show to sweep the 2012 Barrymore Awards, and it's always gratifying when the cast is around to accept in person.
So, who were the boys? Well, for starters, they were indeed boys, nine of them, ranging in age from 12 to 19. All had the misfortune to be riding a train through Alabama in 1931, at the same time a pair of white prostitutes talked their way out of a solicitation charge. The women accused them of rape, and despite eight trials, significant public outrage, and one recanted accusation, the boys grew into men behind bars.
Fans of Kander and Ebb will recognize elements of their other work here, not just in its challenging subject, but also in the way the rousing "Hey, Hey, Hey, Hey!" recalls Cabaret's "Willkommen," or "Alabama Ladies" references Billy Flynn's manipulation of Roxie Hart in Chicago's "We Both Reached for the Gun."
Wendy Rosenfield
The trouble with Kenneth Lin's Fallow, receiving its world premiere at People's Light & Theatre Company, begins at the beginning. Elizabeth Hayes (Mary Elizabeth Scallen), on a quest to visit her son Aaron's murderers in prison, first travels to California farm country, where Aaron was a migrant worker after dropping out of Cornell University. Upon her arrival in the Golden State -- helpfully, she's wearing a T-shirt that reads "California" -- Elizabeth immediately encounters Happy (Robert Montano), a Mexican gypsy-cab driver, who may know more about Aaron than he admits.
Lin never clarifies whether Elizabeth's meeting with Happy occurs by chance or design, though his play seems to claim both. But that's only the first problem in a drama so overstuffed that its plot devices have to jostle for attention with its bloated metaphoric flourishes. Think I'm exaggerating? Here's Elizabeth's description of a strawberry's flavor, which she claims tastes like leather: "Imagine you are riding through an orchard, and your horse's hooves are smashing rotten apples and you come to a stream and you stop and smell your hands. Isn't that it?" Well, no, not in real life or in its scripted naturalistic approximation, anyway.