David Patrick Stearns
By David Patrick Stearns
INQUIRER MUSIC CRITIC
Like a grand diva who can't get enough farewell tours, Les Misérables — the stage musical version — is again on a tour stop in Philadelphia against many odds. This time it arrives amid formidable competition from the current film version that faithfully follows the musical about oppressed masses and idealistic up-risings in post-revolutionary France. By now, the touring stage shows have a fraction of the scenery seen in the Broadway original. The film is lavishly produced with major stars and has a smaller admission fee.
Yet Wednesday night's opening at the packed Academy of Music clearly justified itself, thanks to a bright, unjaded cast at the top of its collective game and exercising a freedom of interpretation not always seen in touring companies that typically seek to reproduce the original-cast experience. You could swear that this production is behaving in conscious competition with the film, showing it can be just as effective on its own terms.
Stage adaptations of It's a Wonderful Life have been proliferating, and though no one version dominates, Joe Landry's at Bucks County Playhouse in New Hope feels more viable than many: It rightly emerges as a fanfare for the common man, even if it's lighter than lightweight.
Merilyn Jackson
By Merilyn Jackson
FOR THE INQUIRER
Wednesday night's BalletX season opener at the Wilma Theater began as dark and stormy onstage as it was outside. But the program grew progressively lighter and more serene, and ended with its loveliest and most upbeat work, the Philadelphia premiere of Switch Phase, by BalletX co-artistic director Matthew Neenan.
Ellen Dunkel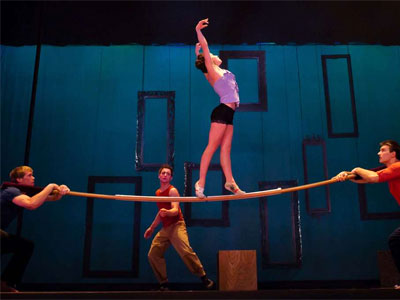 The names of the company and the show tell you nothing, but 7 Fingers' Sequence 8 is fantastic, one of the most memorable Live Arts/Fringe performances I've seen over the years.
Jim Rutter
By Jim Rutter
FOR THE INQUIRER
"They say you don't miss your water until your well run dry."
Merilyn Jackson
Nudity or near-nudity has been featured in almost every Live Arts/Fringe event I've attended — and I'm only halfway through the festival. Since I haven't heard anyone yell "Let's get naked!" I've kept my clothes on so far. I can't say the same for the performers in Jumatatu Poe's Private Places — members of Poe's company, idiosynCrazy — which opened Saturday at the Live Arts studio.

In the lobby we checked our bags, then were divided into four alphabetized groups and herded in as meekly as airline passengers. Some were seated in aisles and some around the periphery of the black-and-white space.
Wendy Rosenfield
Adam Rapp's The Edge of Our Bodies, Theatre Exile's Philly Fringe entry, digs deep into the genesis of a certain type of girl, boarding-schooled in New England, conversant in Plath, Wharton and Donna Tartt, whose disdain for the adults in her life is matched only by their disregard of her. In this almost-monologue (there's a brief, uncredited appearance by Bill Rahill as a maintenance man), 16-year-old Bernadette alternately reads aloud from her journal and splices in scenes from a school production of Jean Genet's The Maids — in which she, naturally, plays the meek Claire.
And like Claire, Bernadette channels her powerlessness into a nascent sadism that exists only in her own head and on the page. Pregnant, seeking comfort from her older boyfriend, she leaves campus and hops a train from Connecticut to Brooklyn and back. The men she encounters have "simian tufts of hair" creeping from their shirts, and faces "like lunchmeat" or "wet Kleenex."
Ellen Dunkel
For 10 weeks, more than 150 non-dancers trained like professional dancers, and this afternoon Le Grand Continental had its Philadelphia premiere at the foot of the Art Museum steps.
Jim Rutter
Who cares about actors Jeff Coon and Ben Dibble? Unless you regularly attend theater in Philadelphia, you probably don't, and you probably still won't after seeing this fun, frivolous Philly Fringe time-waster.
However, for an industry insider, the first 20 minutes will sing like pure comedy gold. Every overlooked actor and director in town alleges the parochial, borderline incestuous nature of the local biz; props go to this show's creators (Mike Doherty, Greg Nix, and Alex Bechtel) for calling out the region's larger theatre companies for repeatedly hiring Coon and Dibble for (too) many of the area's lead musical roles. Doherty and Nix, two younger performers passed over for these parts, decide to off their competition.
But the plot's strong start quickly devolves into a series of loosely connected skits, including a pantomimed training montage — funny in a South Park movie, a time-filler in this already stretched 75-minute show. Doherty's manic comic intensity elevates each scene, but for a new musical (CDs on sale!), the sum total of two full songs completely wastes Bechtel's massive musical talent.
Twenty-five years from now, it will take a bit more creativity for anyone to care enough to kill Doherty and Nix.
-- Jim Rutter
For details, go to www.livearts-fringe.org.