Archive: August, 2013
David Hiltbrand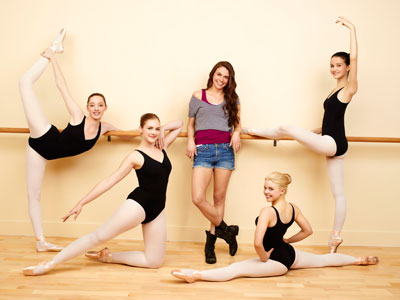 It left us far too soon. I'm talking of the delightfully quirky series Bunheads, which ABC Family cancelled this summer after one glorious season. (Gotta make room for those Pretty Little Liars spinoffs.)
It starred Sutton Foster as a former Vegas showgirl working in a dance studio in a scenic California town with some epically chatty girls. (And a crusty mother-in-law played by Kelly Bishop.)
Bunheads was the creation of Amy Sherman-Palladino (Gilmore Girls), one of the most gifted dialogue writers TV has ever seen. Her scripts sang. Prestissimo.
David Hiltbrand
Comedy Central's latest roast victim is James Franco – actor/author/blank slate.
Last night, with Seth Rogen hosting, a number of celebs, including Aziz Ansari, Andy Samburg, Sarah Silverman, Jonah Hill and of course, Jeff Ross, turned up the heat on Franco, most of the jokes having to do with his sleepy affect, his disastrous hosting of the Oscars with Anne Hathaway, his authorial efforts and his ambiguous sexuality.
A sampler:
Esther Lee
By now, Taylor Swift's ex-boyfriends know not to mess with the singer, who typically takes the more vengeful route of debriefing after a relationship by penning catchy, chart-topping, breakup tunes that haunt them relentlessly.

Taylor Swift on the red carpet at the 2013 Video Music Awards at the Barclays Center in Brooklyn. (AP Photo)
It seems One Direction's Harry Styles has and continues to lack immunity to Swift's ways. The pop artist previously made fun of the tween heartthrob by mimicking his British accent during her "We Are Never Getting Back Together" performance at this year's Grammy Awards. The story at Sunday evening's VMAs was not the artist's pointed speech as she accepted the best female video award for "I Knew You Were Trouble."
Esther Lee
Count with us.
Lady Gaga brought her typical oddities to the stage as she opened Sunday evening's Video Music Awards. The singer, staying true to her theatrical roots, first appeared in a ceremonial, nun-inspired, white robe, her face surrounded by a square headpiece.
During her performance of latest single, "Applause," then went through multiple costume changes, including a sparkly black leotard, a blue suit combo paired with her signature pixie-cut wig, a long yellow wig and face paint, then, a shell-bra bikini complete with a blonde wig.
David Hiltbrand
What do you call it when the audience for your awards show skyrockets by 66% from the previous year? At MTV, they're probably calling it "bonus time".
Last night's raucous Video Music Awards, from the Barclays Center in Brooklyn, drew 10.1 million viewers. That's Duck Dynasty numbers folks. It's also a 66% jump from last year's telecast, hosted by Kevin Hart. (The Philly comic popped up a few times last night as well, frequently reminding us that he was not, repeat not hosting the show.)
The telecast had controversy – Molly Cyrus's filthy appearance – and lots and lots of music – Katy Perry, Lady Gaga, Drake, Macklemore and Ryan Lewis, 2 Chainz, Bruno Mars…the list goes on and on..
Esther Lee
[UPDATE, Aug. 27] Though Miley's performance still remains at the forefront of what we're discussing here in post-VMAs backlash land, MTV did want to clarify something else:
The network says the Smith family was actually watching Lady Gaga's performance when the viral screen grab (see below) was captured.
"We're really not sure how the whole Miley rumor started — and that's not to say there weren't plenty of folks both inside the Barclays Center and at home who weren't shocked by her onstage efforts."
Jennifer Nguyen
After nearly two months of anticipation, a photo of Kanye West and Kim Kardashian's baby girl was finally revealed to the world when West appeared on Kris Jenner's daytime talk show Friday morning.
North West, born June 15, is photographed on mommy Kim's shoulder with her tiny little fingers sticking out towards the camera.
Proud papa West, who took the photo himself, visited Jenner's talk show to discuss his love for Kim and new family life. Jenner, as grandmother to little North, was more than happy to have West on the show and to talk about their growing family.
Esther Lee
According to the NYPD, British boy band One Direction attracted an estimated 18,000 people to the plaza outside Rockefeller Center temporarily renamed Studio 1D.
Some fans of the group got in line for the touted concert days in advance, one mother-daughter duo actually arrived last Friday to hold their place in line. "We haven't showered all week. We just wiped off with baby wipes!" she told Matt Lauer, who surprised the superfans with tickets to the "This Is Us" premiere.
In betewen sets, Savannah Guthrie and Lauer interviewed the teen heartthrobs.