Archive: July, 2013
Ellen Gray

, Daily News TV Critic
"Dexter" addicts jonesing for a spinoff of the popular Showtime series, now in its eighth and final season, may find a glimmer -- but just a glimmer -- of hope in the announcement Tuesday that series showrunner Scott Buck had signed a development deal with the premium cable network.
"Draw your own conclusions," Showtime president David Nevins said during a press conference at the Television Critics Associations summer meetings in Beverly Hills, Calif.
Afterward, he offered no more guidance than that.
Ellen Gray

, Daily News TV Critic
Fans of the Showtime-canceled "The Borgias" are apparently putting their money where their mouths are.
On Tuesday, that meant hiring a plane to trail a banner over the Beverly Hilton in Beverly Hills, Calif., where Showtime hosted an outdoor, "Dexter"-themed lunch (don't ask) during the Television Critics Association summer meetings.
Those banners are only so long, so this one read, "D. Nevins, SHO the fans you care."
David Hiltbrand
Did you catch this promo AMC just ran for the final season return of Breaking Bad? August 11, if you don't already have the date circled in your appointment book.
It's mysterious and disturbing, all at the same time. Bryan Cranston portentously recites "Ozymandias", an 1818 sonnet by British Lake Poet Percy Bysshe Shelley. The most oft-quoted line from the poem: "Look on my works, ye Mighty, and despair."
The poem concerns a once-majestic statue, now eroded, in the desert, and the folly of an emperor who thought his fame would outlast time.
Esther Lee
Teresa Giudice and her husband Giuseppe "Joe" Giudice appeared in federal court Tuesday morning, hand-in-hand, ready to face authority.
However, for the two stars of Bravo's Real Housewives of New Jersey, their appearance did not come and go without some conflict. E! News reports the couple was accompanied by Joe Giudice's mother, who was "cussing at camera crews that swarmed around them." The media outlet adds, "At one point, Teresa's hubby even slapped a photographer's camera, prompting a warning from his attorney not to do that."
The couple walked in and out of the Newark, N.J.-based federal courthouse, released on a $500,000 unsecured appearance bond each.
David Hiltbrand
It makes sense. "You're So Vain" is probably the greatest Taylor Swift song she never wrote. Carly Simon did and had a huge hit with it in 1973. It's about a self-absorbed former lover. Right in Taylor's wheelhouse.
So over the weekend while performing at Gillette Stadium in Foxborough, MA., Swift lured Simon onto the stage to duet on one of pop's most familiar and intriguing ditties.
Of course, Simon never revealed the identity of who it was about. Explicitly anyway. Over the years, she has dropped clues, such as the fact that his name contains the letters A, R and E. That lets out Nick Nolte, David Cassidy and gay record label chief David Geffen, all of whom were mentioned as candidates at one time or another.
Esther Lee
Crystal clear, teal water. The beautiful Caribbean island of Antigua. Three eligible picks. And one devastating episode.
America experienced Bachelorette Desiree Hartsock's second monumental heartbreak Monday evening in the two-hour long, first installment of season nine's two-part finale of ABC's hit show.
This week, also known to viewers as Fantasy Suite Week, starts off with the expected romantic gestures as Des takes one of the guys, Drew Kenney, around the island for for a one-on-one date, and later, a trip to the fantasy suite. She follows that encounter with a romantic helicopter ride to Barbuda Island with 27-year-old Chris Siegfried, in a date that includes a remote beach picnic and then some.
Molly Eichel

, Staff Writer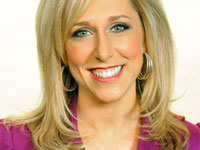 NBC 10 meteorologist Michelle Grossman is leaving the staion to become a full time mom. Grossman, who grew up in Doylestown and graduated from Central Bucks East, had been with the station since January of 2008.
She'll be leaving '10 to stay at home with new son Jeremy who was born in December. She has another daughter, Ella, from a previous marriage.
But Grossman won't be straying too far from the NBC family. Her husband, Jamie Simmons, the station's digital assets manager. She'll also be doing fill-in work when necessary.
Esther Lee
There's more drama ahead for two central cast members of popular Bravo reality TV series "Real Housewives of New Jersey."
Feds announced Monday afternoon that Teresa Giudice, 41, and her husband, Giuseppe "Joe" Giudice, 43, were charged in a 39-count indictment returned in Newark, N.J. earlier today. The two are accused of conspiracy to defraud lenders and illegally obtain mortgages and other loans as well as allegedly hiding assets and income during a bankruptcy case, New Jersey's U.S. Attorney Paul J. Fishman announced in a statement.
The couple, both of Towaco, N.J., were charged with conspiracy to commit mail and wire fraud, bank fraud, making false statements on loan applications and bankruptcy fraud. The indictment also charges Joe Giudice with failure to file tax returns for tax years 2004 through 2008, a period during which he allegedly earned nearly $1 million.