Archive: May, 2012
David Hiltbrand
Some performers just own the stage. Not many of them project that utter sense of possession at six-years-old however.
Last night on America's Got Talent, little Isaac Brown (his profession described as "student") charmed the judges and the crowd before he even sang a note of the Jackson 5's "I Want You Back".
David Hiltbrand
You may have gotten wind of the flap that followed this week's episode of Keeping Up with the Kardashians. The star of the show (and believe me, I use that term loosely) let it be known in the strongest terms that she found Indian food "disgusting". Vindaloo, curry, tandoori, makes no difference. It's all disgusting.
Well she set about fixing matters on her website today. And in the process managed to dig herself in deeper. Here's the entry.
"There are a lot of foods I don't like…I hate cilantro and peppers, and there are definitely some Armenian foods that I personally find disgusting, but that doesn't reflect my opinions on other Armenian people or my culture. My comment wasn't intended to offend anybody. We all have our own opinions and tastes and I was simply expressing mine."
Ellen Gray, Daily News TV Critic
The History Channel's "Hatfields & McCoys" has already made history, drawing 13.9 million viewers on Monday night for its first installment, making it the "No. 1 non-sports telecast in ad-supported cable history."

So, OK, maybe that's not the kind of stat you memorized in school, but 13.9 million people watching anything on television these days is a lot. On Memorial Day, it's particularly impressive.

And like a studio blockbuster that keeps pumping out sequels, this one isn't even over, with four more hours to go on Tuesday and Wednesday.
David Hiltbrand
You have to wonder what the Chicago White Sox were thinking. It doesn't get much more bizarre…or more random than this.
Over the Memorial Day weekend at U.S. Cellular Field, they invited Bob Saget to sing the National Anthem prior to the Sox game against the Cleveland Indians. That's right, Bob Saget.
David Hiltbrand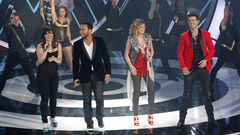 There's always room for another reality competition series, right? Last night, at the same time that So You Think You Can Dance? was ramping up its new season and less than 24 hours after American Idol wrapped, ABC debuted its new singing competition, Duets.
The launch party had pizzazz. The four judges/coaches/mentors/superstars – Jennifer Nettles of Sugarland, John Legend, Robin Thicke, and Kelly Clarkson – hit the show's crazy strobing hamster cage stage for a big opening production number.
Then Duet's smarmy announcer, Quddus, took over, and it was all downhill from there. Don't ask me. I don't have a clue how to pronounce the guy's name. I think he got it from a board game.
David Hiltbrand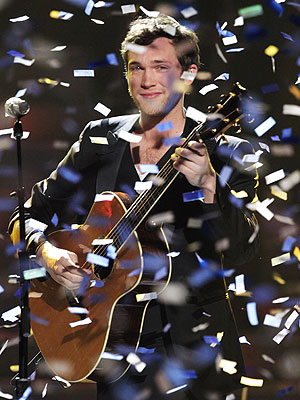 That was a pretty sad American Idol finale on Wednesday night, and not just for Jessica Sanchez fans.
Where was the sparkle? The magic? The energy? Where were the stars?
This is clearly no longer a hot ticket in Hollywood. Did you see who was in the audience this year? Lisa Rinna and Harry Hamlin. Those two would turn out for the opening of a Del Taco franchise. Billy Bush. And then some people like Jane Lynch and Dean Cain who are on Fox shows.
David Hiltbrand

Who dares gets fresh with the Fresh Prince? Apparently some Ukrainian prankster who poses as a journalist and who ambushed Will Smith last week on the red carpet for the Moscow premiere of Men in Black 3.
Last night on Late Night, Smith addressed the international incident with David Letterman.
David Hiltbrand
Reality show competitions can be a cruel mistress. On Monday night, Howard Stern made a 7-year-old aspiring rapper cry on America's Got Talent. Last night on the finale of Dancing with the Stars, Tom Bergeron made William Levy's young son Christopher cry when he announced that papa had finished third.
Que lastima, Christopher. But somebody had to lose. And somebody had to win. And that somebody was Green Bay Packers' wide receiver Donald Driver, who rolled on the floor and went into full body spasms after being declared the 14th recipient of the mirrored ball.