Archive: September, 2012
Ellen Gray, Daily News TV Critic
While carrying an Arizona station's feed of a high-speed chase this afternoon, Fox News showed a man apparently committing suicide.
Fox News anchor Shepard Smith, who'd been doing commentary during the aftermath of the chase (in the clip posted on YouTube, apologized almost immediately, according to ABC News, which reports that the chase, along the I-10 outside Phoenix, had begun with a carjacking.
"We really messed up and we're all very sorry," he said, according to ABC. "That didn't belong on TV... I personally apologize to you that it happened."
David Hiltbrand, Inquirer TV Critic
When Jimmy Fallon crossed networks (and Seventh Avenue) to appear on The Late Show last night, Dave Letterman asked him about a strange confrontation Fallon had had with Bruce Jenner at the London Olympics.
The audience is tittering before Fallon even gets started because they only know Jenner as the somewhat decrepit househusband on Keeping Up With the Kardahsians. Enjoy the story (and Fallon's imitation NBC's anchor emeritus Tom Brokaw).
David Hiltbrand, Inquirer TV Critic
The X Factor brought its travelling circus of auditions to Providence R.I. last night. Things started kind of rough, but picked up. My theory: a lot of candidates circled this date on their calendars figuring they wouldn't face as much competition as they might in a bigger city.
And maybe that's what 19-year-old Sophie Tweed Simmons was thinking. She's one of the family jewels of Kiss's tongue-tastic impresario Gene Simmons and former centerfold Shannon Tweed, both of whom showed up to watch her burble an Adele song. I'll reserve my comments until after you've seen the audition.
David Hiltbrand, Inquirer TV Critic
In the season opener of Saturday Night Live, host Seth MacFarlane did an impression of Olympic swimmer Ryan Lotche as a guy so dumb he read the title of NBC's new sitcom Go On as Goon.
That's pretty much what it turned into last night as Ryan (Matthew Perry) wormed his way into the weekly hockey game organized by former Flyer Jeremy Roenick.
David Hiltbrand, Inquirer TV Critic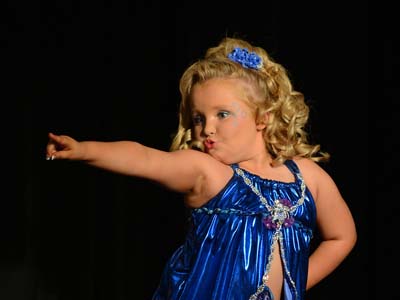 You say you can't get enough of Here Comes Honey Boo Boo, the bizarre, exploitive and sad look inside the Lil Abner lifestyle of America's most famous bumptious, belly-baring 7-year-old beauty contestant?
Then you better watch tonight, honey child, when TLC puts on the last new episode for a while (10 p.m.). Should be a good 'un as Alana's sister Chickadee goes into labor. I don't want to give nothing away but the delivery room has its hands full.
Don't start frettin' yet. TLC announced today that they have already ordered up a whole new passel of Here Comes Honey Boo Boo episodes, including three special holiday installments for Halloween, Thanksgiving and Christmas.
David Hiltbrand, Inquirer TV Critic
On most seasons of Dancing with the Stars, the field sorts itself out quickly – the wheat falling away from the chaff almost immediately on the parquet.
If last night's premiere of the All-Stars edition taught us anything, it's that Tom Bergeron is awfully smug about his Emmy win as reality show competition host. No, Bergy was always smug. It taught us that this year is going to be harder to predict than ever. As promised, lots of talent in this returning batch.
David Hiltbrand, Inquirer TV Critic
There's discord in every family, right? Even the very model of a Modern Family. But who would have guessed that the devilish trouble maker on the set of the ABC hit and Emmy darling would turn out to be adorable little Lilly?
One of the funniest moments on last night Emmy Awards was this packaged bit from the show that won Outstanding Comedy Series for the third straight year. It shows a side of young Aubrey Anderson-Emmons that is deeply troubling.