Archive: August, 2013
Esther Lee
Please don't, we said when we first watched a snippet of Kris Jenner's interview with Kanye West. Jump on the couch, that is.
The usually press-shy, paparazzi-loathing Kanye West opened up to his baby girl's grandmother Kris Jenner in a pre-taped, hour-long interview touted heavily in the finale of the Kardashian matron's Fox talk show. 36-year-old West reveals how he really feels about his girlfriend of two years, Kim Kardashian.
"I could have people saying, 'This is going to damage your credibility as an artist or as a designer, and I say, 'I don't care. I love this woman,' " the new dad shares. "Or someone could say, 'Everyone knows you don't like paparazzi. Why would you be with this person?' And I say, 'I'm being with this person because I love this person and she's worth it to me.' "
David Hiltbrand
The Today website is running a rather personal item this morning:
"Harper Estelle Wolfeld Gosk made her Today debut Thursday morning with her moms, sleeping in Jenna Wolfe's arms next to Stephanie Gosk.
'This is the greatest gift,' Jenna said. 'Anyone who's a parent understands what I'm talking about.'
Esther Lee
Bibbidi bobbidi Bey! A new, viral YouTube video is making pop culture waves by mixing a classic fairy tale story with Beyonce's music.
The video, released by former American Idol finalist Todrick Hall, tells the story of Cinderella by way of a mashup of the pop sensation's hits. Halo, Single Ladies, Countdown, and Love On Top are among the singles featured in the 8-minute production, which was uploaded just two days ago and already has over 100,000 hits. After all, who doesn't appreciate a reimagined - not to mention uber creative take on this classic story? Watch below.
David Hiltbrand
By the ghost of Earl Scruggs, this is banjo music, foilks.
What happens when an amphibian takes on a human for a rousing version of "Dueling Banjos"?
Well, it looks a lot like this actually. In this Funny or Die video, Kermit and Steve Martin pluck up a storm in a swamp.
Esther Lee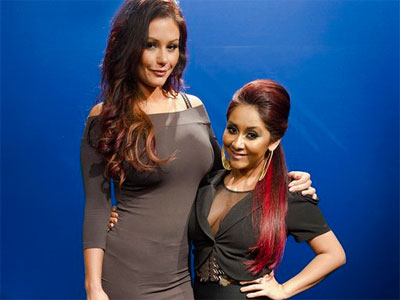 Snooki & JWoww can stay. For now at least.
On Monday, Ocean County Superior Court Judge E. David Millard said he won't stop production of MTV's "Snooki & JWoww" in a house on Pelican Island, the Asbury Park Press reports.
The town, which is currently in the process of rebuilding from Superstorm Sandy, presented concerns from municipal officials and its residents that the taping of the series - a spinoff from popular reality TV show "Jersey Shore" which was filmed in Seaside Heights, right across the bridge from Pelican Island - could disrupt recovery efforts.
David Hiltbrand
Poor Big Sean. The rapper's new album, Hall of Fame, featuring Kid Cudi, 2 Chainz, Nas and others, is due out Tuesday. It leaked a week early. But that's not the problem. A 7-minute track that got left off the CD, "Control", is getting all the attention.
Primarily because of an aggressively boastful verse from young Kendrick Lamar, in which the Compton-born MC claims to be "king of New York" while calling out a number of rappers – by name, including A$AP Rocky, Wale, Mac Miller, Drake and Jermaine Cole – to bring up their games.
The track has been driving the hip hop community crazy.
Ellen Gray
"I never thought of him as any kind of super-intellect...He likes what he does. That's the main thing."
That's novelist Elmore Leonard talking about Raylan Givens, the character he created and that Timothy Olyphant brought to life in FX's "Justified."
But Leonard, who died Tuesday at 87 from complications of a recent stroke, might easily have been talking about himself.
Esther Lee
Great American novelist Elmore Leonard, who passed away Tuesday after complications from a stroke at the age of 87, penned in 2001 for the New York Times a piece on the 10 rules of good writing. The following is an abridged version of Leonard's article. Read the complete piece, here.
1. Never open a book with weather.
2. Avoid prologues.
3. Never use a verb other than "said" to carry dialogue.
4. Never use an adverb to modify the verb "said"…he admonished gravely.
5. Keep your exclamation points under control. You are allowed no more than two or three per 100,000 words of prose.
6. Never use the words "suddenly" or "all hell broke loose."
7. Use regional dialect, patois, sparingly.
8. Avoid detailed descriptions of characters.
9. Don't go into great detail describing places and things.
10. Try to leave out the part that readers tend to skip.
"My most important rule is one that sums up the 10," he wrote. "If it sounds like writing, I rewrite it."