Archive: July, 2012
David Hiltbrand
Okay, we'll concede that Carrie Mathison was both hyper and obsessive about Sgt. Brody not being the returning war hero he seemed to be at the end of the first season of Showtime's gripping Homeland. The thing is, as crazy as Claire Danes' CIA operative character acted, she was also right about the P.O.W. played by Damian Lewis. (Both actors have received Emmy nominations for their performances, deservedly so.)
You may recall that when we last saw her, Carrie had gone so far off the deep end that she was being administered shock therapy. Now she's been held on a psychiatric ward for six months.
And roll film…
David Hiltbrand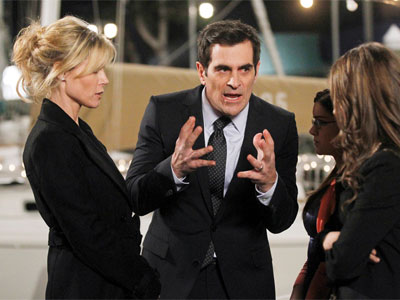 So much for Family togetherness. The adult members of ABC's smart comedy, Modern Family, have taken their contract dispute to the next level. Eric Stonestreet, Julie Bowen, Sofia Vergara, Jesse Tyler Ferguson and Ty Burrell, who have been negotiating together, are suing the show's production studio, 20th Century Fox, to have their contracts voided.
The five actors have been seeking a substantial bump in salary, to $200,000 each per episode for the fourth season. Reportedly they earned $65,000 each for season three. The first table read for season four was cancelled today when talks reached an impasse.
Ed O'Neill is not involved in the suit. Already the highest paid actor in the cast, he too is negotiating for a raise.
Ellen Gray, Daily News TV Critic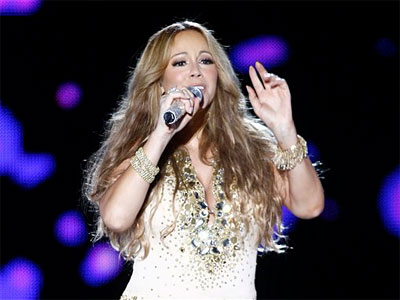 Mariah Carey will join Fox's "American Idol" as a judge next season, Fox entertainment president Kevin Reilly confirmed Monday.
And Jennifer Lopez is definitely gone.
Reilly led off his semiannual meeting with the Television Critics Association by saying that he couldn't say much about changes at "Idol" -- except for one thing.
David Hiltbrand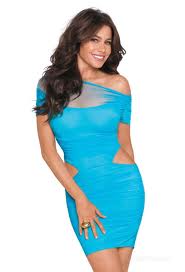 This is really getting out of hand. It was announced today that Modern Family bombshell Sofia Vergara will be lending her voice to both Fox's Family Guy and The Cleveland Show.
It comes on the heels of a stunning number of similar announcements for Fox's Sunday night animated lineup.
David Hiltbrand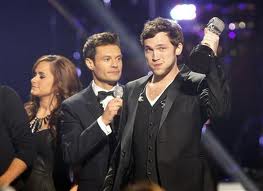 You know that Publishers Clearing House van that drives around and changes peoples' lives?
Well, this year it could be the American Idol van telling you that you're a contestant – even though you never went to one of those cattle call auditions where they fill a football stadium with aspiring singers.
Ellen Gray, Daily News TV Critic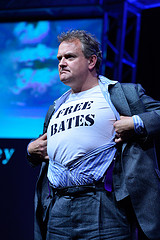 Just how far will a British gentleman go to support the man who dresses him?
Hugh Bonneville, who plays the usually very proper Lord Grantham on PBS' "Downton Abbey," tore off his tie and unbuttoned his shirt Saturday night before a roomful of TV critics to reveal a T-shirt that read "Free Bates."
Molly Eichel, Inquirer Staff Writer
To promote its eighth season, the "It's Always Sunny in Philadelphia" crew will host The Sunny Challenge, taking place at Xfinity Live, Sat., Aug. 4.
Here's what's in store:
Mac's Lucky Hockey Puck Shot
Don your black duster, practice your karate and see how many pucks you can shoot through a small hole in a hockey net to rack up points. You may not have 20,000 screaming fans watching you, but don't crack under the pressure!

Jersey Shore Dunk Tank
Remember how mean the waitress was to Charlie on the Jersey Shore? We do too! So now is your chance to get revenge on Charlie's behalf. Participants will have three tries to "sink" The Waitress. You'll get more points the farther away you try, so don't be a wuss and throw it from the kid's line!
Ellen Gray, Daily News TV Critic
The nominations for the 64th annual Emmy Awards are out and AMC's "Mad Men" and FX's "American Horror Story" are leading the field, with 17 apiece.
But they won't be facing each other in the competition for best drama.
Because while you might have thought both were regular series, the FX show, taking advantage, perhaps, of its status as a kind of anthology, is competing in the movies and miniseries category, up against HBO's "Game Change," the History Channel's "Hatfields & McCoys," HBO's "Hemingway & Gellhorn," BBC America's "Luther" and PBS' "Masterpiece" presentation "Sherlock: A Scandal in Belgravia."