Archive: April, 2012
Dan Deluca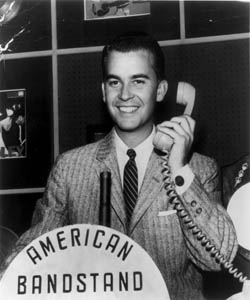 Back in 1959 when he was all of 30 years old, Dick Clark, who died today at the age of 82, was the subject of the NBC network TV show This Is Your Life. Host Ralph Edwards surprised Clark with the introduction "musical starmaker, America's #1 disc jockey, and the spokesman of the great wholesome majority of American teenagers!"
Watch the clip below. Thanks to David Stampone.
Previously: Springsteen adds second Citizens Bank show Follow In the Mix on Twitter here
David Hiltbrand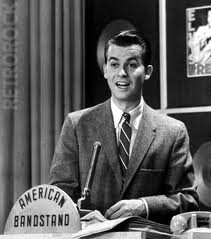 For years, he was the ageless one, "the world's oldest teenager". But time caught with Dick Clark at last. He died from a heart attack this morning while hospitalized in Los Angeles at the age of 82
The TV icon is best known as the affable host of American Bandstand. It began as Bandstand an afternoon teen dance show on local station WFIL in Philadelphia. Picked up by ABC as American Bandstand, it turned into a national phenomenon and ran for an astonishing 30 years. Here's a clip of Clark introducing Link Wray in 1959.
David Hiltbrand
Was something going on last night that I didn't know about? Maybe you were catching up with all the juicy shows you DVRed on Sunday night.
But Monday night's network lineup suffered some serious damage almost across the board. The biggest loser (and in ratings, unlike poundage, that ain't a good thing) was How I Met Your Mother.
David Hiltbrand
The intensely concerned air with which Carson Daly took the stage at the opening of The Voice last night made me worry that perhaps war had broken out. Or Smash had been canceled. Or some other national catastrophe had occured.
But no. He was in a dither to announce a sudden rule change. After Team Blake and Team Christina faced off tonight, their coaches would be faced with an immediate elimination. That is, one member from each team would walk the plank. The people's Voice be damned. We're going with Stalinist rules.
Ellen Gray, Daily News TV Critic
"There've been a lot of changes since you've been gone," says one "Eureka" character to another as the small-town sci-fi series returns for its fifth and final season at 9 p.m. Monday.
Do tell.
David Hiltbrand
Glee has become really hit or miss. The plot, the jokes, the songs. But I can't stop watching because when the show does get it right – and that happens at least once an episode – it's breathtaking. So it was this week as White Collar's Matt Bomer guest starred as Blaine's conceited older brother Cooper. (Cooper Anderson, get it? I thought it was funny.)
Not a thrilling hour until that is the final musical number, a duet between the two brothers. Then, KAPOW, this thrilling cover of Gotye's hit "Somebody That I Used to Know."
Poll: Gotye vs. 'Glee': Who Won?

(365 votes)
Ellen Gray, Daily News TV Critic
Looks as if the HBO groundhog saw its shadow, because winter is still coming on "Game of Thrones," which Tuesday received a not-unexpected pickup for Season 3, just nine days after its second-season premiere attracted a series-high 3.9 million viewers.

Altogether, that episode "has already accumulated a gross audience of 8.3 million viewers, and is on track to easily surpass the season one average of 9.3 million viewers," according to HBO.

The cast and crew of the sprawling drama based on the epic fantasy series of novels by George R.R. Martin aren't the only ones with something to celebrate.
Ellen Gray, Daily News TV Critic
"Glee" returns to Fox at 8 p.m. Tuesday, but first the cast and show creator Ryan Murphy will be getting the James Lipton index-card treatment on Bravo's "Inside the Actors Studio" at 8 p.m. Monday.

And if you always figured Murphy was mining a few of his own high school issues on the show, you were right.

" I was an odd creature in high school because I was a target but also I was popular, and that's because on the sly, I was dating a lot of the football players," he tells Lipton.