Nick Vadala, Philly.com
Yesterday, we got a remarkably dark glimpse at the upcoming season of Louie. Today, it looks like that trend is continuing with the similarly dark new trailer for the second season of Netflix's Orange is the New Black.
Perhaps, in season two of a show that takes place entirely in a prison, it is not surprising that that things are getting more serious than usual. True, the show's first season had its harrowing moments, but the trailer for season two seems to go out of its way to show us that Piper Chapman's problems are about to get worse.
"Sadly," she says the start of the trailer, "it's starting to feel like home in here."
Nick Vadala, Philly.com
It hasn't been long since we saw him appear on SNL, but Louis CK is set to return into America's comedy consciousness on May 5, when season four of his hit Louie debuts. The show hasn't aired since 2012, but judging by its new trailer, this season of Louie isn't going to be any less dark.
Many of the early promos for Louie's fourth season have opted to not show the comedian's face—a trend broken with the latest, titled "Head Over Heels." In this spot, Doris Day's "Perhaps, Perhaps, Perhaps" flows in the background while Louis prepares himself for an imminent swan dive off the Brooklyn bridge.
It's about as surreal as a promo can get, with the CK holding a bouquet of roses that diminishes down to one lone, beat up flower once he emerges from the water below. Given that type of tone—and the fairly direct grappling with suicide—it's pretty clear that this season should be one that's different, even for Louis.
Nick Vadala, Philly.com
We may have wanted Tina Fey, but we're getting Stephen Colbert. And, as CBS announced today, we'll get to see Dave's reaction when Colbert guests on the Late Show this coming Tuesday, April 22.
Letterman announced he'd be retiring on the show's April 3 broadcast, prompting a flurry of suggestions and wishlists for the show's new host. CBS announced Colbert as a replacement last week, shortly after Letterman revealed his retirement's 2015 start. The Colbert Show host's appearance on Tuesday will be his first on the Late Show since CBS announced him as next in line to the throne.
The full release from CBS is below:
Nick Vadala, Philly.com
We first saw Bradley Cooper and Zach Galifianakis team up in 2009's The Hangover, but as a newly surfaced clip proves, the pair were actually, erm, very well-acquainted as far back as 2002. Behold, ladies and gentlemen, Cooper's appearance on Late World with Zach.
Featuring Galifianakis without his trademark beard, the show followed the usual talk show format we're familiar with, but aimed at a younger, probably more stoned audience. Think a pre-Adult Swim live action, complete with non-sequiturs and hilariously awkward humor. Perhaps not surprisingly, Late World with Zach only lasted nine episodes.
Fortunately, though, the stunted run was able to produce this now-vintage internet gem, which shows Cooper humping Galifianakis' belt buckle (at his request), doling out a nice foot massage, a chat about whales, and referencing Philadelphia as his hometown. So, something for everyone.
Nick Vadala, Philly.com
The dust has settled, a victor has emerged, and it's all over but the crying—Stephen Colbert is replacing David Letterman as host to the Late Show. We found out CBS' choice last week, but science recently found out the leading choice among Late Show viewers: Tina Fey.
The Keyhole blog crunched the social media data to find America's Late Show replacement, using hashtag trackers and word clouds and all manner of other internet-y sounding tools to find the winner. As it turns out, Tina Fey is not only the the public's Late Show host choice, she's that choice by an extremely wide margin. Check out the chart: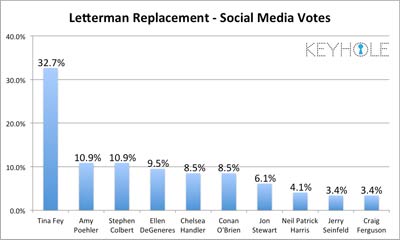 Nick Vadala, Philly.com
The Los Angeles County Sheriff's Department accidentally shot and killed a Tosh.O production assistant on Monday after they mistook him for a stabbing suspect. John Winkler, an aspiring producer and temporary assistant on the show, was 30.
The Los Angeles Times was among the first to report on the incident, which went virtually unknown until yesterday when the Sheriff's Department released a statement. Evidently, Winkler had gone to a neighbor's apartment in an effort to help three people being held at knifepoint at the time. Police who responded to the same situation shot Winkler after he emerged from the apartment with a victim:
"As deputies continued attempts to contact the people in the apartment, the apartment door suddenly opened and a male victim came rushing out. He was covered in blood and bleeding profusely from the neck. Simultaneously, Victim Winkler ran out of the door, lunging at the back of the fleeing victim. Both ran directly at the deputies. Winkler was similar to the description of the suspect and was wearing a black shirt. Believing Winkler was the assailant and the assault was ongoing and he would attack the entry team; three deputies fired their duty weapons at him."
Nick Vadala, Philly.com
With seemingly everyone having weighed in on Stephen Colbert being officially announced as David Letterman's Late Show replacement, there's just one man who had yet to get his side out early yesterday: Stephen Colbert. Last night's episode of the Colbert Report solved that problem.
The big news, Colbert said last night, "slipped through my news crack," explaining away his long response time. With that, he launched into praising Letterman for not only shepherding the Late Show for so many years, but for making Colbert slack off in college thanks to the show's late start time. As a result, Letterman has been someone Colbert had "admired for years, yet is not me."
"I do not envy whoever they try to put in that chair," he said. "Those are some huge shoes to fill—and some really big pants."
Nick Vadala, Philly.com
We've seen the cast photos. We've speculated at the plot. We've pined for our long-over collective childhood and hoped that Girl Meets World wouldn't dash our upbringings like so many reboots of the entertainment we hold dear. Now, thanks the first trailer, it looks like we can relax.
An promo teaser released today via E! has what you're looking for, including that sense of nostalgia you've been trying to satiate since Boy Meets World went off the air in 2000. Lucky for us, the trailer includes proof that Corey and Topanga are not only still together, but great parents to boot. Just like the Matthews of olde.
No premiere date just yet, but Disney says to expect Girl Meets World to his TV screens this summer. So, you know, start arranging those binge days off now.