Archive: September, 2012
Dan Deluca
Season three of Treme, David Simon's music filled drama, starts up on HBO on Sunday night. It's two years after Hurricane Katrina and opportunities abound to cash in on the money coming back to New Orleans.
Carpetbagging developer Nelson Hidalgo is looking for ways to get paid off the city's musical culture, as is deejay Davis McAlary, who's leading cockeyed music tours and writing a post-Katrina opera "that will make Puccini my bitch." Chef Janette DeSautel, in the season opening episode co-written by creator David Simon and TV cook Anthony Bourdain, is still in New York but about to me tempted by an off to open her own place in the City That Care Forgot.
Story oozes on Treme, and events take their time in unfolding, from LaDonna Batiste-Williams irritation with the uppity in-laws she's living with, to Dutch keyboard player Sonny's efforts to romance his Vietnamese girlfirend Linh, always under the watchful eye of her fisherman father. Meantime, trombinist Antoine Batiste (the lovable and laudable Wendell Pierce, pictured) is at least half earning a living with an actual job - teaching marching band class at a local school.
David Hiltbrand
How was your weekend, Kelly? We got to find out in the opening skit on Saturday Night Live as the show spoofed the sunny new morning team on Live! With Kelly and Michael.
SNL's Vanessa Bayers and Jay Pharoah played Ripa and Strahan as almost dementedly perky and upbeat. Check for instance their trenchant analysis of the Emmy Awards.
David Hiltbrand
It was strange night of X Factor auditions in Kansas City. Simon Cowell was missing in action. Apparently he had a note from his doctor. His place was taken by affable Irishman Louis Walsh.
Then came one of most bizarre contestants ever. We're used to people bragging outrageously about how talented they are then going on stage and bombing out. But Deangelo Wallace took it to new heights – or lows. And in his case, pride came before an arrest. Check this out.
David Hiltbrand
This just in: home security tapes from Jennifer Aniston leaked on the internet. You'll see a shocking side of the star you never imagined! How do we know this footage is genuine?
Because it's in black and white and because it's introduced by Ryan Seacrest, the Walter Cronkite of the E! channel. Prepare for a revelation:
Ellen Gray

, Daily News TV Critic

Where's "Wallander"?

That's what some viewers were asking Sunday night as WHYY pre-empted "Masterpiece Mystery!" for a pledge-related documentary about a dance photographer.

The critically acclaimed Kenneth Branagh series, a three-parter that began airing nationally -- and on 'HYY -- on Sept. 9, was interrupted, explained Christine Dempsey, the station's chief content officer, because of the need to "compromise" with the membership department, which apparently has an easier time soliciting money when it's not showing some of PBS' regularly scheduled programming, including the show that many consider one of the best drama outlets on television.
David Hiltbrand
Oh, it's on -- "O'Reilly v Stewart 2012: The Rumble in the Air-Conditioned Auditorium" as Fox News pundit Bill O'Reilly and Comedy Central snipe Jon Stewart roll up their sleeves for a political debate.
The two have faced off before on each other's shows and the exchanges, while respectful, were pointed. This time the three knockdown rule will be in effect.
Here's the website for the event, which will take place October 6 on the campus of George Washington University. You can livestream it on your computer for $4.95 with half the proceeds designated for charity.
David Hiltbrand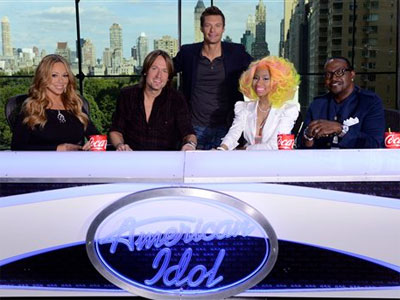 After endless speculation and negotiations, American Idol finally set its official judging panel over the weekend. As expected Mariah Carey will be the queen bee. As rumored Nicki Minaj and country star Keith Urban will be joining her. And good ol' Randy Jackson will round out the table.
And he may be forced to referee. The judges got down to their first day of work yesterday at auditions in New York and according to insiders on the set, Mariah and Nicki were going at it BIG time. TMZ reports that when Minaj sought to comment on a singer, Carey would dismissively break in.
David Hiltbrand
Saturday Night Live kicked off season 38 (schmikey!) this weekend with Seth McFarland hosting. They got right into the political stuff with Jay Pharoah replacing Fred Armisen as the show's President Obama fill-in. OK, it still needs some work but Pharoah is still an improvement over Armisen, who was doing more of an impression than an impersonation.
Jason Sudeikis returned to the fold, for which we can all be grateful, because SNL wasn't going to get a better Mitt Romney. And Taran Killam took on Paul Ryan. Eh, what can we say? He got the hair almost right.