Archive: August, 2012
David Hiltbrand
That was one violent Sunday night, wasn't it? High and high-profile body count on True Blood and Breaking Bad. Heck, there was even a violent death on The Newsroom.
But if you were watching either of the HBO dramas, you probably got a look at this jolting new trailer for Boardwalk Empire.
David Hiltbrand
If you were at the American Idol concert last week at the Wells Fargo Center you might have seen him. Jermaine Jones is kind of tough to miss even in a crowd. You remember the so-called "Gentle Giant"? He was the super-sized guy from New Jersey's Gloucester County who made it to the finals of last season's Idol with his big churchy baritone. And then got thrown off the show because of a criminal background that he had not disclosed to the show's producers.
Jones is still following his dream, He recently released a single "All Around the World" on iTunes and is reportedly involved in a movie along with former Eagle Jeremiah Trotter about the abolitionist movement that is shooting in Bucks County.
David Hiltbrand
If you see any TV commercial often enough, eventually it will start to really annoy you. But there are some that are kind of disturbing right from the get-go. And when you see these creepy ones over and over they become like some horrible alien spore nestled in your brain. As soon as they start up again, you begin hyperventilating and grip the arms of the chair and scream out loud "…
TMI?
David Hiltbrand
It was Wild Card night on America's Got Talent and the judges got to bring back a dozen acts they felt should get a second choice. (And yes, that included another taste of Andrew De Leon, the spooky soprano opera singer with the Marilyn Manson makeup kit.)
Howie Mandel chose to return Cristin Sandu and his amazing teeter totter balancing act. You remember Cristin? Here was his crash in the quarterfinals.
Molly Eichel

, Staff Writer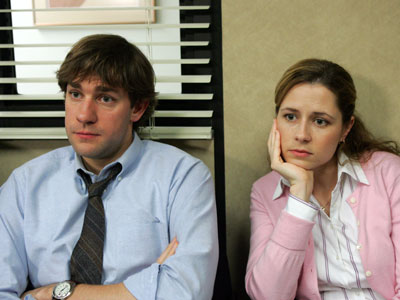 Greg Daniels, the original show-runner of NBC's long-running sitcom "The Office," announced the workplace comedy will end next season. Daniels, who ran the show during its hey day from Seasons 1 to 5, will once again head up the show for its ninth season, taking the place of Paul Lieberstein, who pulls double duty portraying HR head Toby. Lieberstein stepped down to work on Rainn Wilson/Dwight's upcoming spin off, called "The Farm," in March.
"This year feels like the last chance to … make an artistic ending for the show," Daniels said in a conference call. "This will be the last season of 'The Office,' and we're planning a big exciting last season … all questions will be answered this year. We're going to see who's behind the documentary."
This is probably the best news for the dying sitcom, which ran its course after emotional center Steve Carrell left after its seventh season. The eighth season saw series low ratings for the show, and longtime fans were worried after cast stalwarts, like Mindy Kaling, were set to defect to greener pastures.
David Hiltbrand
You do the math. 42 > 29. So you might understand why seasoned siren Mariah Carey might feel a little challenged by the potential addition of younger yelper Nicki Minaj to the American Idol judging panel.
TMZ is reporting that when Idol producers called Carey to inform her they were negotiating with Minaj, the multi-octave dynamo hung up on them, Apparently she was under the firm impression that she would be the only female rating the talent this season.
David Hiltbrand
Somewhere Michael Strahan is doing his own version of a touchdown dance. Multiple sources are reporting that the Super Bowl winning NFL lineman, now retired, will shortly be announced as the new co-host for Kelly Ripa.
Live! With Kelly and Michael. Like the ring of it? The new duo starts the first week of September.
Jenice Armstrong
Rihanna, who was brutally attacked by singer Chris Brown three years ago, says she still loves him and misses him sometimes.
"We love each other and we probably always will, and that's not anything that we're going to try to change," Rihanna said on Oprah Winfrey's Next Chapter on Sunday Night.
She also addressed the infamous 2009, pre-Grammy beat down that left her face battered and Brown facing assault charges.