Archive: July, 2012
David Hiltbrand
Fred Willard has long been one of TV's most dependable comic utility men. So it's probably no surprise that when he made his first televised appearance since his recent arrest for lewd conduct in a Los Angeles adult movie theater, he tried to laugh it off.
On Late Night with Jimmy Fallon, Willard and Fallon turned the incident into schtick.
David Hiltbrand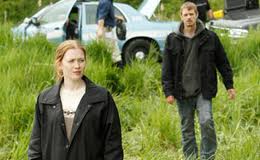 It seemed to take forever to find out who killed Rosie Larsen. And maybe that's why we didn't have to wait to find out who killed The Killing. AMC did.
The cable channel issued a statement this afternoon announcing: "After much deliberation, we've come to the difficult decision not to renew The Killing for a third season."
Ellen Gray

, Daily News TV Critic
What's on Katie Couric's bucket list?
"I would like to go out with George Clooney, if you can arrange that," the news anchor-turned-daytime talk show host told a reporter Thursday during a press conference for "Katie," the syndicated show she's launching Sept. 10.
Ellen Gray

, Daily News TV Critic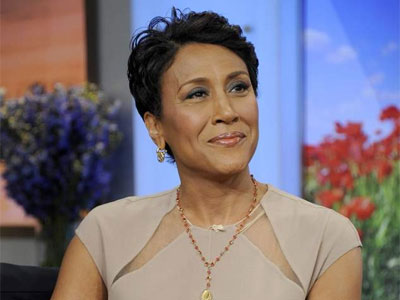 "I'm not going anywhere! I'm staying right here!" joked Robin Roberts Thursday when a reporter asked how ABC's "Good Morning America" would be handling her absence from the show while she undergoes her upcoming bone-marrow transplant.
In a satellite interview that included her "GMA" co-workers, Roberts, who announced in June that she'd been diagnosed with myelodysplastic syndrome, a blood disorder that sometimes leads to leukemia, told reporters at the Television Critics Association's summer meetings that she expects the transplant to occur toward the end of the summer, "most likely the end of August, early September."
David Hiltbrand
Michael Phelps' is a couple of pool lengths from Olympic history. If the lanky natator takes three medals of any ore in London, he will be the most decorated Olympian in any sport.
So how is he preparing for his swim with destiny? As he explained to Ryan Seacrest in an interview on Today, mostly by watching TV shows. "I started The Wire and I'm touching up on Breaking Bad."
Ellen Gray

, Daily News TV Critic
You never know who you'll meet poolside at the Beverly Hilton, the hotel where Whitney Houston died, John Edwards met his mistress and where TV critics congregate for a couple of weeks in the summer.
We're used to seeing stars -- it's why we come here, after all -- but we're not used to seeing Sarah Palin.
Ellen Gray

, Daily News TV Critic

I'm out in L.A. at the moment, reporting on the coming TV season.

But when I heard Tuesday afternoon that Sherman Hemsley had died, I wished I'd had the opportunity to speak more often to the man who'll always be George Jefferson to me.
Ellen Gray

, Daily News TV Critic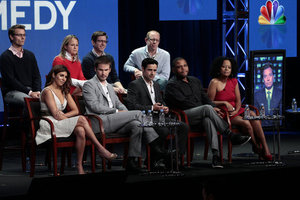 Pay no attention to the vanishing of the man behind the curtain.
That's the message the guy in charge of trying to grow NBC's comedy audience beyond its core constituency of TV critics and bloggers and the people who follow them on Twitter was sending Tuesday at the Television Critics Association's summer meetings in Beverly Hills.