Archive: May, 2012
Ellen Gray

, Daily News TV Critic

Who knew the kid with the snow globe would age so badly?


OK, so that's not how Fox's "House" ended Dr. Toad's Wild Ride Monday night, in an episode that averaged nearly 8.7 million viewers, enough to win the time slot in both viewers and among the 18- to 49-year-olds advertisers target.


But while "St. Elsewhere's" claim to strangest season finale ever (medical show division) remains intact, "House" did manage to surprise.
David Hiltbrand
After all the subterfuge and sabotage, all the tears and catty smiles, the crazy challenges and the boardroom battles, it all came down to one question on last night's Celebrity Apprentice finale between Arsenio Hall and Clay Aiken.
Donald Trump squinted at Arsenio and really put him on the spot. "I heard you said that if you win the Trump seal of approval that would be the biggest moment in your life." [I'm paraphrasing but only because my notes are illegible because the suspense was unbearable.] "Is that true, Arsenio, or is it something you said just to prostrate yourself before my ego?"
Come on, Arsenio. You know the answer to this. Think carefully. You've never been more sincere about anything in your life, right? Of course not! Good answer.
David Hiltbrand
The good news: AMC announced today that Breaking Bad will return for its fifth season on July 15th. Fans of the show know some of the bad news already. The fifth is also the last season of the gritty drama starring Bryan Cranston and Aaron Paul.
It gets worse. The 16 episodes will be broken badly -- eight starting this summer, and then the concluding eight in the summer of 2013.
David Hiltbrand
Abandon hope, America. Based on this trailer of Keeping up with the kardashians seventh season which kicks off Sunday on E!, there really is no chance of maintaining pace with the dark Amazons.
See for yourself.
David Hiltbrand

Well, somebody had to go. The suspenseful choice on American Idol last night came down to Phillip Phillips, Jessica Sanchez or Joshua Ledet. Only two could progress to next week's finals at the Nokia Theater. So who would suffer the most painful cut of all? Decisions, decisions.
In one sense, it didn't matter. Whoever was chosen, the judges were going to be unhappy and I was going to mock the people's choice. So stand back and let us do our jobs.
David Hiltbrand
The CW was the last of the networks to announce its lineup for next season at a gathering on Thursday at the New York City Center. And it will be the last to roll them out, waiting until October to debut its new shows. Worth the wait?
You be the judge. Here's a taste of the CW's three fall series:
Stephen Ammell stars in Arrow as a billionaire playboy by day and a vigilante crime-fighter by night. Katie Cassidy, Colin Donnell, Susanna Thompson, Willa Holland and David Ramsey co-star
David Hiltbrand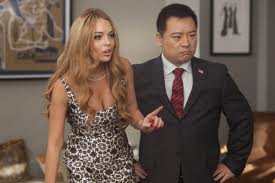 They finally did it. Those plucky kids from New Directions. It took a two hour episode, the iron will of Coach Sue and the music of Meat Loaf (?) but our favorite Fox show choir won the Nationals.
They did it in typically implausible fashion. I did mention Meat Loaf, right?
David Hiltbrand

Brief recap: At the end of Monday's competition, which judge Len Goodman called "the best semifinal ever", Maria Menounos and her partner Derek Hough sat atop the leaderboard with a near perfect 59 points. They were trailed by William Levy and Cheryl Burke, Donald Driver and Peta Murgatroyd and in last place Katherine Jenkins and Mark Ballas.
It's important to remember that order because on Tuesday night's results show which set up next week's finals, that hierarchy got stood on its head.