Archive: February, 2012
Ellen Gray

, Daily News TV Critic

If Billy Crystal's ninth outing as Oscar host ("just call me 'War Horse'") got off to a not terribly exciting start, he has no one to blame but Billy Crystal.

And, OK, the nine -- count 'em, nine -- Best Picture nominees, which made his traditional musical medley more of a long-distance obstacle course than ever.

Crystal, whose Oscar record has made life difficult for every other host in recent memory, is now in competition against only himself.
Molly Eichel

, Staff Writer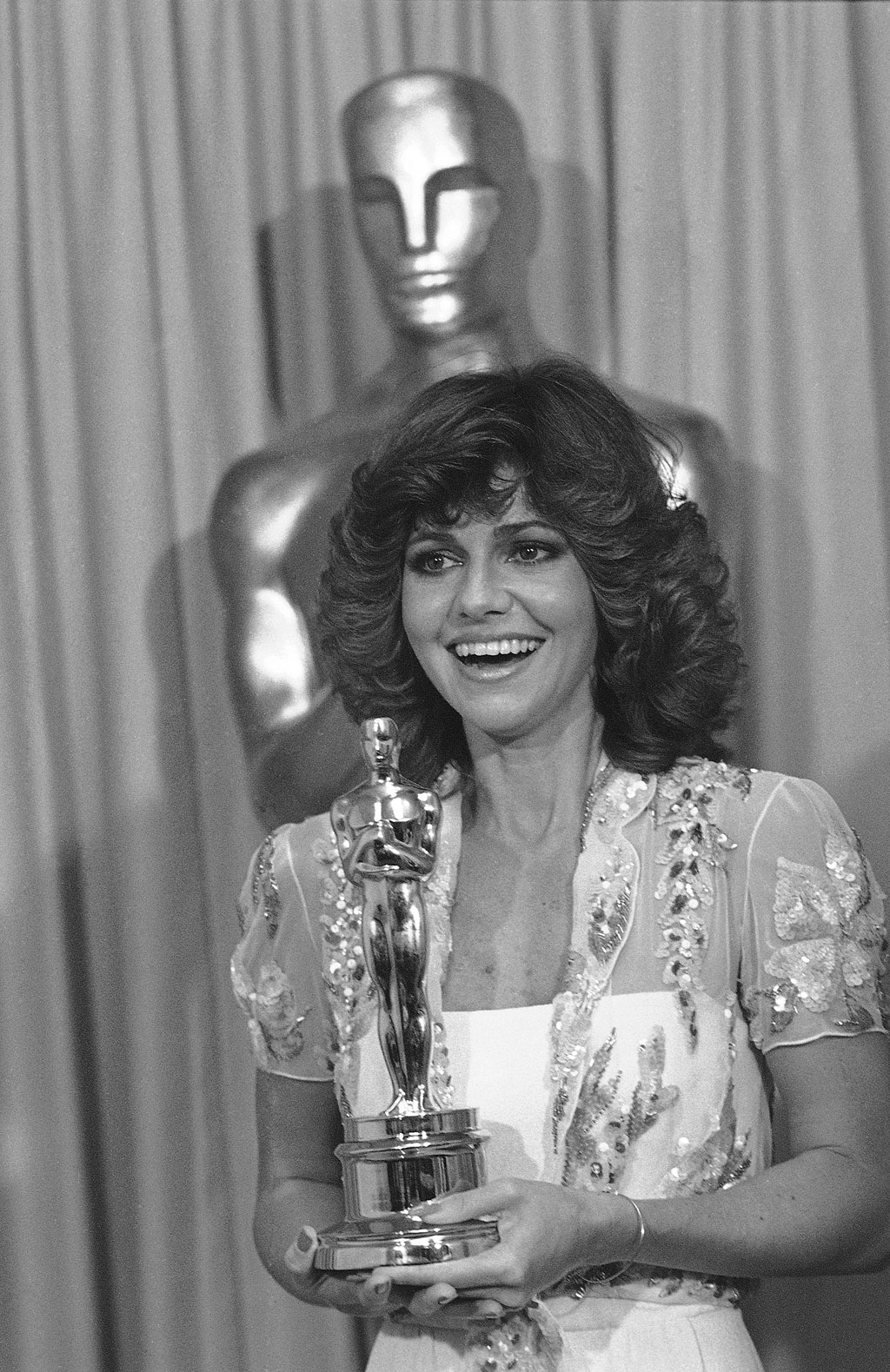 Speeches can either be the best, most heart-warming moments of the telecast (Sally Field! Cuba Gooding Jr.! Roberto Benigni!) or heinously boring (pretty much everyone else). Here we'll give a grades to best and worst of the winners' speeches.
Cinematography: Robert Richardson, B+: A little hippie dippy. Cut your hair, man. But short and sweet, can't miss it.
Molly Eichel

, Staff Writer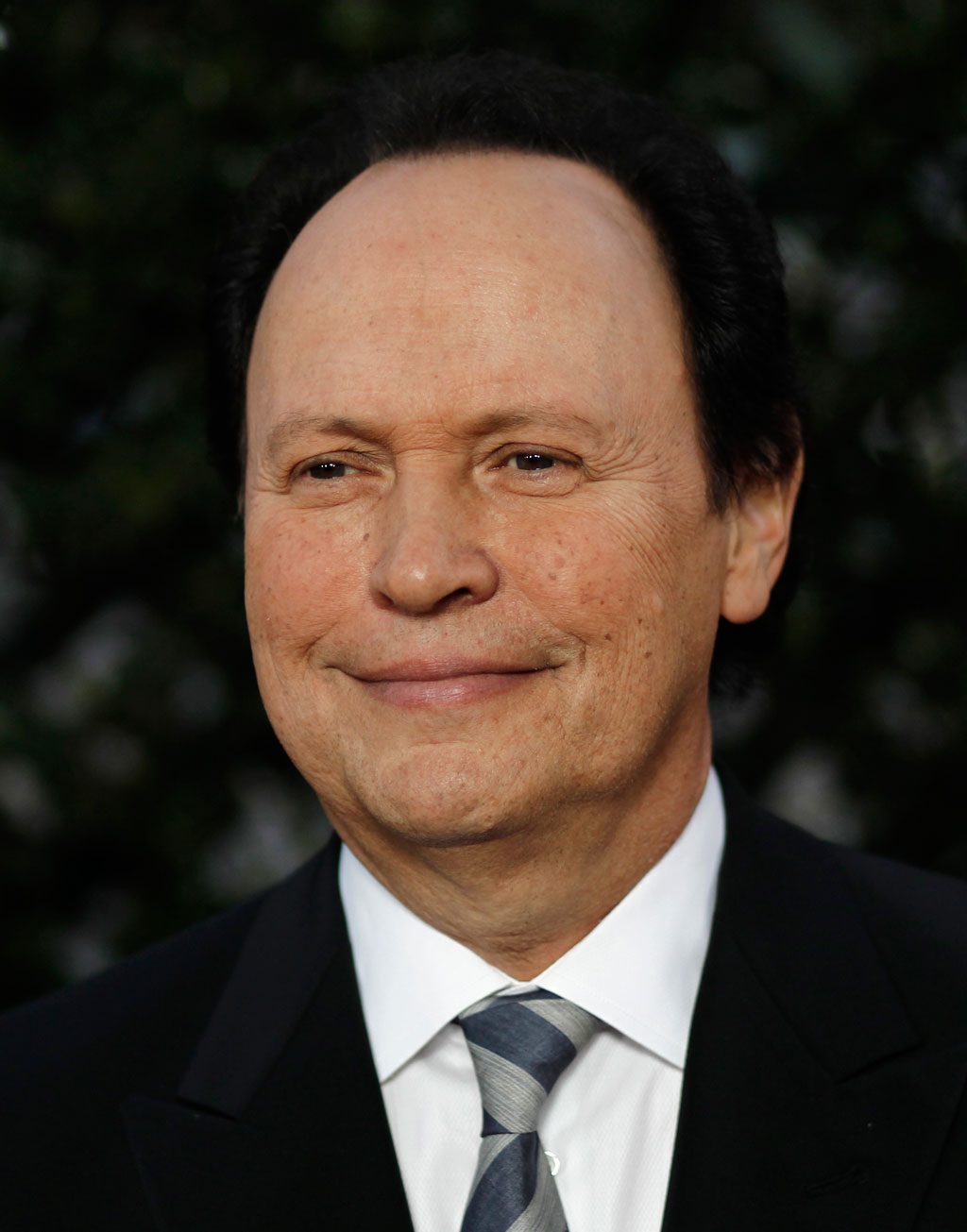 Here we'll hook you up with all of the important Oscar numbers: Who has the longest speech? How many people thank god? How many times they cut to Jack Nicholson even though he hasn't been a movie for awhile (actually, the last one was Philly-shot "How Do You Know")? We'll be updating throughout the show with all of the important numbers of the telecast.
Length of the Opening Medley:
4:47 for opening video, 4:53 for opening song.
Jokes Billy Crystal has Made About the Name of the Kodak Theater:
Molly Eichel

, Staff Writer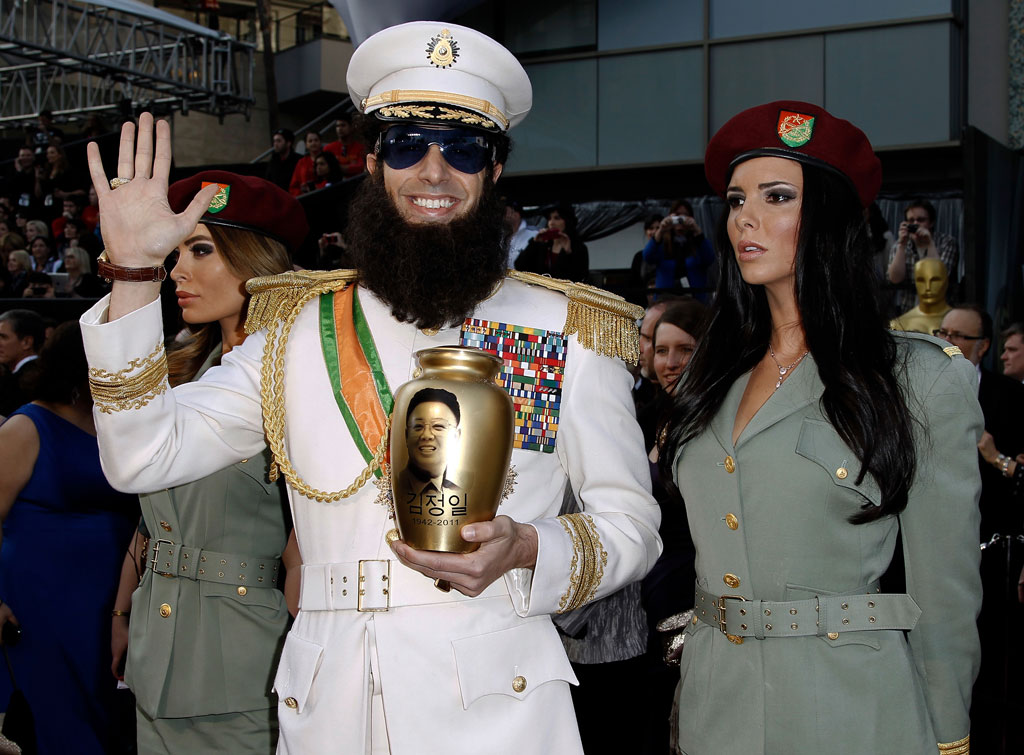 Sacha Baron Cohen, dressed as General Admiral Aladeen from his new movie "The Dictator," dumped the ashes of his old doubles tennis partner Kim Jong Il on Ryan Seacrest. Seacrest looked mega-pissed. That's why we wanted him to come in the first place!
Here's a GIF of it an its animated glory courtesy of David Itzkoff:
Molly Eichel

, Staff Writer

The stodgy old (and white) Academy of Motion Picture Arts and Sciences banned comedian Sacha Baron Cohen from showing up at Sunday's Oscars dressed as Adm. Gen. Shabazz Aladeen, the main character of his new movie "The Dictator." Cohen, who is also in the Oscar-venerated "Hugo," is still allowed to show up as himself, but AMPAS prez Tom Sherak told the LA Times that Baron showing up in character was "a bad thing to do." The General released the above video to Deadline.com, and appeared on "The Today Show" this morning to denounce the decision.

This is why the Academy Awards telecast is so hair-tearingly boring, and this is coming from someone who watches every single second, down to the last make-up artist thanked. A loose cannon, such as a blood-thirsty dictator, would liven up the proceedings.

No matter what you think about the Oscars, we've got you covered at Philly.com, with parties, predictions and live material on Sunday night courtesy of Ellen Gray, Carrie Rickey, Howard Gensler and oh so many more.
David Hiltbrand
Hail, hail, the gang was all here for Good Morning America: The Movie. Actually Robin Roberts was out in Hollywood, holding down ABC's pre-game coverage of Sunday's Academy Awards.
But back in Times Square, her morning cohorts gathered with popcorn to watch their acting debuts. Roll it.
Dan Deluca
Last night on Late Night with Jimmy Fallon, the NBC host donned a grunge wig and pretended to be Pearl Jam's Eddie Vedder, turning the Seattle rock band's trademark angster "Jeremy" into "Jeremy (Lin)," a tribute to the New York Knicks' celebrated Harvard-educated point guard. You know, the super-hyped Sports Illustrated Cinderella story cover guy who shot 1 for 11 against the Miami Heat and had eight turnovers to go with his three assists last night. Watch the clip below.
Previously: Galactic with the Soul Rebels at Union Transfer Follow In The Mix on Twitter here
David Hiltbrand
They're celebrating wildly in the physics labs at the California Institute of Technology where Sheldon and Leonard work. What does that look like you ask? Extra juice box for everyone!
That's because for the first time, Big Bang Theory topped American Idol to take Thursday night overall. The two shows have been going pretty much neck-and-neck all month in terms of viewers during the half hour they have in common, but Idol was always the cumulative winner.