Archive: October, 2012
Molly Eichel

, Staff Writer
Jessie Hemmons, a/k/a Ishknits, a street artist and yarnbomber, set her sights on the Frank Rizzo statue in front of the Municipal Services Building at 15th and JFK, giving our former mayor a hot pink bikini.
(See more pictures at Streets Dept, who provided the photo.)

Hemmons put Rizzo in swimwear for a segment on "Streetosphere," a French TV show about street art, that is currently filming a segment on Philly artists. Today, they're profiling noted muralist Yis Goodwin, a/k/a NoseGo.
Ellen Gray

, Daily News TV Critic
Showtime's war on terror will continue.
The premium-cable network Monday announced it had ordered a third, 12-episode season of "Homeland," its Emmy-winning drama about a bipolar CIA operative (Claire Danes) and the war hero (Damian Brody) she's convinced -- correctly, as it turns out -- has been turned by al-Qaeda.
On Sunday, Showtime says, the series achieved its largest audience so far for an episode premiere -- 1.75 million viewers at 10 p.m., a lot for a network whose shows are less likely to be watched in real time than on repeat viewings, On Demand or DVR.
David Hiltbrand
A lot of guest stars last night on TV. Howie Mandel on The Big Bang Theory. Ryan Lochte on 30 Rockte. Barack Obama on The Daily Show. And, looking like a bombshell Tinkerbell on Two and Half Men, Miley Cyrus.
She played a young rather uninhibited gal named Missi come to visit Walden. Missi is the daughter of one of his old friends and boy, has she grown up since the last time he saw her.
Walden's no cad, but he would like to feel he's still in the breeding pool. Then this happens.
David Hiltbrand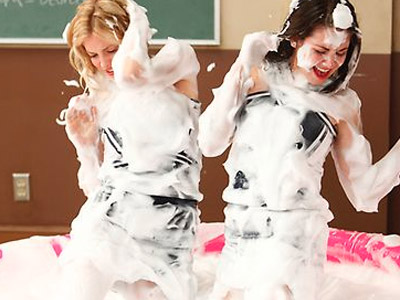 Fans of NBC's manic, panic sitcom Community probably had today entered in their calendars. The cast obviously did. The ratings-challenged, but cultishly adored show was announced to return Oct. 19. OK, that means Fridays but at least it would be back on the air. Without creator Dan Harmon who got bounced by the network, but still.
Now, who knows? Community, which has been bounced around like Flubber, is in a state of limbo. Again. Even when NBC cancelled Animal Hospital yesterday, they chose to replace it with Whitney. Whitney!
But our lovable junior college rogues will not be discouraged. Even though the show will not go on tonight, they made this crazy video for their fans. Keep the faith.
David Hiltbrand
You think things got heated at Hofstra University last night? There was a pretty passionate head-to-head battle on NBC before the Presidential debate even started.
On The Voice, Blake Shelton had two very talented country singers, Liz Davis and Nicole Johnson, face off in the battle round. He wins either way. "Baggage Claim" is his wife Miranda Lambert's song. So that's a royalty check right thar. Ka-ching.
Let's go to the videotape:
Ellen Gray

, Daily News TV Critic
Zombies rule. Again.
Sunday's Season 3 premiere of AMC's "The Walking Dead" walked all over the records for those feuding "Hatfields & McCoys" and the staggering living of "Jersey Shore" -- and outperformed a bunch of other cable and broadcast hits -- with 10.9 million viewers at 9 p.m. and a further 4.3 million for the reruns at 10 p.m. and midnight.
That's "the biggest telecast for any drama series in basic cable history among all viewers," according to AMC. The series, which last season broke the cable record for viewers 18-49, apparently wasn't hurt by its ongoing dispute with the Dish satellite service, which no longer carries any of AMC's networks.
David Hiltbrand
It's a monumental cross cultural moment. Or it's a silly Pepsi commercial. Take your pick.
But it's fizzier than any soda when New Orleans Saints quarterback Drew Brees (who just broke Johnny Unitas's NFL record for most consecutive games with a touchdown pass) reaches for the last Pepsi at the same time as Harry Styles of Anglo-Irish boy band sensation One Direction.
David Hiltbrand
How can 13-year-old X Factor contestant Carly Rose Sonenclar be this vocally sophisticated?
Watch her on last night's show sing a slow, torchy version of Karmin's "Brokenhearted" poolside at Britney's Malibu crib. Brit and will.i.am both agree there's only one possible explanation: The girl is possessed.