Archive: January, 2012
Ellen Gray

, Daily News TV Critic

Fox's world might not be turned upside down, but it's definitely tilting.


On Thursday night, CBS' "The Big Bang Theory" not only attracted more viewers — some 16 million to 15.5 million — than the first half-hour of "American Idol," but it beat the once-invincible talent show among the 18- to 49-year-olds advertisers care about most.
It even won in the 18-34 demo that's not supposed to know CBS exists.


CBS' victory wasn't complete, thanks to "Rob," the Rob Schneider sitcom that pulled the network's ratings down considerably in the second half-hour. "Big Bang" took several seasons to develop into a giant-slayer, but I'm not sure any of us will live long enough to see "Rob" get there.
Ellen Gray

, Daily News TV Critic
One hero says goodbye and another returns in a different guise tonight, as NBC's "Chuck" (8 p.m., NBC10) wraps up its fifth and final season and Starz' "Spartacus: Vengeance" introduces Liam McIntyre, the actor who replaced the late Andy Whitfield as the rebel slave leader.

I'll admit to having been a little blubbery toward the end of "Chuck's" sendoff, which consists of back-to-back episodes, "Chuck Versus Sarah" and "Chuck Versus the Goodbye," but I was happy, too.

Because this is the way TV should work.
David Hiltbrand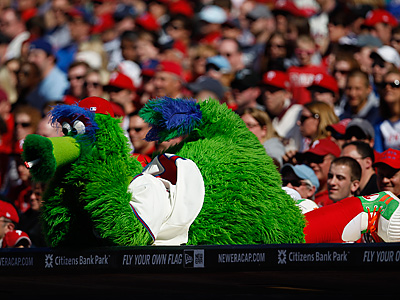 Wow, Tina Fey is really obsessed with the Phillie Phanatic this season. In the first of last night's two new 30 Rock episodes, Jack Donaghy (Alec Baldwin) tries to throw a party for his Kabletown boss Hank Hooper (Ken Howard).
Because Kabletown, which has taken over NBC, is based in Philadelphia, Jack wants Hank to feel at home so he busts out some local talent. Ready for a shocker?
The heretofore mute Phillie Phanatic speaks! OK, maybe it's more accurate to say he squeaks. But as you can see in this clip, 30 Rock was kind enough to provide subtitles so we could understand the big guy's anguish.
David Hiltbrand
You think you've seen bizarre contestants on Idol? Well, the Magic Cyclops who turned up last night for the auditions in Aspen stole the crazy cake.
The guy is like the missing member of Spinal Tap, starting with that ridiculous British accent. And his musical claim to fame? He owns 11,000 air guitars, a number exceeded only by some collector in Belgium.
Molly Eichel

, Staff Writer
Photo courtesy of PBS' "American Masters"
Maurice Sendak gave his first of a two part interview on "The Colbert Report" last night. He talked about his career as one of the greatest living writers of children's literature ("I don't write for children. I write and someone says it's for children.") and dipping in politics a bit ("Newt Gingrich is an idiot of great renown ... There's something so hopelessly gross and vile about him it's hard to take him seriously").
Sendak, who wrote classics such as "Where the Wild Things Are" and "Harold and the Purple Crayon," [From Molly: Sorry, wrote this too fast!] is wonderfully ornery, going toe-to-toe with Colbert. The second part of the interview airs tonight at 11:30 p.m. on Comedy Central.
David Hiltbrand
Next week's episode of Glee? Yeah, Rachel is supposed to give her answer to Finn's heartfelt marriage proposal. Frankly, the plot is going to take a back seat to the music – a theme extravaganza devoted to the songs of the King of Pop, Michael Jackson.
Here's a taste.
David Hiltbrand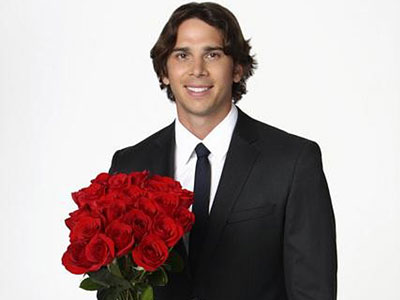 It's never a good sign when one of the fair maidens vying for your heart quotes Charlie Sheen. Repeatedly.
But it does make for good TV. If nothing else, model Courtney Robertson has emerged as one of the most vivid villainesses in the annals of The Bachelor. You don't have to watch this whole video. Just a sample will give you a good sense of how nasty this girl can be.
David Hiltbrand
OK, how many of you stayed up late enough last night to watch the special edition of American Idol that followed the NFC Championship game that saw the Giants defeat the 49ers in overtime?
Yeah, it was definitely past curfew. One of the most interesting things about the San Diego tryouts – beyond the naval setting – was an audition by one Jane Carrey. Turned out she is the daughter of manic funny man Jim Carrey (Ace Ventura, etc. etc.). She is the only child of Carrey's first marriage to Comedy Store waitress Meilissa Womer.