Sure, people are talking about Aaron Paul photobombing Bryan Cranston and Claire Danes doing the same to her longtime bud, Lena Dunham, on the Emmy Awards red carpet. But only one unforeseen human backdrop of the evening far outweighed the Breaking Bad duo's special snapshot.
While Neil Patrick Harris was embracing his duties as show host, a man in the background realized he was within view of the camera's screen. With nowhere to duck, hide or run, he then slowly attempted to make the world's most painfully-awkward exit ever- shuffling to the right, step-by-step - all while looking wildly confused and afraid.
Watch his slow shift to the right below:
Going...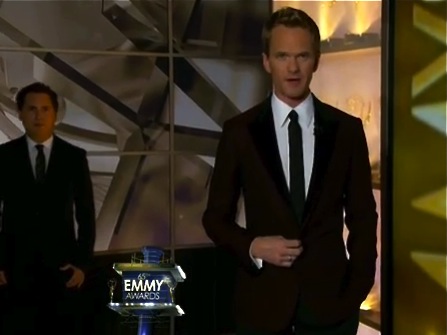 Going...
Gone.
It turns out the "awkward stage-exit man" is actually a comedian named Paul Greenberg, as identified via tumblr. He puts the Cupid Shuffle to shame.