Regis and Kathie Lee: together again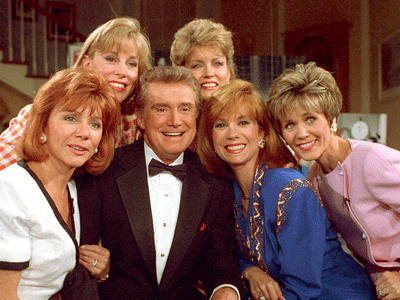 The talk twosome reunite on 'Today'
Regis and Kathie Lee: together again

It's been 12 years since Regis Philbin and Kathie Lee Gifford last generated that breezy morning banter on Live. Is there anything left in the tank? You be the judge.
Visit msnbc.com for breaking news, world news, and news about the economy
They got together this morning on the bonus hour of Today with Regis taking Hoda's place (and having abundant fun with her name). Today made every attempt to recreate the old chemistry, bringing in a studio audience and having Reege and KTL chat about what they did last night.
Except Regis was at an accountants' dinner and needed some prompting to remember "entrepenuer", and Kathie Lee didn't let her old partner's presence interrupt Winesday Wednesday.
So who made the gaffe? Did Regis refer to her as Kelly or did Kathie Lee do it herself?