"Drunk History" is a low concept show that should not work nearly as well as it does. Inebriated commenters tell tales of American history while famous faces reenact the scenarios in all of their slurry glory.
In each episode, host Derek Waters goes to a different city and asks bar patrons about their hometowns. In January, Waters traveled to Philly and filmed at McGllin's Old Ale House (1310 Drury St.) and Geno's Steaks (1219 S. 9th St.) for the episode. Tomorrow, we'll get to see our drunk selves up on screen when the show airs at 10 p.m. on Comedy Central.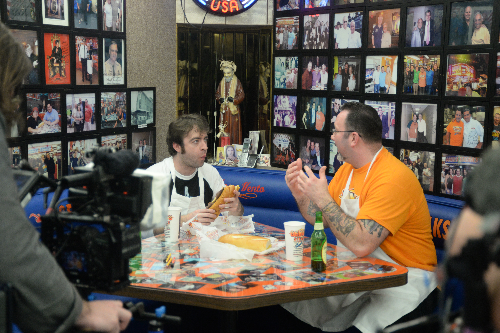 Tomorrow's episode features the stories of Baron von Steuben helping to train the Continental Army, John Adams and Thomas Jefferson campaigning against each other for president and Benedict Arnold betraying George Washington's army. The episodes stars Winona Ryder, Chris Parnell, Stephen Merchant and David Cross.
To celebrate, McGillin's is offering up a host of specials including $4 pours of Ales of the Revolution (General Washington Tavern Porter, Thomas Jefferson Tavern Porter, Poor Richard Tavern Spruce Ale), in addition to regular Tuesday night specials. Geno's will hold a viewing party at the South Philly Bar and Grill (1235 E. Passyunk Avenue) from 9 to 11 p.m. Cheesesteaks and beers will be on special. UPDATE: Tuesday morning Geno's canceled its viewing event.
Below, check out a clip from the Arnold segment, featuring "Saturday Night Live's" Parnell as Arnold and John Lithgow as Washington: