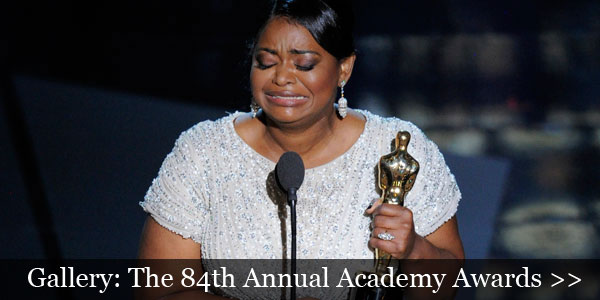 Cozy up to your TV and enjoy The 84th Annual Academy Awards with film critic Carrie Rickey, as she weighs in on the the winners, the losers, and everything in between.
11:51: I'm going to sign off now, but please follow me at my new site CarrieRickey.com.
11:50: Even though, as widely predicted, "The Artist" took the top honors at the 84th Academy Awards, there were surprises. Meryl Streep won best actress over the heavily-favored Viola Davis for "The Help." And Billy Crystal, along with producers Don Mischer and Brian Grazer, kept the show moving at a trim 3 hours and 8 minutes. I think Crystal should be host for life. From the opening montage of nominated actors in clips persuading Crystal to come back as host to the emotional thanks of "Artist" producer Thomas Langmann, who thanked his late father, Claude Berri -- the last French producer to have a set picture nomination (for "Tess" in 1980), the show was a great mix of the prepared, the ad lib and the unexpected. What did you thinK?