MTV confirmed today that it would end its megahit "Jersey Shore" after the upcoming sixth season. Why? The show was still bringing fans in droves to MTV but no one wants to see new mom Snooki with a kid in one arm and fist pumpin' with the other (who will hold her drink?).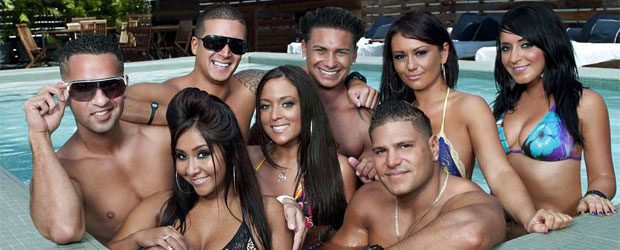 The original cast of MTV's Jersey Shore.
The final season kicks off Thu., Oct. 4 but MTV will bleed the franchise dry of any money they can possibly squeeze from the show, starting with a look-back special called "Gym, Tan, Look Back" on Sept. 6 at 6 p.m., leading up to the "Video Music Awards," hosted by Philly's own Kevin Hart. "Gym, Tan, Look Back" will cap off a "Shore"-filled day, beginning at 11 a.m. of show's most "iconic moments."
"Jersey Shore," set at Seaside Heights in north Jersey, began three years ago and spanned two continents. "Jersey Shore" consistently set ratings records for MTV, often beating network shows in the same timeslot.