So, on Tuesday's "LIVE with Kelly and Michael," host Michael Strahan talked about a 1999 game he played against the Doug Pederson-led Eagles in which he intercepted a pass and ran the ball in to the end zone for a touchdown. In spectacular fashion, Strahan celebrated wtih a Ricky Martin-style pose.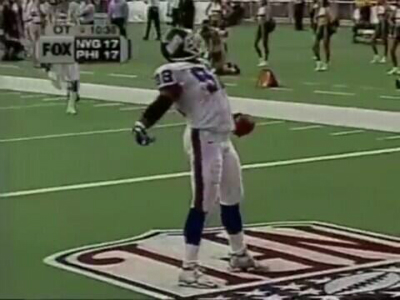 On today's show, producers tracked down a clip of the game with Strahan's celebration. Cute, right?
But that's when things went nuts. During the commercial break, former Eagle Lonnie Palelei stood up and made himself known. The former offensive lineman happened to be the guy chasing Strahan in the clip.
Producers had no idea he was in the audience. Palelei, who now lives in Vegas, happened to be in New York visting his daughter. He decided to come to the show and waited in today's stand-by line to get tickets. He just happened to come on the day when the producers decided to air the clip.
1999 was Palelei's last year in the league and his only one with the Eagles. He also played for the Steelers, Jets and Giants.
Normally, I would be skeptical of such television coincidences but there's no footage of Palelei's intitial revelation, and if producers would have a clue, I'd have some video to show you.
Sometimes, the world just works in mysterious ways.
For more PhillyGossip, check out today's column featuring Rick Williams in the spotlight

Watch the clip that inspired it all below:
VIDEO: Michael Strahan's Touchdown