Alternate headline: Scranton woman allowed back into Chili's 11 years after drunken office awards.
In an act of publicity, Chili's released a statement saying that they are officially lifting their lifetime ban the fictional Pam Beesly Halpert, played by Jenna Fischer for nine seasons on The Office.
BREAKING: Chili's lifts permanent ban on Pam (@JennaFischer), welcomes her back to any #Chilis restaurant: https://t.co/jw76381O8K

— Chili's Grill & Bar (@Chilis) February 7, 2017
It all started when Fischer tweeted a photo of herself outside of the Chili's, wondering if she should attempt to enter.
Should I try to go in? pic.twitter.com/HDpPqzA0by

— Jenna Fischer (@jennafischer) February 6, 2017
Fans will remember that Pam was kicked out of the Scranton-area Chili's after a drunken appearance at the Dundie Awards, Michael Scott's annual awards extravaganza. Pam took home the award for whitest sneakers.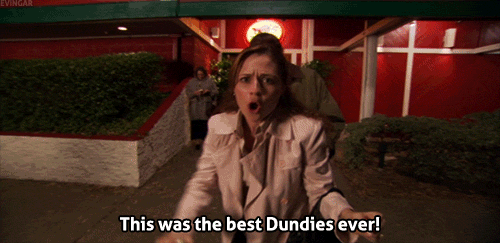 Chili's responded to Fischer's question by telling the actress she (and her fictional character) were free to dine on as many baby back ribs as she so desired. Fischer was clearly psyched:
OMG! Second drink!!! https://t.co/xGGM78iaX6

— Jenna Fischer (@jennafischer) February 7, 2017
While there aren't any Chili's in Scranton (closest one is in Wilkes-Barre), there are several in the greater Austin, Texas area, where Jim and Pam move after Jim's sports agency takes off and moves from its Philadelphia headquarters.