Children of the '90s, our first official glimpse at the next generation of the Matthews family has arrived in the form of a Girl Meets World promo shot. And, apparently Corey and Topanga of Philly area-based Boy Meets World fame have continued the lineage in the form of their daughter Riley and son Auggie. Feeney, though, is nowhere to be found.
Ben Savage and Danielle FIshel will reprise their roles, though this time around as parents to a 7th-grade girl and young boy—so, basically, the script has quite literally flipped on this one. The couple only has two kids, meaning that the other children in the photo are their kids friends, so expect the Matthews house to have nary a dull moment. Just like when they were kids! Awwww…
But while this set of photos is the first official look at the cast, Savage actually posted a similar one to his Instagram account earlier this year—and that's in addition to the photo Fishel shared showing Rider Strong (Shawn Hunter), Betsy Randal (Mother Matthews) and William Russ (Father Matthews) on set. Which, of course, is so say that details have been slowing leaking about Girl Meets World, including who will be returning for a run on the new series.
Mr. Feeny (William Daniels), though not present in the cast photo, reportedly is one of those characters making a return, along with everyone's favorite geek, Minkus.
But what exactly is it going to be about? Probably much the same as Boy Meets World. Except, you know, from a girl's perpective. As per JustJared:
"The series, premiering later this summer, is set in New York City and follows 7th grader Riley and her best friend Maya (Sabrina Carpenter) as they navigate through middle school.
Their plans for a carefree year will be adjusted under the watch of Riley's parents Cory, who works as a history teacher at the school, and Topanga, who owns an afterschool hangout known for its pudding."
So, basically, Corey and Topanga are pretty much right where you expected them—maybe with a little more pudding thrown in for good measure. Some things, after all, never change.
Check out more photos below: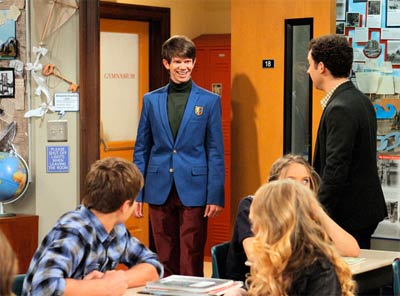 [HuffPo]